Euro Round-up: Debut goals and injury setbacks
Gleason Fournier marked his Bolzano debut with a goal (Photo: David Williams)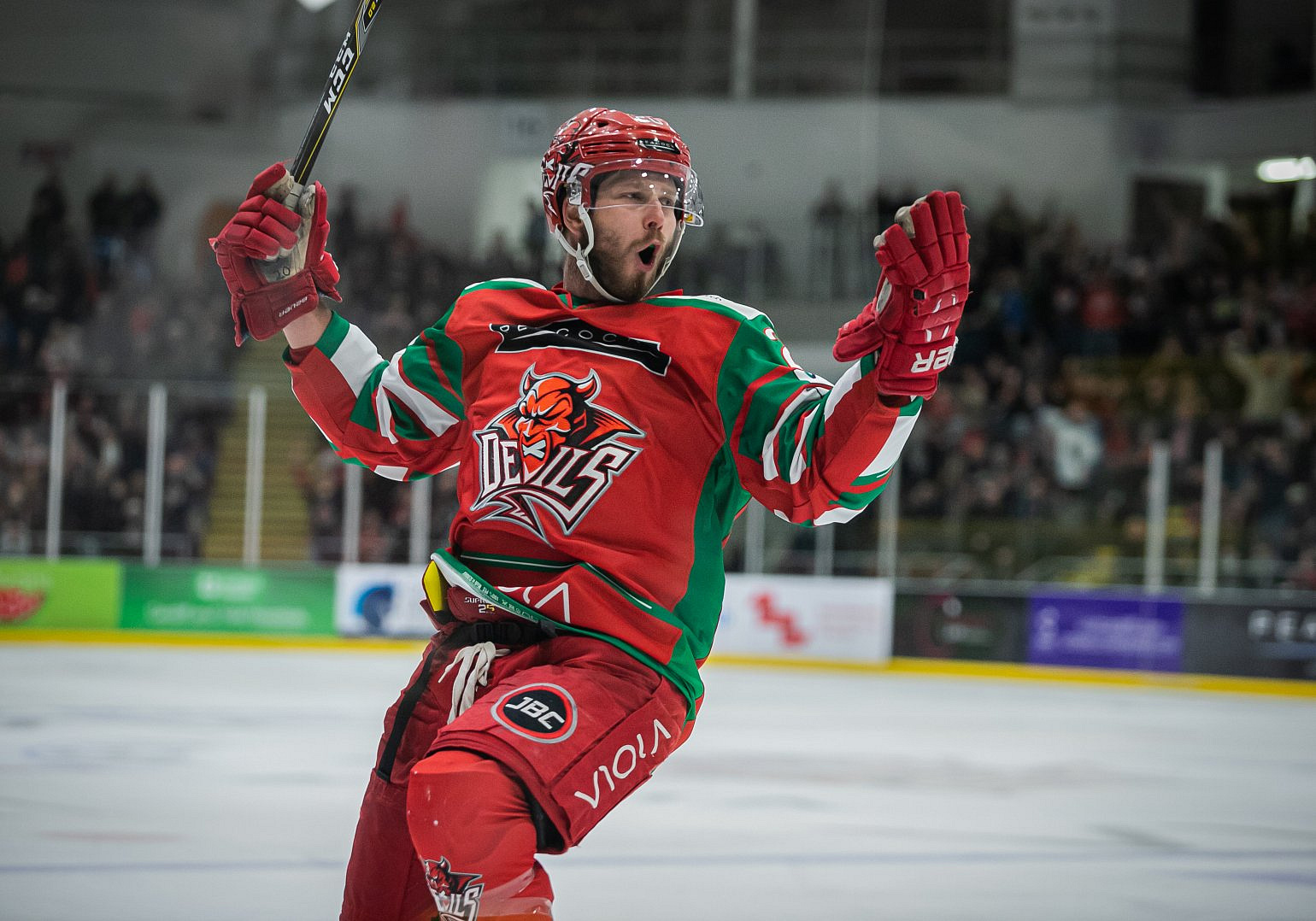 Although the Elite League season is suspended, that doesn't mean some familiar faces aren't on the ice elsewhere. It's time for our weekly round-up of how some EIHL alumni are getting on this season overseas:
Joey Martin got off to a great start on his debut for Stavanger in Norway, scoring a powerplay goal in the third period. Unfortunately, his Oilers team couldn't go on ant tie the game from there and eventually lost 4-2. The Fjordkraft-ligaen received a substantial government bailout during the offseason, allowing them to play on almost as normal just with much-reduced spectator numbers.
It wasn't a great weekend for Sam Herr's Innsbruck team in Austria. The Sharks went down 6-1 to Gleason Fournier's Bolzano Foxes, before losing on penalty shots to new boys Bratislava on Sunday. Fournier managed a debut goal for the Foxes in that thrashing, and also picked up an assist two nights later when his team won on the road in Dornbirn. Teams in the re-branded Bet-at-Home Eishockey Liga (formerly EBEL) has been able to rely on support from the government to ice despite significant capacity reductions.
There was less good news however for Ben Bowns. The Yorkshireman was forced to leave the ice injured towards the end of the opening period of Graz's game on Friday night, and it's since been confirmed that he'll be out for at least a couple of months. Everyone from the Elite League wishes him a speedy recovery!
Rasmus Bjerrum was on the scoresheet for Esbjerg last week, scoring the opening goal in a 5-2 win against Herlev. Elsewhere in Denmark, Mike Hammond notched a goal and an assist on his debut for Odense after he was released from his contract in Slovakia. The Bulldogs have however yet to win any of their opening five games. The Danish Metal Ligaen was also able to secure government funding to allow it to continue with reduced capacities.
Over in Hungary's cross-border league, Mark Matheson had an excellent start to his season with Gyergoi HK thanks to a goal and an assist in their first two games. There were also two assists for Carlo Finucci over the weekend, one in each of Brasov's wins. Mathieu Tousignant also put up two assists in as many games as Csíkszereda finally got their season underway. Hungary is one of few European countries to currently have no crowd restrictions.
Calle Ackered scored for Dukla Trenčin in their season opener which ended with a 5-2 win against Detva. However, teams from Tipos Extraliga and below joined forces during the week to protest outside the country's government offices - capacities in Slovakia are restricted to as many people as needed to operate the game but with no state support for the league or teams.
Finally, Brett Perlini notched an assist as Val Pusteria beat Red Bull 2 on the opening night of the Alps League.