Week 29: the title decider?
Photo: Dean Woolley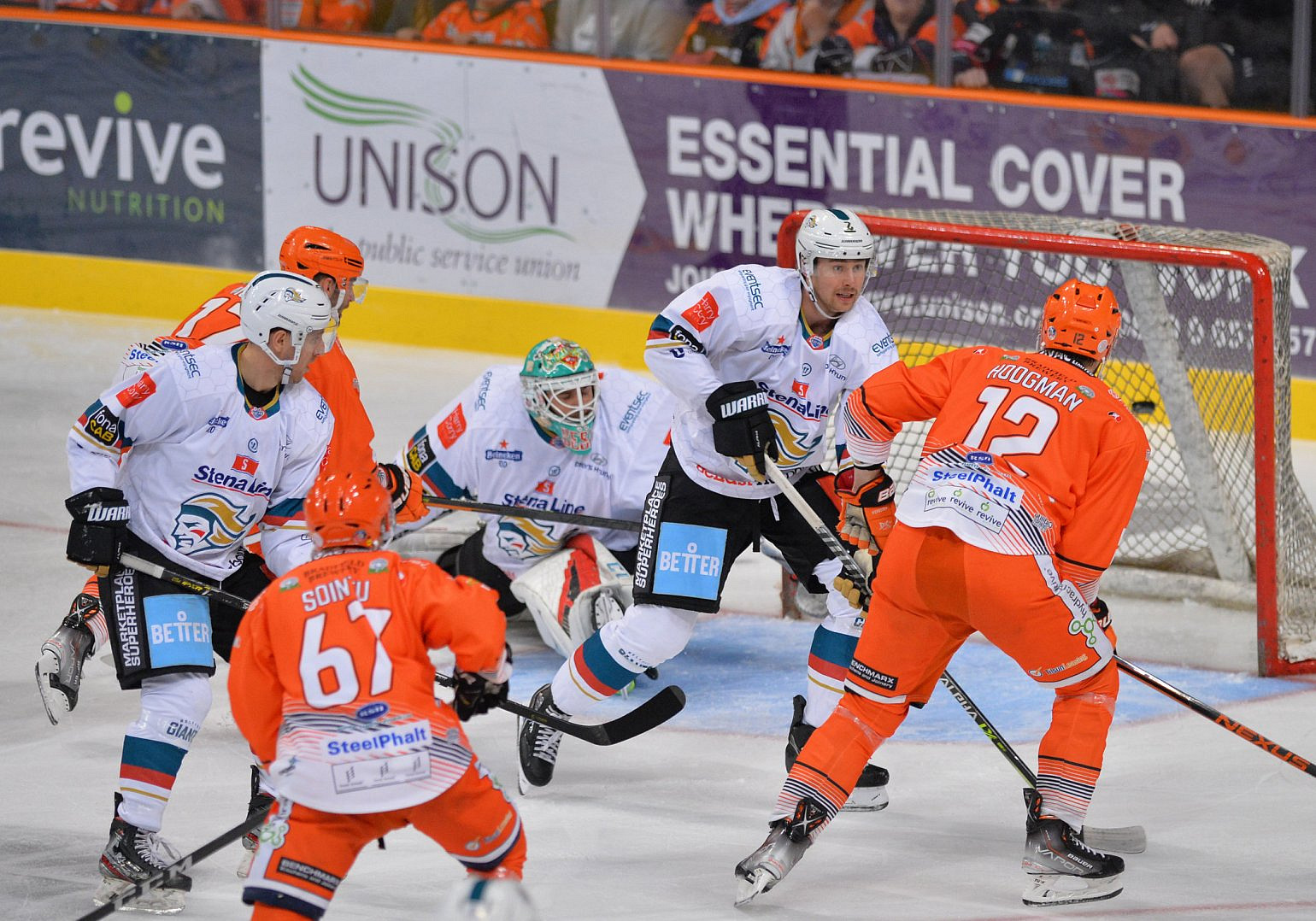 Week 29, the penultimate of the 2021/22 Premier Sports Elite League regular season, is upon us - and could it be the week when the league title is decided?
The short answer is lt could be- Belfast could mathematically win the league this week, and we've detailed the scenarios of how that happens below*.  A lot of the setup for the weekend will depend on how Wednesday night plays out when Sheffield host Manchester for their last-remaining game in hand. Were the Steelers to win that, they'll be a point behind Belfast with four left to play each, and three of those will be against each other! The Giants hold the tie-break advantage, meaning Sheffield will need to come out of the weekend at least three points better off to go top of the table.
Dundee could still finish fourth in the table if they can edge past Nottingham on Wednesday night, while Guildford will host fourth-place chasing Coventry on the same evening.
Note that if Guildford win, Fife would be all-but eliminated from playoff contention.
There are no Friday games this week, but that sets up a full five-game slate on both Saturday and Sunday. Coventry's hopes of coming fourth are likely to depend on their home fixture against Nottingham, while Dundee head back into Fife with the Flyers again facing elimination from the playoff race. Cardiff face Guildford for the final time this season elsewhere on Saturday night, while Glasgow will look to pick up form after a week off when they host Manchester.
On Sunday, Nottingham are home to Guildford in the day's other early start with Sheffield and Belfast also at 4pm. Dundee host Fife, while Manchester are home to Cardiff. Coventry vs. Glasgow is likely to be significant for playoff seeding.
*How do Belfast win the league this week?
Scenario A:
Belfast win both games vs. Sheffield in regulation
At this point, the Giants would have 84 points and the Steelers' maximum would only be 83
Scenario B:
Manchester beat Sheffield on Wednesday night in regulation
Belfast pick up at least three points in Sheffield
At this point, the Giants would have 83 points which would be the most Sheffield can get
Belfast currently hold the Regulation Wins tie-breaker 35-30
In this scenario, Sheffield would not be able to better the tie-break in their final two games and would therefore be unable to finish above Belfast
Scenario C
Manchester beat Sheffield in overtime or a shootout
Belfast win both games vs. Sheffield
At this point, the Giants would have 84 points while the Steelers' maximum would be only 82 or 83 (OT/SO loss)