Euro Round-Up: Louis helping team to historic season
Photo: David Williams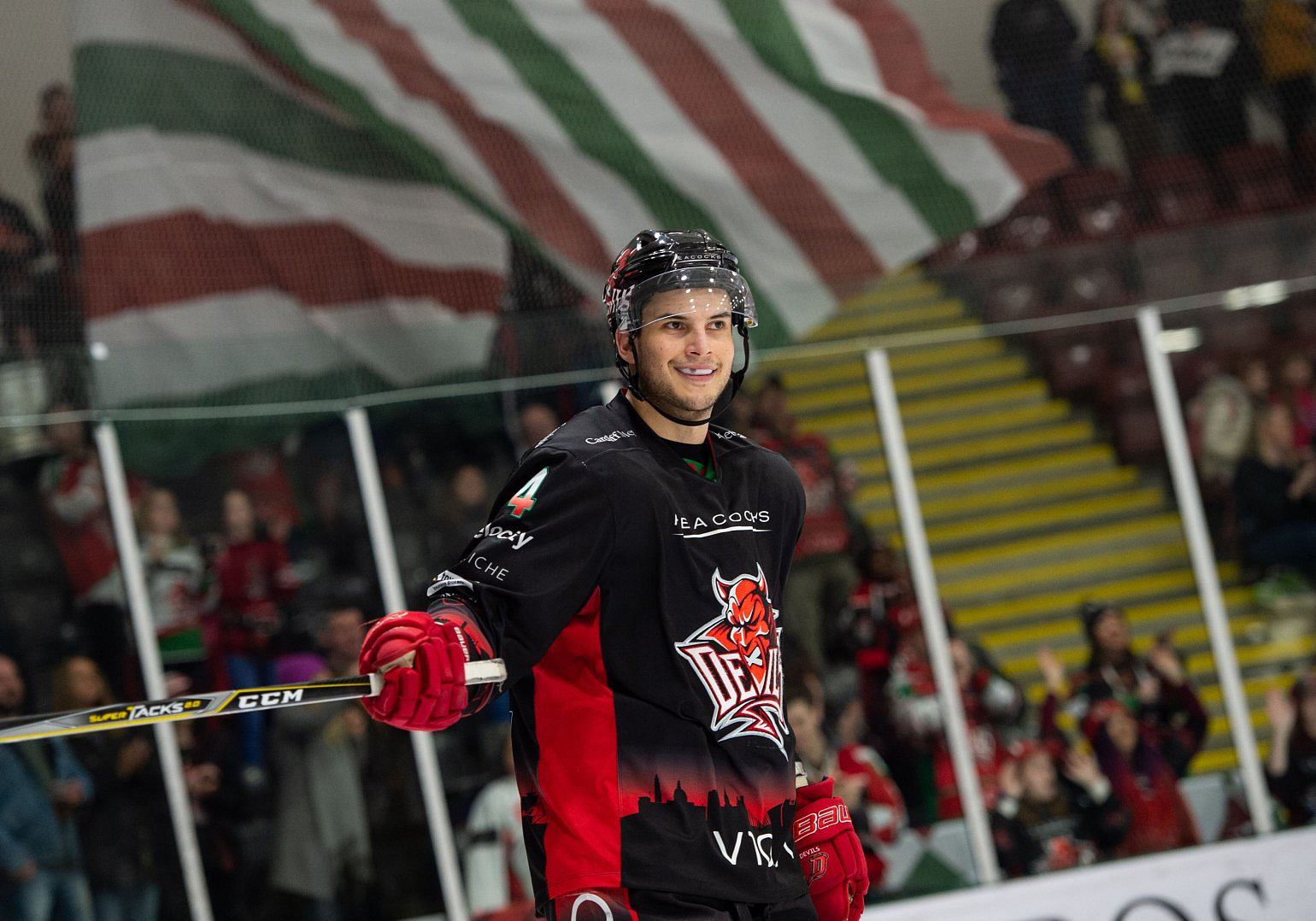 It's almost playoff time around Europe, so let's take a look at how some familiar names are getting on overseas.
In the ICE Hockey League qualification round, both Graz and Innsbruck's hopes of making the playoffs took a bit with defeats at the weekend. The 99ers with went down 4-2 in Bratislava, but a win over Dornbirn kept Ben Bowns' team in the hunt for the post-season. For Sam Herr and Innsbruck, however, it's already looking like the team have a mountain to climb. The Sharks picked up a penalty shot win and then lost in Villach, and are six points behind with just six games to go. Teams need to finish in the top three of the six-team mini group to make the playoffs.
Things are gearing up for the playoffs in Denmark, where seven sides have secured one of eight playoff places in the nine-team league. Esbjerg, featuring Charles Corcoran, Rasmus Bjerrum, and Jordan Smotherman, have secured their spot in the post-season.
It wasn't a good weekend for Mark Richardson's Bad Nauheim in the DEL2, who lost both of their games. The GB international had an assist in one of the defeats, but the run of three straight losses has seen the team fall into the play-out places where teams face off to avoid relegation.
In Hungary, the messy scheduling due to Coronavirus cancellations earlier in the seasons means that four teams have now finished all of their games, while the other six still have fixtures left to play – including Brasov and Gyergoi who each have three games to fulfill this week! Brasov, for whom Carlo Finucci has put up 32 points in 27 games, will win the regular season if they win any of their remaining games; while Gyergoi with Marek Trončinský have already secured their place in the playoffs, and are playing for seeding.
Teams in Norway are still waiting to play again after more rounds of games were cancelled. No action in the league has taken place since 7 January, and nothing will happen for the rest of this month either.
The playoffs start tonight in Poland! UK interest is with Comarch Cracovia (Cracow) for whom Luke Ferrara has spent the latter half of this season. As sixth seeds, they face Torun in a best-of-seven series.
Finally, while there's still a way to go in the regular season in Slovakia, Dukla Michalovce are worthy of mentioning. Mark Louis' team for this season have won nine in a row and sit third – this is their highest-ever position in the country's topflight, in only their second season at that level! Louis has five points for the season but leads the team in penalty minutes.