Throwback Thursday: Swedish teams frequent CHL visitors
Photos: Panthers Images, Michael Erichsen, David Williams, Dean Woolley, Al Goold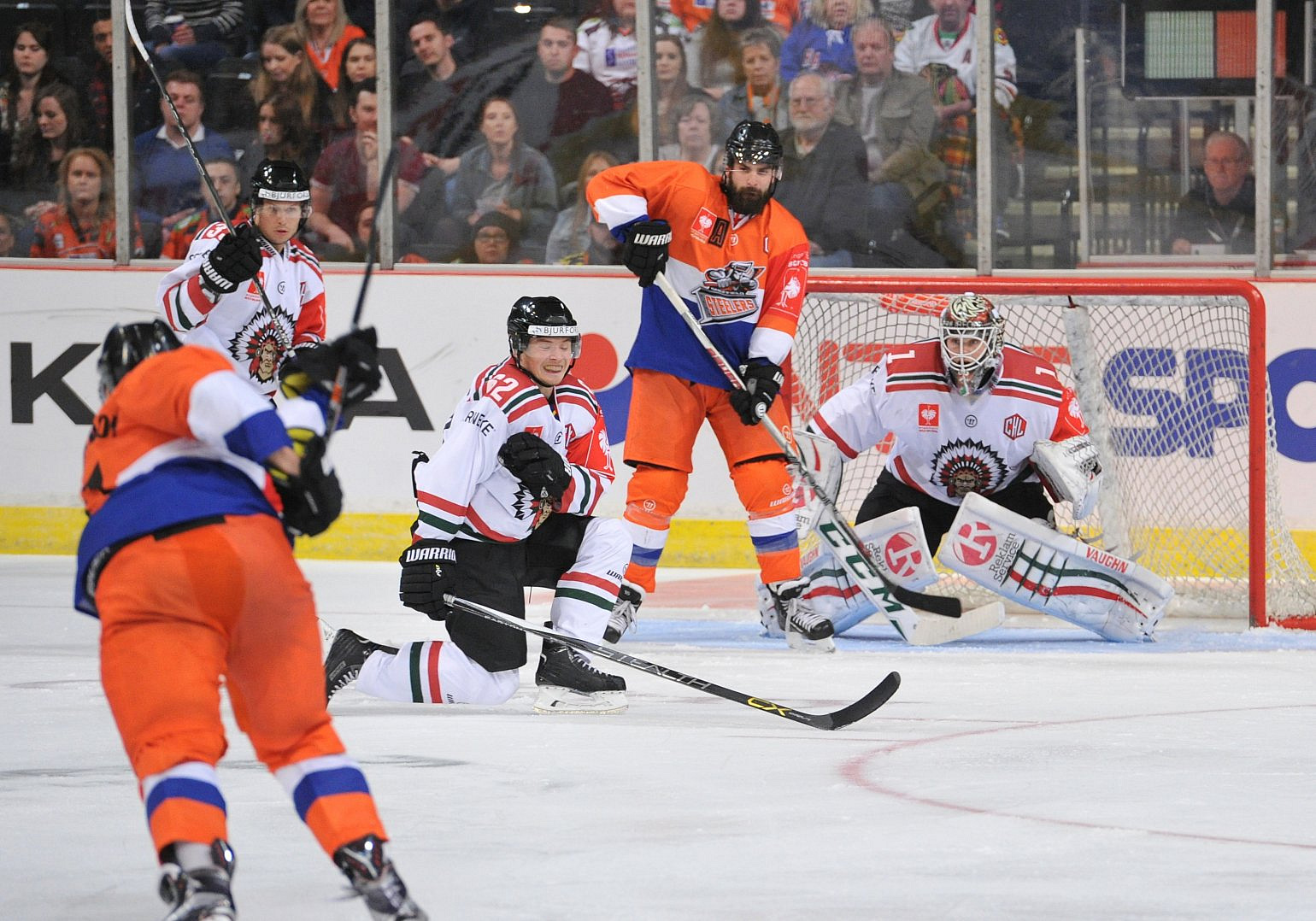 Cardiff Devils will face Färjestad Karlstad in the 2020/21 Champions Hockey League Round of 32.
For the Devils, it marks the third straight year that they'll be facing a team from the SHL and leaves just Nottingham's 2017/18 campaign as the only time an EIHL side didn't have to travel to Sweden in the competition.  
Let's have a look at what's happened in previous seasons:
2014/15 Nottingham vs. Luleå
After an encouraging start for the Panthers going down only 4-2 to Lukko Rauma, Luleå came to town two days later and showed no mercy in a 10-1 win. The reverse fixtures in the north was a 6-2 win and the Swedes then went on to lift the CHL trophy.
2015/16 Braehead vs. Växjö Lakers & Sheffield vs. Frölunda Indians 
The Steelers' 9-1 defeat in their opening game in Gothenburg was a harsh welcome to the CHL but they showed excellent signs of progress a week later in Yorkshire going down only 4-1 to the side that would win the European title later that season.
Braehead were beaten 10-2 on the road in Sweden but, much like the Steelers, were a very different prospect on their own ice. The Lakers left Glasgow with a 3-1 win after an encouraging performance in which Scott Pitt gave them the lead.
2016/17 Sheffield vs. HV71 Jönköping
Sheffield's next CHL campaign got off to a disastrous start in Salzburg but the Steelers put on an excellent display to only narrowly lose in Jönköping. Coming back from 3-1 down to level with just over 16 minutes to play, the EIHL team were eventually undone by two goals inside the final ten minutes. In the reverse fixture, Robert Dowd did pull things back to 1-2 the opening period before HV71 raced into a lead and eventually won 5-2 again.
2017/18 Cardiff vs. Växjo Lakers
Cardiff got their second CHL win in a row, but first in regulation, with a dominating display against a Lakers side that went on to contest the final. Goals from Jake Morissette, Sean Bentivoglio, Craig Moore, Joey Haddad and mark Richardson led them to a 5-1 win with the Lakers getting taken to task in Swedish newspapers after losing to an EIHL team. The following week it was the Lakers who took a 3-1 win on home ice.
2018/19 Cardiff vs. Växjo Lakers
A year later the Lakers were back in Wales but this time needing to get a result to keep faint qualification hopes alive. A week after going down 3-1 to a late goal in Sweden, the Devils were 5-4 up at home only to concede an equaliser 2:25 from the end, with the same man Joel Persson scoring the OT winner with 42 seconds left. To date, this was Växjö's last game in the CHL.
2019/20 Cardiff vs. Frölunda Indians
Cardiff had got themselves into an excellent position with eight points from their opening four games but knew they'd need at least one result against defending champions Frölunda to make the knockout stages. Two 9-2 defeats followed, however back in Wales the Devils did pull the score back to 1-1 and 2-2 before Frölunda took control.
Gallery