Herr full of praise for Panthers after first EIHL season
Photo: Panthers Images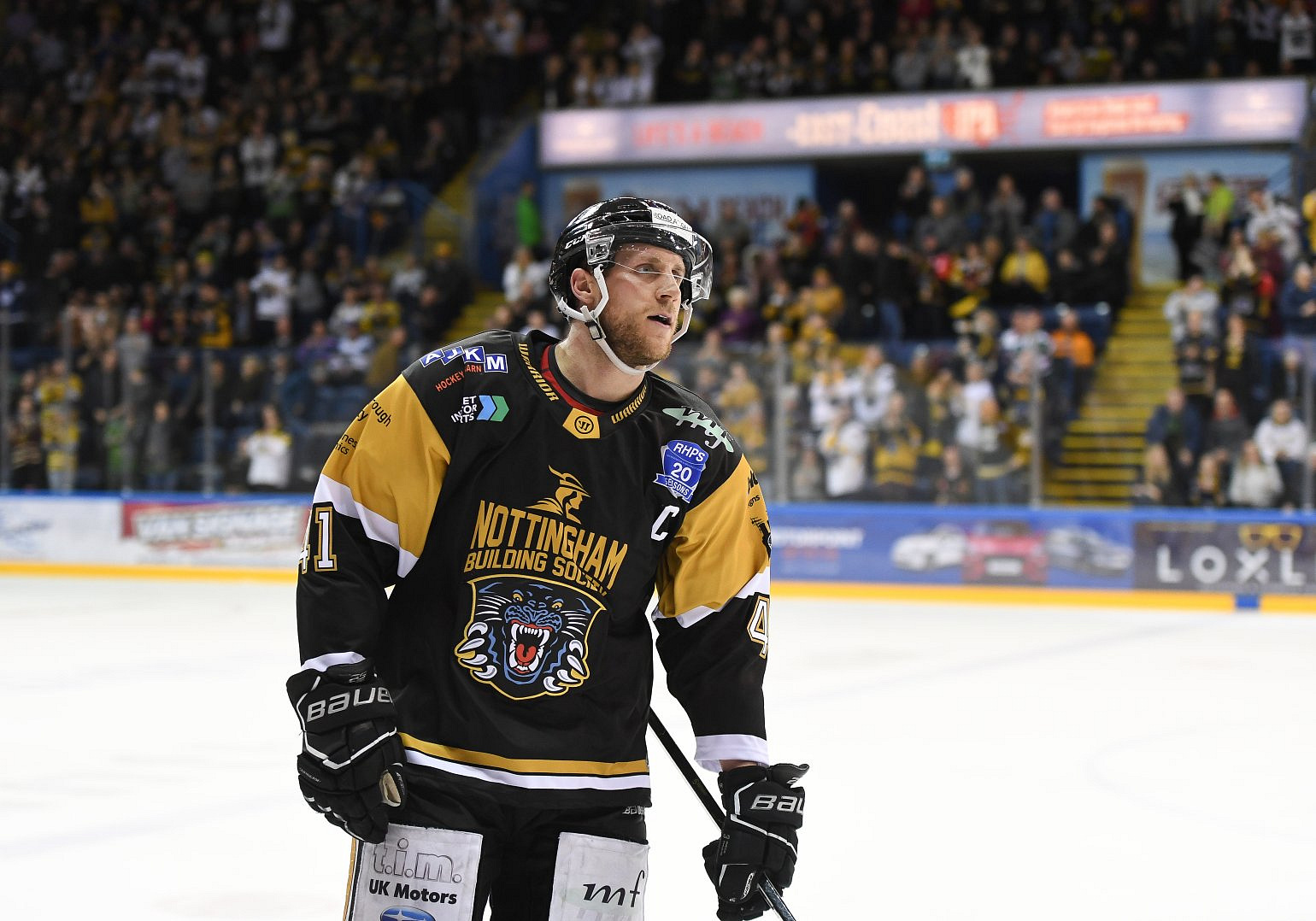 It was an excellent debut Elite League season for Nottingham Panthers' captain Sam Herr: he ended the cut-short season on top of the league's points standings and was named to the league's All-Star team by its fans.
We started our catchup with him by checking in on how his family are doing back home. "My family and I are doing great! My wife and I are both back home and healthy. We did our self-isolation after arriving back in the states. Both of our families are also safe and taking the necessary precautions needed to beat this thing! We're in weird times," began the Panthers' captain. "I was pretty worried about getting home, I'm not going to lie, once the news of travel bans started to become possible. It's just a weird feeling thinking that you might not be allowed to go home and be with your family. Not that I didn't love my time in England, but the US is home. In a time like this, my wife and I want to be home and it was for sure worrisome to hear that could have not been an option."
Getting Panthers players home was a two-stage process, as the team needed to be brought back from Belfast where they were on the day the season was cancelled. "Nottingham did a great job in handling this situation. We were in Belfast at the time of the season-ending announcement and they had to worry about getting us home to Nottingham right away first. (Head of Hockey) Gui Doucet did a great job staying on top of the players and making sure our travel plans were figured out. If any hiccups happened with the travel, 'Douce' was the first to know and the first to help make sure problems were answered," explained Herr. "The club also did a good job handling the "mess" that the players were leaving behind.
"Obviously the players, especially imports, had to pack up and leave within days because of the travel bans. That's naturally going to create a lot of questions about what to do with everything we are leaving behind. The Panthers did a good job making sure that all is well and the important thing for us to do is be safe and fly home without having anything else to worry about. I thank the Panthers organisation for that."
Herr made his debut season in Europe in 2019/20, and ended it on top of the league's points standings. "I think my first season outside of North America went very well! I had a lot of success this season that I haven't had in a while and it was nice to have that again. I couldn't love being a part of the Panthers organization more. The guys were great people and teammates and it was honestly a blast going to the rink every day. We all got along and we had some fun along the way," he said. "It was also really nice to have the relationship and trust that I did with Douce, Wally (Head Coach Tim Wallace), and Strachs (Assistant Coach Rick Strachan). They are building something great in Nottingham and I am excited to be a part of it. Shoutout to Adam Goodridge. He's one of the best in the whole business."
He continued: " It was also cool to be able to get to experience European cities, we don't have access to these cities from the US like we do in Nottingham. My wife Taylor and I loved London as a city. She is big into the idea of royalty and the history that the city of London has and it was interesting to experience it all. We also got to go to Paris and Barcelona. Playing in North America wouldn't have allowed us to have those experiences together. That is what I liked most outside of hockey."


Not only did Herr lead his team and the league for points, but he was also made Panthers' captain early in the season. "Getting named captain was one of my favorite moments of the season. It was a very humbling honor to know that my teammates see me and trust me as the guy that they want to lead the team. It was my first time being named captain in my career and that made it even more special," revealed the 27-year-old. "I know how much I respected all my previous captains and it was an honour to know my teammates respected me in that way as well. We had a dynamite group and a great time, it's easily one of the best groups of guys I've ever played with."
Coming into a new league and indeed country obviously brings both expectations and surprises. How did the EIHL live it up those? "The EIHL was a lot better than what I expected coming in. The first thing that exceeded my expectations were the fans. I knew European fans can get rowdy, but it was surreal to play in front of the Panthers' fans every game, they always kept it interesting!" said the American.
"The other thing that exceeded my expectations was the talent in this league. There is a ton of skill littered on every team; powerplays were dangerous, individual talent was very evident, goalies were difference makers. There were players that can skate, shoot, and stickhandle with the best of them. I knew the hockey was going to be good coming in, but it did exceed my expectations for sure."
✨ The first forwards for Line 1 of your 2019/20 Fan all-star team | #EIHL

He was top forward with 11.84% of your votes: @PanthersIHC' Sam Herr ? pic.twitter.com/DePC4Ygo5F

— EIHL (@officialEIHL) April 5, 2020
With half of the world in some form of lockdown, how is Herr keeping himself busy over the longer off-season? "I've been doing a lot to try to stay busy. My mornings usually consist of some kind of workout, Taylor and I have been walking our dog quite a bit so that we can get out of the house. We've been playing all our favorite board games we played as kids - it turns out I might not be as good at checkers as I thought I was! We've also been catching up on some TV shows and movies. She wants to learn a TikTok dance, but I wouldn't hold your breath!" he added.
The Panthers' captain finished our interview with a simple message: "I hope everyone is staying safe and taking the necessary precautions! This is a scary time for everyone and I hope we all get through this safely. In the meantime, make sure you are staying at home. We need to do our part to help beat this virus. Thank you to all the healthcare workers risking their lives for us, your work is not going unappreciated! If they are going to stay at work for us, we can stay at home for them. Stay safe everyone!