Player of Week 28: CJ Motte
Photo: Scott Wiggins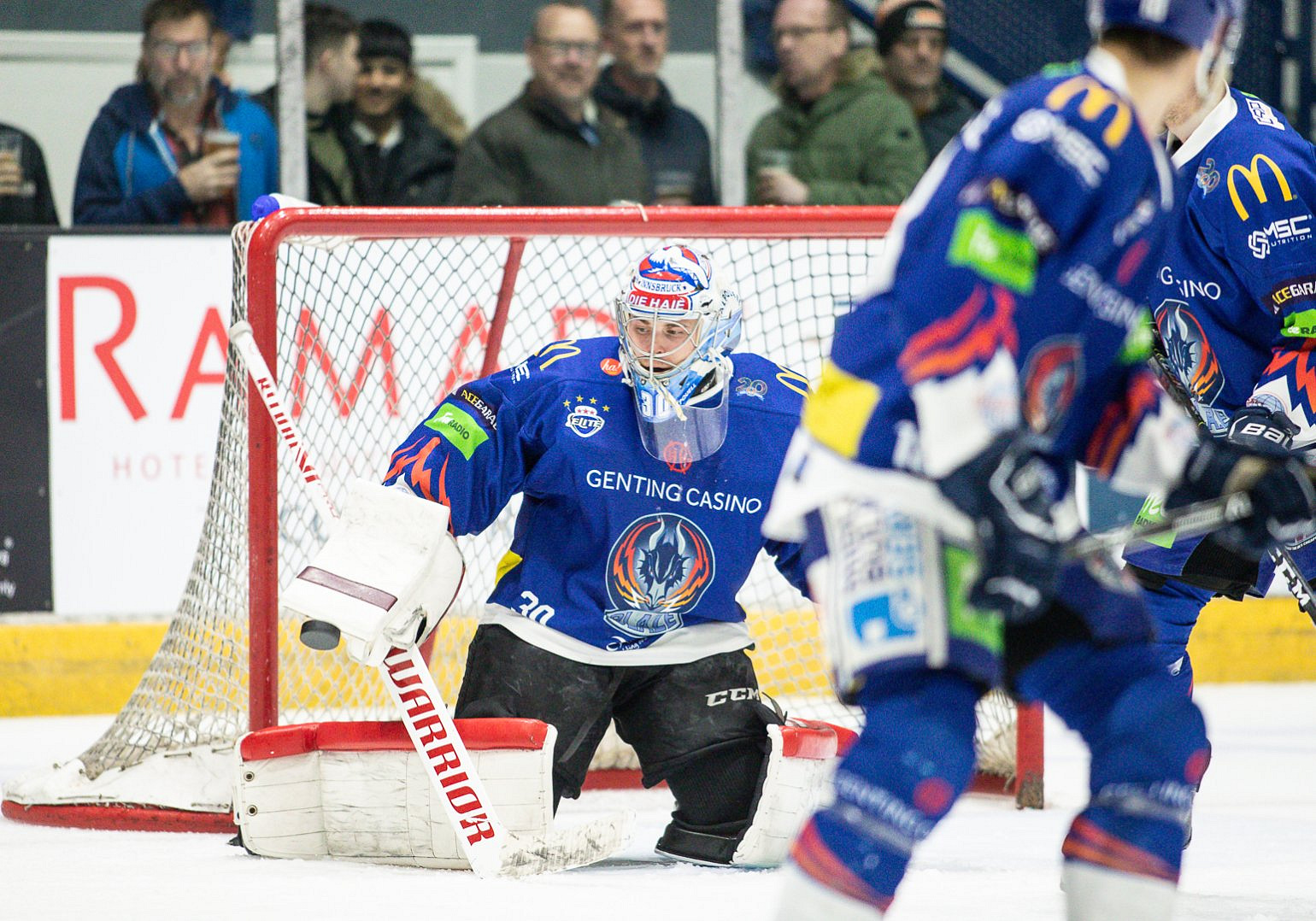 Coventry Blaze were the only team to win both of their games in Week 28, extending their impressive run to 17 games without losing in regulation and moving up to third in the table. Stopping over 94% of the shots he faced last weekend sees goalie CJ Motte chosen s our Player of the Week!
"Yeah I think we had a pretty good weekend and did lots of things well," began the goalie, who leads the league for save percentage. "I think we also learnt from a few things as well, bits of our game that we need to work on and improve, so we can go on from there."
He continued:" It was my first game in Manchester, so a few of the coaches and players gave me some pointers: basically to be ready for a shot from anywhere, anytime. It's not an Olympic sized pad so pretty much any shot in the zone is a good scoring shot!"
Motte was released by Innsbruck in November and spent around a month without a team. "I was lucky to have the opportunity to skate with the U20 teams there in Innsbruck to keep myself in shape, and they also had some skates with youth goalie where I could jump on and work with them as well," he explained. "I really just tried to stay in shape as much as possible until the next opportunity." That opportunity presented itself a few weeks before Christmas with a move to the Blaze.
"I'd had friends in the past, both at college and in professional teams, who had played in the Elite League, and I'd heard good things about it," he said. "In Quad City I played with Matt Pohlkamp and he talked about how he liked it in Coventry so we were able to get the deal done. Obviously, I didn't know a huge amount coming here but from those sorts of guys I did have some information about the team especially, and the wider league."
Coventry went into the top three on Sunday night and are only three points off the lead - do the expectations change now? "Of course, the guys see it in standings and they're checking those after each game, but really the team mindset we have doesn't bring this into our games. We focus on that game and try to stick as close to a complete 60-minute performance as we can because whatever happened in past doesn't matter, we have to take care of the next game ahead of us. As a team we take it game by game, and as a goalie my mindset going into each game is to give the team a chance to win. That means I need to make every save that I'm supposed to, and then go make extra one that no-one expects. And we go from there."
Motte also thinks things in the locker room and behind the scenes are in a good place in Coventry. "Obviously I didn't start the year in Coventry, but I think Danny has done a good job recruiting a good group of guys with character and a high work ethic. With our systems, he's done an excellent job of getting everyone on the same page and making sure that he challenges us every day in practice to get better. I think we're comfortable enough now that anyone who has questions can openly talk about it and go to him to make sure we're all in this together as one team" he concluded.