Player of Week 26: Paul Crowder
Fife Flyers' forward takes weekly award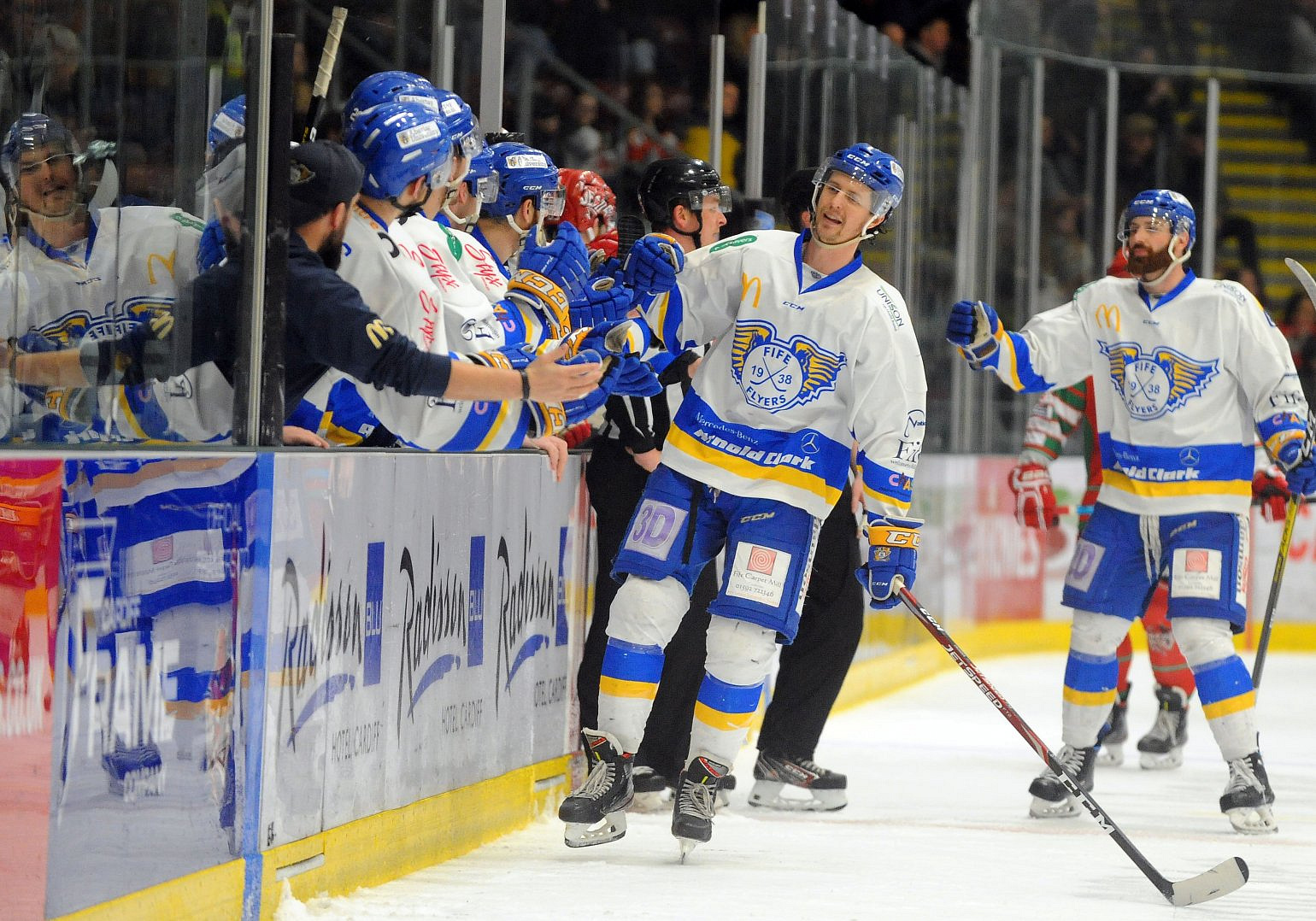 It's been quite a turnaround over recent weeks for Fife. The Kirkcaldy side were beginning to look cut off at the foot of the table, but three wins later - including two crucial ones over playoff rivals Dundee and Manchester - have brought the Flyers back to within three points of making the post-season.
In Week 26 they picked up four points and were only denied adding to that by a late goal in Cardiff. Paul Crowder scored two that night and added the game-winner against Manchester to be chosen as our player of the week!
"It was a good week for us," began the forward. "Going to Cardiff is always tough and we were unfortunate not to get a point because of that late goal, but they're a good team and know how to win when it comes to the end. The last few weeks have been a turning point for us with guys coming together as a team, and we brought that into the weekend with strong efforts against Dundee and Manchester. Both were tight games but we were able to find a way to win both."
"It's always nice to score, especially against one of your old clubs," added Crowder, who spent a season in Cardiff in 2017/18. "I seem to have their number this year and have managed a few goals against them. But whenever I can help out the team like that, or against Manchester, it's good. I thought we played in the Storm's end most of the game but Matt Ginn stood on his head and it seemed like anything we got on him wasn't going in, but we pressed and managed to get one more by him so it was a good win."
Fife's turn of form came at a crucial time. With games running out until the end of the season, the Flyers have had little option but to win games to keep their campaign alive. "I think we have been getting some bounces but that also comes with hard work, and we are playing desperate because we know if we don't come to play it could be the end of our season," explained the 35-year-old. "Everyone is buying in and we're seeing the results, and doing what we need to do to win games - blocking shots, making simple plays, getting pucks out of our zone and not turning them over."
The Flyers set a new club record for their longest run of defeats in the Elite League era, something which took its toll on the team's morale. "It was definitely hard in the locker room during that skid, you could see it on everyone's faces. We didn't know what to do, we tried everything but it didn't seem to work," said Crowder. "'Dutes' (Head Coach Todd Dutiaume) was trying to change things up, some days he'd be all over us and other days upbeat, but it was very disheartening and frustrating for all of us for the most part. I don't think anyone in our room had ever been part of something that had gone on for that lot, but we were finally able to find a way to get a win under our belts and it lifted everyone's spirits."
He continued: "We broke the slide against Dundee. They're a rival team and also one we know that treats every game against us like a playoff one. We knew we had to start doing the same; it was, and still is, 'do or die' for us."
While the Flyers' record of six points from their last five games makes them a top six team on form, their biggest problem is the schedule - they have only seven games left, the fewest number of any team in the league. "It's not the position we want to be in, but it's where the cards have laid themselves and we have to do what we can," he explained. "We simply have to try and win as many games as we can and hope things work out for the best. It's the place we've put ourselves in but things have started to roll finally and we want to keep it going to get a playoff spot."
Finally, where they find themselves, the Flyers have continued to be backed by great travelling support - especially last weekend in Dundee. "The fans have been very supportive throughout most of this season, and when they pack out their section in Dundee and Glasgow especially it's so good to see - it makes it almost like a home game for us."