Tonight: 4 games end big weekend at both ends of table
Photo: Dean Woolley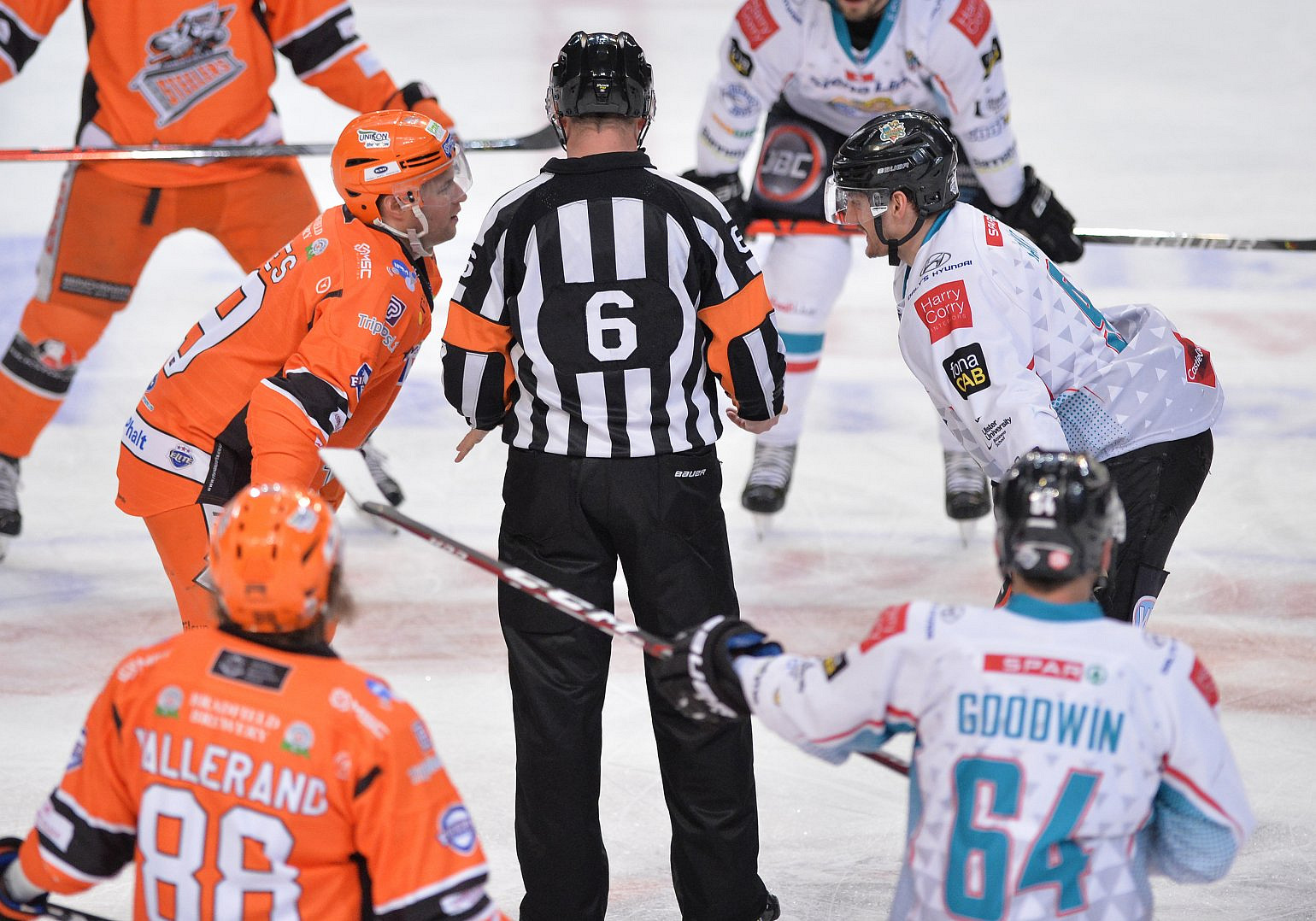 Week 26 comes to an end with four games that are vitally important at both ends of the league table.
1600 Sheffield Steelers vs. Belfast Giants
Snapping their four-game losing streak was part one of 'job done' for Sheffield this weekend with the Steelers now returning to home ice off the back of a big derby victory and still top of the league.
Awaiting them are defending champions Belfast who earned themselves a point in Manchester despite being four down inside 25 minutes. The Giants trail the Steelers by four points with a game in hand and with only 10 games left this very much has a 'must-win' feel about it. It's certainly a four-point game for both teams.
"It doesn't get any easier today with a quick turnaround again Belfast. They're another team that's only four points behind us and it will need another big effort from us." - Aaron Fox (Head Coach, Sheffield Steelers)
"We need to go into a tough building and put in a full performance. In the top five everyone is within striking distance of the league title so everybody has a chance to earn their own path to that. We have to be engaged from the drop of the puck and can't afford to dig ourselves a whole again." - Adam Keefe (Head Coach, Belfast Giants)
1730 Coventry Blaze vs. Cardiff Devils
One of these teams will end the week with a four-point weekend and it could be huge for both in terms of the overall title race.
Coventry are still in with an outside chance of winning the league and have not lost in regulation since 4 January. They can't move up any places tonight, but if other results went their way they could end up only five points off the leaders with a pair of games in hand. The Blaze haven't lost at home since facing the Devils on New Year's eve.
Cardiff go into Coventry looking to make it a six-point week which would a huge return at this stage of the season. The Skydome was not their friend at the beginning of the season with defeats in both Challenge Cup games, however the Devils have gone on to take victories in both of their league fixtures in Coventry by a one-goal margin. The Devils are .500 across their last eight road games.
"Of course winning games builds momentum and confidence in the locker room, but we're just taking this one game at a time. We are getting ourselves among the group at the top there but anything is possible and there is still a lot of hockey to be played. We really do just have to concentrate on the next game." - Danny Stewart (Head Coach, Coventry Blaze)
"We need a game in Coventry, we haven't played great there lately for some reason. So we need to go in and play a solid, simple game and play to our strengths. Coventry have a great team this year as they've shown over the last 20 plus games, with good goaltending and a lot of firepower, too." - Andrew Lord (Head Coach, Cardiff Devils)
1730 Fife Flyers vs. Manchester Storm
After a run of good performances and a pair of wins in their last three, Fife Flyers are back on home ice knowing that they probably have to beat Manchester to keep their hopes of reaching the post-season alive.
The Flyers got a much-needed derby win in Dundee last night to cut the gap back to five points behind the playoffs, and with neither Glasgow nor Dundee playing tonight they could reduce that deficit further with a home win. 
Manchester's shootout win against Belfast moved them up into seventh and three points clear of the teams chasing a playoff place. A win would put them five points clear with nine games to go. To do that however they'll have to do something they've not done since playing in Kirkcaldy on 12 January - win away from home.
"We are playing significantly better than we were in previous months and these are things that we can build on. Manchester are another team that we've had very close games with this season, and they have a lot of dangerous offensive players. What we need to do now is build up some consistent momentum and pile up points." - Todd Dutiaume (Head Coach, Fife Flyers)
"Fife are playing well since they came out of their slump. We have a lot of respect for them but we want to go there and put on a good show." - Ryan Finnerty (Head Coach, Manchester Storm)
1800 Guildford Flames vs. Nottingham Panthers
After a disappointing Saturday night for both teams, Guildford and Nottingham meet in the day's final game with both sides looking to secure a winning end to the week.
Guildford, most probably, are out of the title race at 12 points behind with 11 games to play, however with their remaining games they could have a big say in who does go on to win it. They are still, however, battling for playoff position and a home win would bring them back into contention to finish in the top five.
Nottingham's title hope took a blow with that heavy home defeat to Sheffield but the Panthers do still have two games in hand to make up the four-point gap. This is their third game of the week following a road win in Glasgow on Wednesday.
"At this time of the year you know what's coming at you, and we know that Nottingham will be coming in wanting to put right their defeat from yesterday. What we need is a complete 60-minute performance which is probably what every coach is wanting from their team now we're at the business end of the year." - Paul Dixon (Head Coach, Guildford Flames)
"We have a resilient group and we're in the hunt for two points. The guys know what works for us and we will go into Guildford looking to make that happen." - Tim Wallace (Head Coach, Nottingham Panthers)