Tonight: Super Saturday
Photo: Panthers Images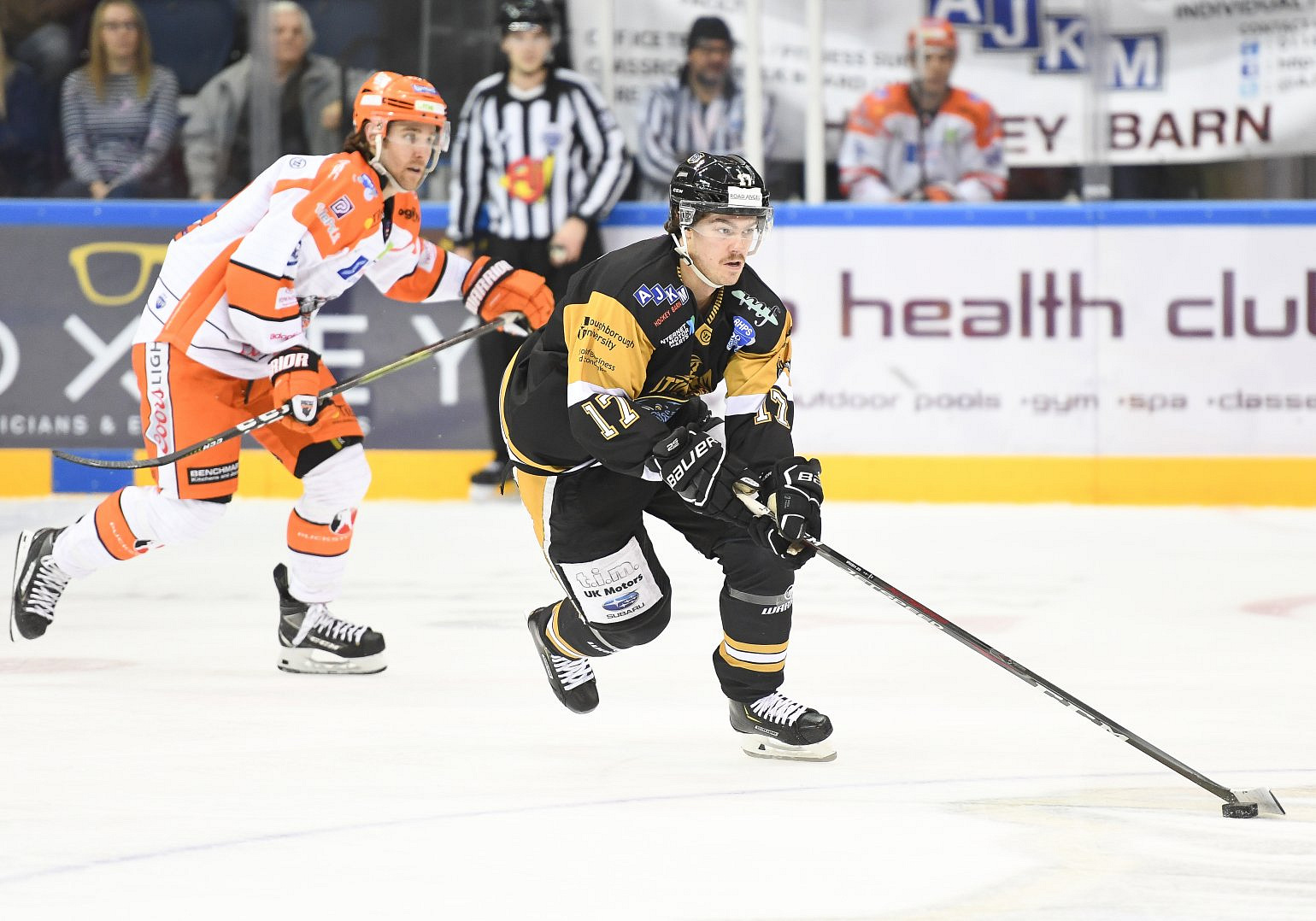 Every weekend head towards the end of the season is likely to get labelled as a big one, but this Saturday Sunday schedule of games just has that special feeling about it with battles across the league table.
1900 Cardiff Devils vs. Guildford Flames
Six days after going down 6-3 in Guildford, Cardiff come back on to home ice knowing that they could end the night top of the league if they can find a way past the Flames and other games go their way.
It's been tight games between these sides all season long, although Cardiff have won two of three at the Viola Arena and lost the other in a shootout. Of the eight meetings between the two this season, only one has been decided by more than two goals and that was Sunday's win for the Flames. The Devils have only lost one game at home in their last seven, and do have the league's best home record in terms of wins %.
Guildford's away form is top six, and they have three wins from the last five – all three of their most recent road defeats were by just a goal.
"It's another huge weekend for us and we will of course be looking to right the defeat we had in Guildford last week. I liked how we finished on Wednesday and we will need another big performance this evening." – Andrew Lord (Head Coach, Cardiff Devils)
"We have to just get to it now. We've played well in Cardiff and match up well again this team. They'll be out to prove a point but we've had some good games there over the last few seasons." – Paul Dixon (Head Coach, Guildford Flames)
1900 Dundee Stars vs. Fife Flyers
The local derby between Dundee and Fife rarely needs any introduction, but with both teams chasing a playoff spot this game has huge significance and is effectively 'must-win' for each of them.
A point outside the playoff places, Dundee return to home ice after a fantastic win in Sheffield last weekend. That extended the Stars' streak to two unbeaten and three wins from the last five – they're also on a run of four straight home wins.
Fife ended last week with a win against Sheffield as well and were then unlucky to leave Cardiff without a point midweek. With only nine games to play and a seven-point gap to make up, the Flyers simply must win both of their games this weekend. They are the league's worst road team with only 11 points in 21 games, and no victory away from home since 21 December.
"This is a huge local derby against a team that have been playing well recently. We have had some good results over the past few weeks but in the race for the playoffs you can't afford to take a night off. We'll need our fans to be loud as well!" Omar Pacha (Head Coach, Dundee Stars)
"The last few performances have definitely shown what this team is capable of and have been good for the moral of the team. We have had some success against Dundee this season but also been on the end of some heavy defeats to them, so we know what it takes. At this stage of the season, this is a huge 'four-point' game." - Todd Dutiasume (Head Coach, Fife Flyers)
1900 Glasgow Clan vs. Coventry Blaze
A reverse of last Sunday's game at the Skydome sees Glasgow hosting Coventry at intu Braehead with the separated by two places but now 13 points.
Glasgow know that a bad weekend combined with other results going against them could see them fall out of the playoff picture altogether. The men in purple have lost their last three games and have only collected 18 points from the last 60 on offer. They have, however, beaten Coventry at home in overtime this calendar year already.
Coventry head north having only lost one game in regulation on the road in 2020 – the last three have seen them take two wins and a shootout loss. The Blaze have the best record of any Elite League team in the last 10 games, and are also the EIHL's best road side over the last five played.
"I thought we played very well in Coventry. Our penalty kill has been good of late and we need to bring that again while making sure our powerplay is better. It's very tight here now from places 7-9 and every game now is huge." Zack Fitzgerald (Head Coach, Glasgow Clan)
"We've put ourselves in a great spot going down the stretch, but it won't change how we prepare. We had a week now to rest and recuperate and needed that for a few guys but it will be important that we're focussed and ready to go when we get off the bus in Glasgow." Danny Stewart (Head Coach, Coventry Blaze)
1900 Manchester Storm vs. Belfast Giants
Manchester Storm will look to hold on to their playoff place when they host a Belfast team that beat them by the odd goal in five just seven days ago.
Manchester had been on good form ahead of their trip across the Irish sea following two home wins, but the Storm extended their road losing streak to four games with defeat in Belfast. Home form has though been very good for Ryan Finnerty's side of late – they've not lost in regulation on their own ice since 11 January, a spell covering four wins and an overtime defeat.
Belfast haven't fared well in Manchester this season. The Giants lost their first visit in September, and then a month later let a 5-1 lead slip before eventually winning in a shootout. Road form for the Giants has been at 50% in their last six games, although they have one of the four best away records across the league. With the most work to do of all the teams chasing a league title and only 11 games left to do it in, the Giants are entering "must win" territory in all of their remaining games.
"This weekend is another big one, it not only gives us a chance to repay Belfast the favour but could see us leapfrog Glasgow into seventh place. We know Belfast are a great side that are still hoping to defend their title and they will prove a huge challenge. However, we have taken nine points from our last five games and confidence is growing within this group." – Ryan Finnerty (Head Coach, Manchester Storm)
"Every game at the moment is a battle, and it's the same for everyone in the league – every team is playing for something and they'll all be tight ones. It was nice to gain some confidence on the road in Guildford, but just like everyone else we have to make sure we're pulling points out of these remaining games." – Adam Keefe (Head Coach, Belfast Giants)
1900 Nottingham Panthers vs. Sheffield Steelers
There probably hasn't been a bigger Panthers vs. Steelers derby game for several years than the one that will be contested this evening in Nottingham. League leaders Sheffield visit the team two points and places below them, knowing that a loss will mean they end the night below the Panthers in the table.
It has not been a good recent run for the team from Yorkshire who have lost their last four games and seen their lead at the top cut down to just one point. The table-toppers actually have the worst record in the EIHL over the past five games.
Contrast that to the Panthers who are the league's best side over the last 30 games by a distance. 46 points from 60 is a fantastic return for a team that were ninth after the first month of the season. Slightly troubling for Tim Wallace's team will be their home record, which is only at 50%. Aaron Fox's Steelers are at 63% on the road.
"We have a huge weekend coming up against two good teams, starting here against Sheffield. If we're going to do something this season then it has to start now and we have to be ready to win every battle for a full 60 minutes or more." – Tim Wallace (Head Coach, Nottingham Panthers)
"We need to turn our dip in form around immediately. We've been very good for most of this season and have just started to look like we're throwing it away. Everyone in the locker room knows what's at stake though, and Nottingham is a building where we've played well already." Aaron Fox (Head Coach, Sheffield Steelers)