Player of Week 25: Jamie Crooks
Photo: John Uwins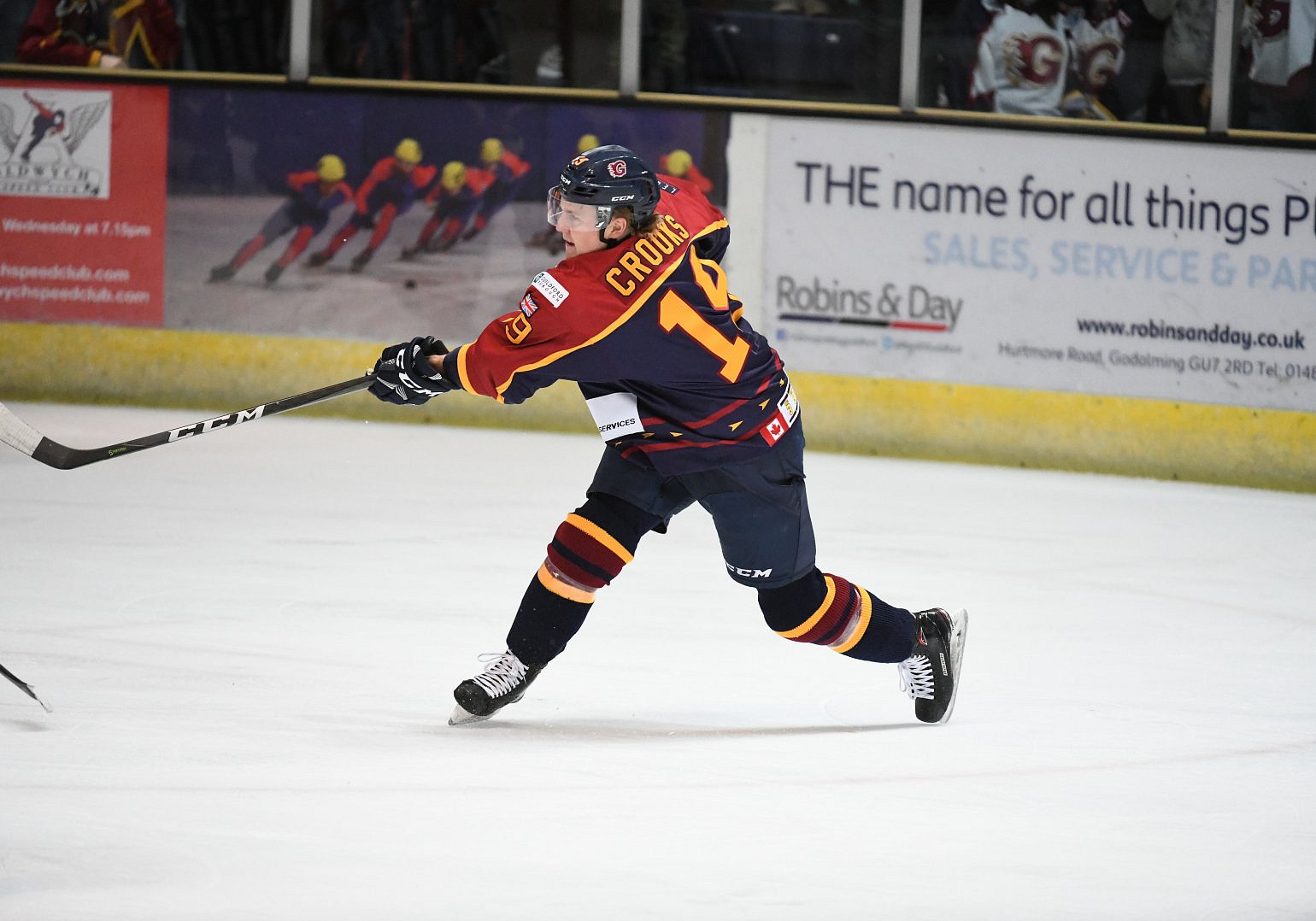 Scoring a hattrick is pretty special in ice hockey. Getting a natural one inside the first period is some feat, but scoring five goals in one night takes some beating. Guildford Flames' Jamie Crooks did that on Sunday night and was chosen as our Player of Week 25!
"I believe it was definitely a first for me," began the Flames' forward about his five-goal night against Cardiff. "But overall it was a huge couple of wins for us this past weekend. Every game is so important for us down the stretch as the season winds down.
Crooks also scored in the Flames' win in Glasgow 24 hours earlier. The road win should perhaps not have come as much of a surprise - Guildford have won all bar two of their nine visits to intu Braehead since joining the Elite League. "To be honest I think it is just more of a confidence thing, once you pick up a couple of wins in another team's rink you gain that belief that you can do it again," he explained. "The atmosphere in Glasgow is always great as well so those games are fun to play in."
Overall it's been a mixed bag for Guildford this season. The Flames went into the pre-Christmas period in second but a disappointing run of form saw them fall away. They now find themselves in sixth, but do have a realistic chance of cracking the top four by the end of the regular season. "It's been a little frustrating at times," admitted the 28-year-old. "But this year the league is so competitive, every team in the league is capable of beating anyone on any night. If you take any nights off against any team you won't get the result you want. So as a team you have to find that consistency each and every game, especially at this time of the year."
Crooks moved across the Atlantic in the summer of 2018 and is enjoying his first stint overseas. "I've really enjoyed it, everything from the ownership to the coaching and training staff have been excellent. Guildford is a great place to live and the fan support we get is unbelievable. I was very impressed with the quality of the league last year and I believe the league has gotten even better this year," said the Canadian, who has also been able to link up with former teammates from the University of Alberta again in Surrey. "It definitely helps to know a few of the guys, especially last year which was my first year overseas. Brett Ferguson and I played on a line for three years at Alberta and we play together here in Guildford, so that really helps to play with someone that you have a lot of chemistry with.
The Flames begin their final 13 games of the regular season tonight at home to Belfast. What's the aim going down this final stretch? "I think it's important for us to build up some consistency down the final stretch and gain that confidence. It's so important come playoff time and we need to be ready" he concluded.