Tonight: All eyes on the top four
Photo: Panthers Images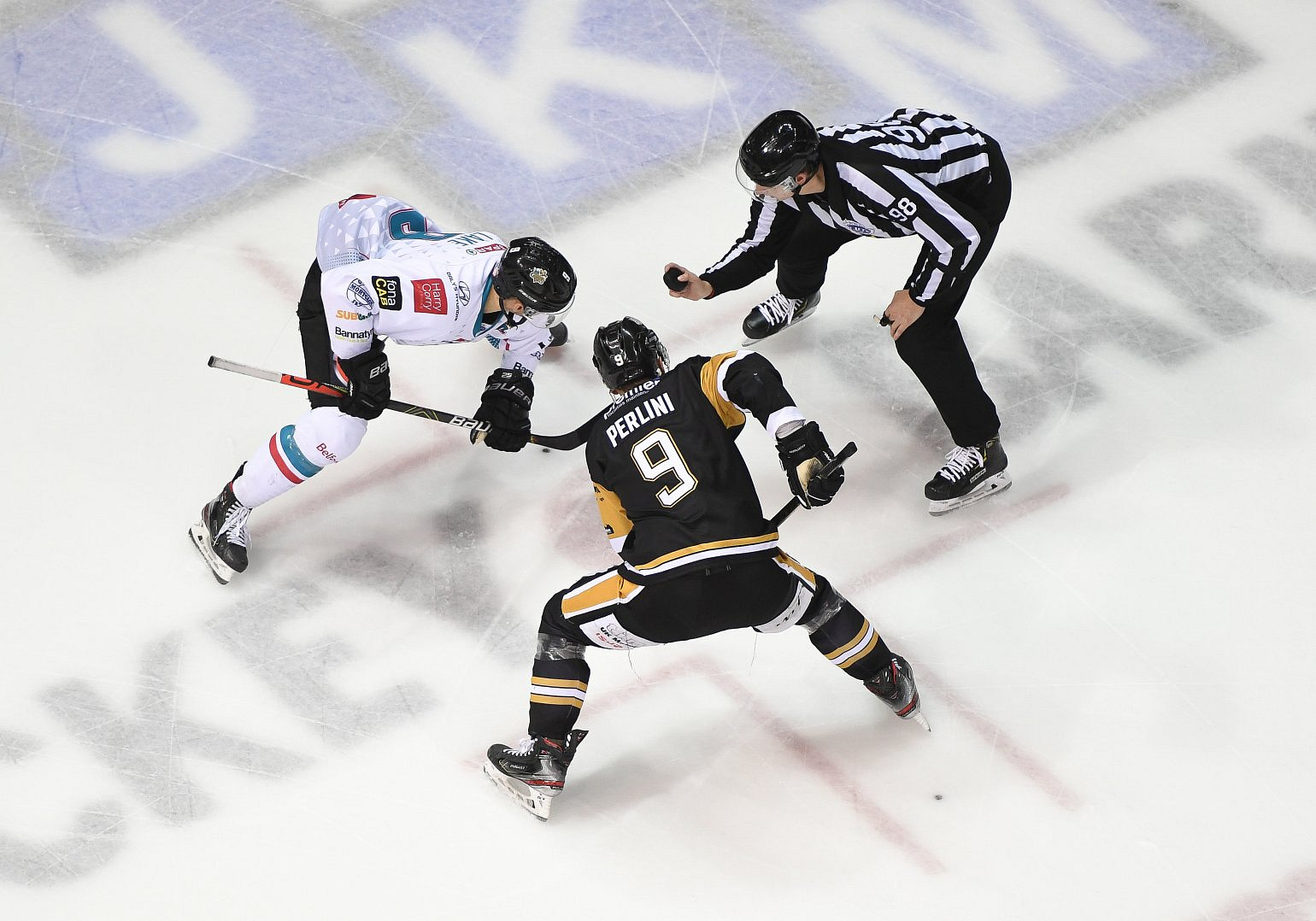 It's another day of big games at both ends of the Elite League table across Sunday!
1600 Nottingham Panthers vs. Belfast Giants
Nottingham and Belfast have been battling over third in the league for the past few weeks and get to play each other this afternoon to see who'll end the weekend in the top three.
While the game will decide who goes, or stays, third tonight, it's also an important one for both teams' chances of staying in the title race. The Panthers are six points behind leaders Sheffield with three games in hand - enough to go level on points; the Giants are five back with two fewer games played - enough to go a point behind.
Belfast have the league's joint-best record in their last five games and have gradually started increasing their average goals per game which now stands at 3.05. These two teams have the league's top two stingiest defences as well, giving up 2.63 (Panthers) and 2.49 (Belfast) goals per game.
1730 Coventry Blaze vs. Glasgow Clan
Teams heading in opposite directions meet at the Skydome on Sunday evening.
Coventry had to settle for a point in Cardiff yesterday despite being 3-1 up in the middle period, but extended an impressive record to 10 straight games without losing in regulation. The Blaze sit fifth but have collected a league-best 17 points from the last 10 games.
Only two places but nine points further back are Glasgow, who are now just one point above the playoff trapdoor. A home defeat to Guildford last night was the team's third defeat in Fife and means that the Clan have taken just 22 points from the last 60 available in the league - only Fife have a worse record. However, the Clan have gradually been welcoming back players from injury and could take positives from the loss to Guildford.
1730 Fife Flyers vs. Sheffield Steelers
Top vs. bottom at this stage of the season is rarely hailed as a game of huge importance, but this one in Kirkcaldy has huge significance for the final run-ins of both teams.
Nine points off the playoffs and with only 11 games to play, Fife are fast running out of games to make up that deficit in. Next weekend they play both Dundee and Manchester which could be the crucial part of their season but with neither of those teams playing tonight, the Flyers have a chance to make up some ground.
Sheffield head to Scotland without a win in three and on a run that has seen their lead at the top cut down to just three points. The Steelers are, somewhat surprisingly, looking for their first win in the month of February against a team that they've beaten by at least three goals in their four meetings so far this season.
1800 Guildford Flames vs. Cardiff Devils
One of Guildford and Cardiff will take a huge four-point point weekend at the Spectrum this evening to held their push going into the final part of the season.
Guildford are still in the race to finish in the top five and have a decent home record against Cardiff this year with a pair of wins and one-point losses. A hard-fought road win in Glasgow moved the Flames on to three wins from the last five and although they've only won two from five at home recently, Guildford have the fourth-best home record in the league.
Cardiff meanwhile have the league's best road record and head to Surrey knowing that ending the weekend only three points off first place with four games in hand could be a crucial moment of the season. The Devils ground out a shootout win on home ice yesterday having trailed 3-1 and are also on a run of three wins from five. If special teams prove crucial then the Flames won't want to be giving up too many penalties - Cardiff's powerplay is firing at almost 30%.