Tonight: All eyes on the top
Photo: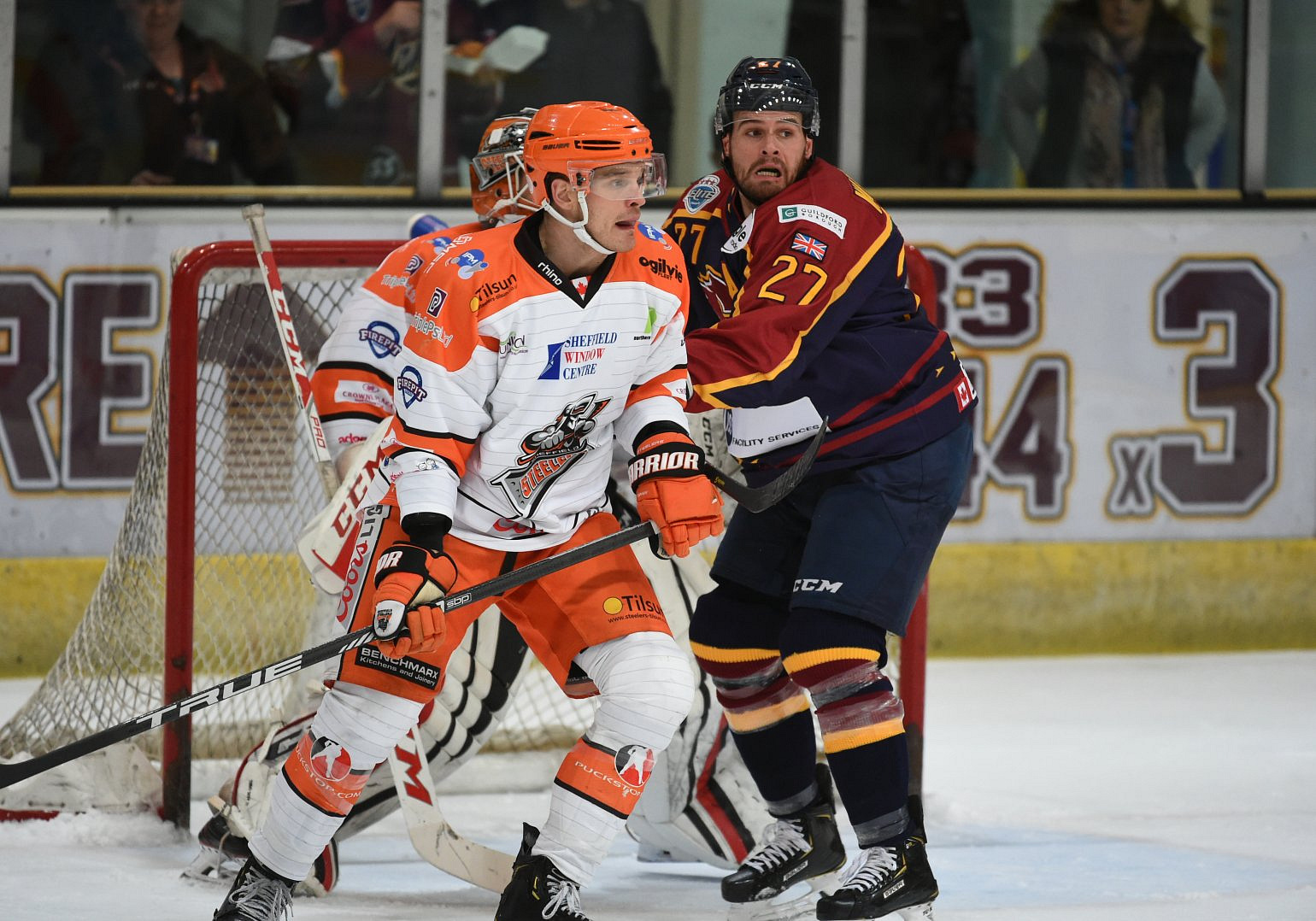 It's another big Sunday both in terms of the title race and playoff places!
1600 Belfast Giants vs. Cardiff Devils
Belfast and Cardiff renew hostilities this afternoon with finishing the weekend in second overall the prize for the winners of this game.
Both benefitted from Sheffield losing yesterday but it was the Giants who took most advantage, and another home win would bring them well and truly back into the title race.
For Cardiff, losing both games this weekend would not be the end of the world for their title hopes - but it would need the Devils to put a real run together over their remaining 16 games to ensure they convert their games in hand to points on the board.
"The job is half done. We were fully engaged for 60 minutes and got the result we wanted yesterday but now we have to come and do it again. There's the Olympic break after this game so there's no reason why we can't come and empty the tank." - Adam Keefe (Head Coach, Belfast Giants)
"To a man we need to be better today, myself included. I didn't think we were at our best yesterday evening but now we have the chance to put that right." - Andrew Lord (Head Coach, Cardiff Devils)
1600 Nottingham Panthers vs. Fife Flyers
11 points off the top of the league but with four games in hand means Nottingham are still hanging on to the title race after last night's excellent win in Sheffield - and they could bring themselves further back into things if they can get past the league's basement side on home ice.
A much-needed four-point weekend would not move the Panthers any higher but it would ensure they keep pace with the three teams above them. Thanks to his three points in Sheffield, Panthers' captain Sam Herr moved up to become the league's leading points scorer.
Fife simply need to find any way they can to get out of their losing run which was extended to 13 games without a win in a home defeat to Coventry. The Flyers are now eight points back from a playoff place and have only 15 games to turn it around in. 
"We had a complete 60-minute performance in Sheffield, and we have to play the same way. It's a deep league and if we don't who knows what could happen, so we have to be ready to go." - Tim Wallace (Head Coach, Nottingham Panthers)
"We need everyone playing and going. When things are looking grim guys start trying to do too much and it's a little bit of a vicious circle." - Todd Dutiaume (Head Coach, Fife Flyers)
1730 Coventry Blaze vs. Manchester Storm
It will be either a four-point weekend for Coventry or a three-point one for Manchester when the teams meet at the Skydome.
The Blaze are the league's form team over the past five games, and across the last 15 or so are actually on top three form. They now seem to be involved in a battle for fifth with Guildford but do still have the possibility of finishing higher.
Manchester's point in an overtime defeat to the Flames kept them a point clear in the playoff places as they go into, effectively, one of their games in hand over Dundee. The Skydome is a place where the Storm have won each of their last two visits.
"It'll be a tough game, Manchester have been playing some good hockey. They're a younger, hard-working ream with a very good goalie who can win games on his own." - Danny Stewart (Head Coach, Coventry Blaze)
"At this stage of the season, you have to have short memories and get back on the horse. We've been playing well, yesterday we weren't clicking as we can but it's another game and a new chance." - Ryan Finnerty (Head Coach, Manchester Storm)
1800 Guildford Flames vs. Sheffield Steelers
It will not just be Surrey and Yorkshire with eyes on this clash this evening, as both Belfast and Cardiff will be hoping that Guildford can do them both a huge favour.
With more games left to play than anyone else in the league, there is still an outside chance that Guildford could get themselves in the league title mix as well - but if they're to do so it will almost certainly need them to beat the league leaders tonight. The Flames have been picking up more wins of late but have struggled to find four-point weekends to really kick on. For the second week in a row, they find themselves with the possibility to do that on home ice.
Sheffield lost their seven-game unbeaten streak in yesterday's home defeat to rivals Nottingham, but it's been a long time since the Steelers came out of a weekend with no points at all. One has to go back to the 9 and 10 of November to find the last time the Steelers lost two in a row, and if they're to stay at least seven points clear at the top they'll need to make sure a repeat doesn't happen.
"We good a good win in overtime in Manchester, and some outstanding goaltending from Travis Fullerton. It gets no easier now but the challenge is always exciting. Sheffield have been top for most of this season and have some quality players." - Paul Dixon (Head Coach, Guildford Flames)
"We've had a few players sick this week, but we have to dig deep here and find a way to make sure we end the weekend with some points before the break." - Aaron Fox (Head Coach, Sheffield Steelers)