Tonight: Run-in starts here
Photo: Dean Woolley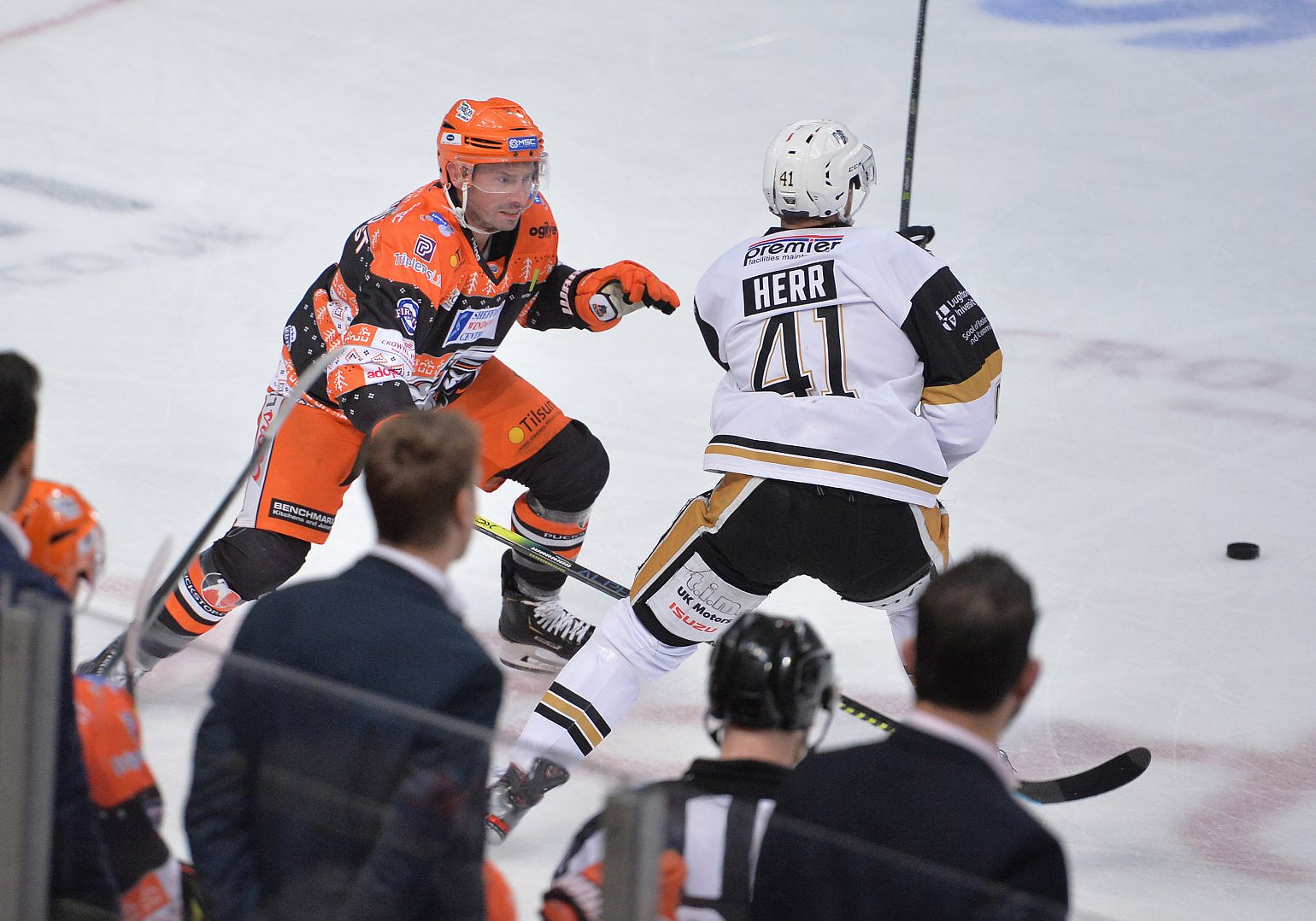 We have two months of hockey left in the 2019/20 Elite Ice Hockey League season, and each team has between 14 and 19 games left to. It will be an intriguing final few months at every point of the league table, and this weekend is the perfect way to kick off the final run-in!
1900 Belfast Giants vs. Cardiff Devils
Last season's double-header in Belfast between these two sides was the start of the Giants' end of season streak to make up a sizable points difference. This season, however, both teams frankly need two wins to keep their title hopes going. Cardiff perhaps have a little more margin for error having played fewer games, but if either side comes out of these games without any points their task will have been made an awful lot harder.
Belfast got their first four-point weekend for some time last weekend while the Devils picked up two wins at the weekend and then had that comeback win in Nottingham to reach the Challenge Cup Final. 
"Discipline is a big thing. We've been taking too many penalties as of late and Cardiff have the best powerplay in the league so we have to clean that up. We've proved that we can beat anyone in the league when we're full of energy and clicking, so the focus is to come out and give ourselves the chance to take points from these games." - Adam Keefe (Head Coach, Belfast Giants)
"We go from a huge game midweek to another two massive ones now this weekend. Our games against Belfast over the past few seasons have always generated huge excitement among players and fans, and this season is no different. Everyone knows what's at stake, but it's important that we stick to our process and keep our emotions in check." - Andrew Lord (Head Coach, Cardiff Devils)
1900 Glasgow Clan vs. Dundee Stars
It was an important game for both teams when they played in front of the FreeSports cameras just over a week ago and tonight is no different. Separated by four points in the race for the playoffs, these Scottish rivals have been heading in opposite directions for the mast six weeks or so.
Glasgow were the early league leaders but injuries and bad results have seen them fall down the standings - a win against Fife on Sunday ended their losing run and move them a few points clear of Dundee again, but they'll now need to build on that if they want to keep their spot in the post-season. 

Dundee, pre-Christmas, were some nine points adrift of the playoff places. Some excellent wins since then have brought them back to within touching distance of the teams they're chasing down but they now need to start picking up road points to help their cause - it's three straight away defeats for the Stars since winning in Guildford on 5 January.
"Road games are very, very important and they are going to be defining our season right now. We still have seven home games left but our next two are on the road and against big rivals in Glasgow and Fife. We have to make sure our away form is up to par for the next few games and sometimes winning on the road is very difficult. It is never easy but I would rather we did the hard job now and then use our home ice to our advantage." - Omar Pacha (Head Coach, Dundee Stars)
1900 Manchester Storm vs. Guildford Flames
Manchester's playoff push and Guildford's chance to push on take centre stage when the teams meet at the Storm Shelter tonight.
Three wins from their last five at home is exactly the kind of form Manchester will need to keep up until the end of the season if they want to be in the playoffs. The Storm With the two sides immediately either side of the playing in Glasgow, the Storm will; have the chance tonight to potentially go seventh or move further out in front of falling down to ninth if they can get past Guildford.
The Flames have been very inconsistent since Christmas, although recently they've picked up six points from the last ten available. Still with games in hand on the teams above them, a win for the Flames tonight could kick-start a run for them which leaves the top four as a real possibility. 
"It's another big weekend for us and we play a Manchester team that have beaten us a few times this season. I said before the last games that they're not a team that should be where they are in the league, they have some very dangerous players. We need to keep working and doing the right things and, most importantly, keep picking up points." - Paul Dixon (Head Coach, Guildford Flames)
1900 Sheffield Steelers vs. Nottingham Panthers
Steelers-Panthers derby games rarely need much more introduction, but at this stage of the season and with the teams where they are this one almost sells itself.
League leaders Sheffield know that at least one of the two teams chasing them is going to drop points this weekend over the Belfast-Cardiff games, and as such could extend their seven-point advantage. Whether you're measuring over the last five of 30 games the Steelers are the league's best and are also on a run of seven straight wins in all competitions.
Nottingham head up to Sheffield needing to get over their Challenge Cup Semi-Final defeat to Cardiff pretty quickly. If the Panthers want to keep their fading title hopes alive then they've no option but to beat Sheffield whom they currently trail by 13 points but with four games in hand. They're also trying to end a run of three straight losses.

"We have a huge weekend ahead of us. We had a big weekend against Nottingham over New Year and I felt like they were a different hockey team than they were at the beginning of the season. We will really need to be ready to go." - Aaron Fox (Head Coach, Sheffield Steelers)

"I'm really excited about the challenge. Sheffield have a good team but I'll jump right in to do what I can to get the win on the board for us. Derby games are the reason we play hockey and I hope it's going to be good." - Mathieu Tousignant (Forward, Nottingham Panthers) 
1915 Fife Flyers vs. Coventry Blaze
The evening's final game in Kirkcaldy could have a big effect on the direction each of Fife and Coventry's season takes in the final months.
There's no getting away from the fact that Fife need to start picking up wins if they're to have any chance at making the post-season. 12 straight losses see them five points adrift at the foot of the table, and now seven points off the playoffs with only 14 games to make up the difference in.
If Coventry are serious about finishing in the top five this season then winning away to the basement side is the type of result they're going to need to pull out. Picking up a point in their home OT defeat to Sheffield means the Blaze have now got something out of their last six games, including four wins, and have only had one of their last eight games where they didn't get at least a point. Of the games they've lost since CJ Motte came in, only one of them has been by more than a goal.
"Everyone knows we have to play ourselves out of this bad run we're in, and it needs us to make sure we're able to kill off games if we have the chance. Our defense have been playing well, it's up to us forward to help them out and put goals in at the other end." - Carlo Finucci (Forward, Fife Flyers)