Tonight: Full schedule across Sunday
Photo: David Williams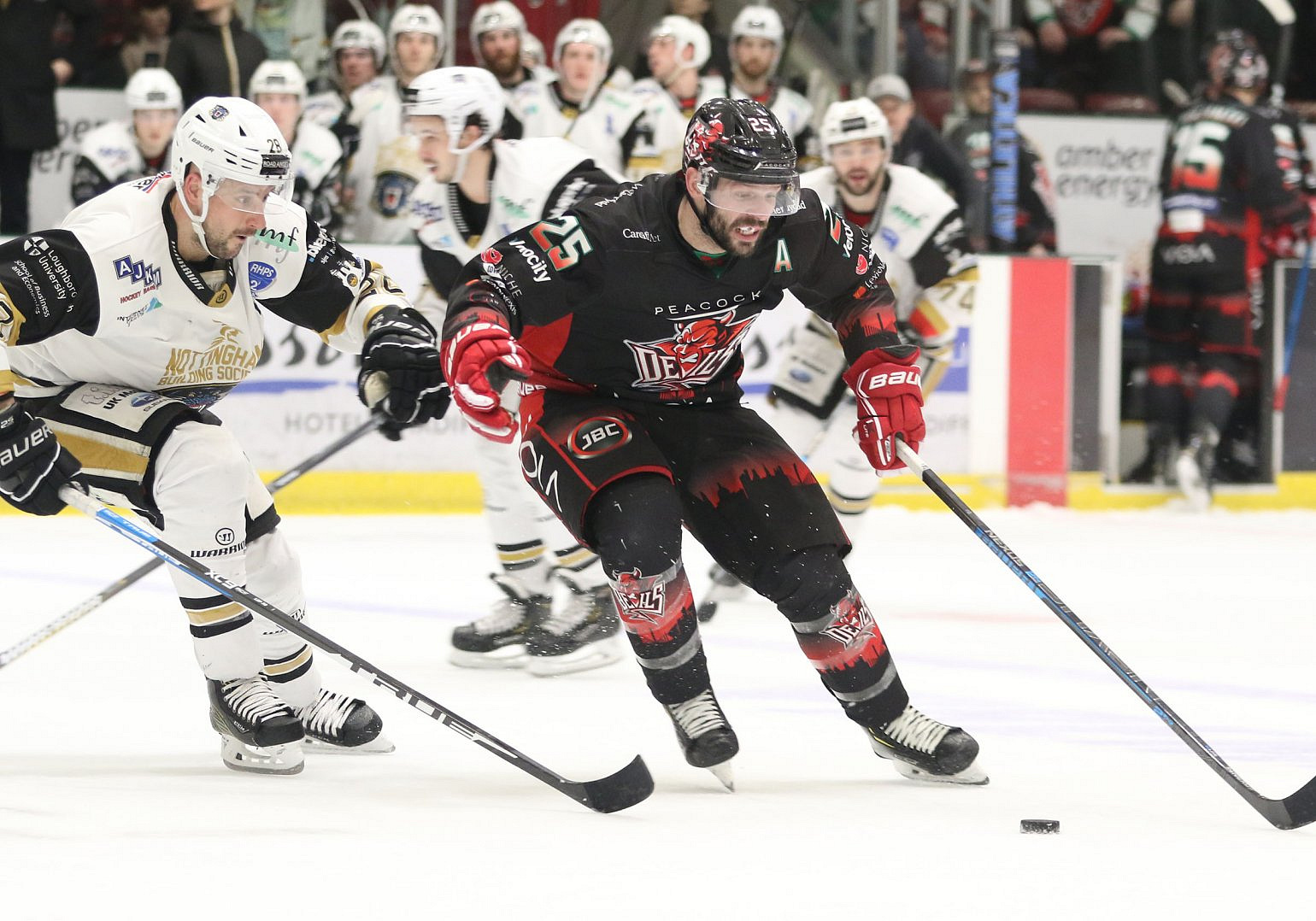 It's a full schedule of games on Sunday in the final day of Pride Weekend!
1630 Glasgow Clan vs. Fife Flyers
If there was ever a clash of two teams in desperate need of a win, then this is most definitely it.
The league's least successful teams over the past 30 games, Glasgow and Fife are both looking to end their own winless runs when they meet in Braehead this afternoon. Clan's last win was on 10 January against Coventry, although they did manage to beat the Flyers in both of their games over New Year. Fife's last point was that shootout loss to the Clan at the beginning of this month, while their last victory came on 21 December.

1730 Coventry Blaze vs. Sheffield Steelers
Coventry play their first and only game of this weekend tonight when they welcome to league leaders to the Skydome.
With three wins in a row confidence in the Blaze locker room will be high, although they will have to play without David Broll who is serving the second game of his boarding suspension. The Blaze are now involved in a battle for mid-table position with Guildford, although they still could finish in the top five if they're able to put a run together. 

Sheffield were made to work hard for their win over Manchester yesterday, but will end this weekend top of the table regardless of scores tonight. The question for the Steelers is how many points clear they remain - it's currently seven, but there could be another twist in that this evening.
1730 Manchester Storm vs. Dundee Stars
Separated by one place but on level points, this is a huge game in the race for the playoffs. 

Manchester are ahead of Dundee and in the playoff places by virtue of having played less games, but whoever takes a win tonight will give themselves an advantage going into the final two months of the season.
In a sense, Dundee have more pressure on themselves. They've played more games than the Storm, and if they lose tonight would need to overturn that deficit in only 15 games before the season is over. The Storm will have 17 to go after this.
1800 Cardiff Devils vs. Nottingham Panthers
There is very little margin for error for Cardiff when they welcome Nottingham to the Viola Arena for the second time this week.
After the teams split 10 goals midweek in the Challenge Cup it's league points on offer tonight between the sides ranked second and third. The Devils' win in Fife kept them on pace to be seven points behind Sheffield but with enough games in hand to overtake the Steelers.
Nottingham's home defeat to Guildford leaves the Panthers 11 points behind the leaders with four games in hand. Needing to win at least six more than the Steelers over their next 19 games, the Panthers will need to get themselves on a roll starting tonight if they're to keep any hopes of a league title alive.
1800 Guildford Flames vs. Belfast Giants
A clash of teams that both scores five goals yesterday, Guildford and Belfast meet in Surrey with league position very much on the line.

It's been a while since either team was able to put a four-point weekend together, but one of them will be able to do that tonight. Belfast's hopes of defending their league title will need them to win the vast majority of their remaining 17 games. Currently, in third, the Giants are also looking over their shoulders at Nottingham who have games in hand on them. 
Guildford are at a bit of a crossroads in their season. With several games in hand on the teams above them they could comfortably move up to fifth and potentially move further up the table with a good run towards the end of the season. However, dropping any points at home where they've only won one of the last five, could kill off aspirations of finishing higher.