Tonight: Big games in title and playoff race
Photo: Flyers Images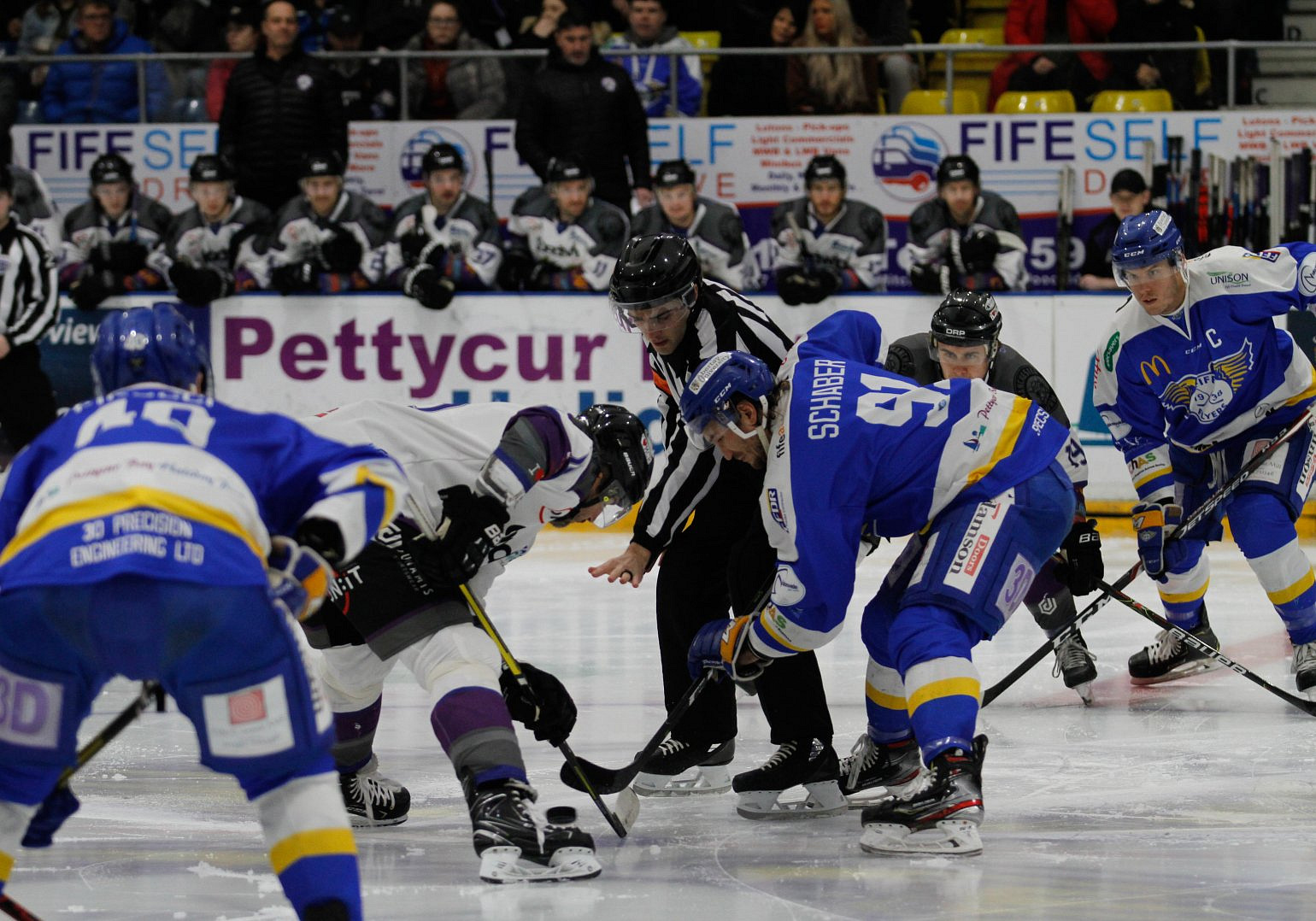 Week 20 in the Elite Ice Hockey League comes to a close this evening with four games. While the first three all involve teams chasing the league title, tonight's late start is huge for those trying to make sure they're in the playoffs come the end of this season.
1600 Sheffield Steelers vs. Glasgow Clan
Both Sheffield and Glasgow had a rest day on Saturday after playing Friday night, and meet at the FlyDSA Arena a week after the Steelers' victory in Braehead.
That win came from an incredible Steelers' comeback in the third period to turn a 3-1 deficit into a 5-3 lead within the last 10 minutes. These teams will be somewhat familiar with each other by the end of January as they also face each other in the Challenge Cup Semi-Finals this month.
"I thought we played a good hockey game in Belfast and was disappointed with the result but not the performance. On this run, we've been in getting at least a point over 12 games or so we've been battling and if we continue to do that we'll get rewarded." - Aaron Fox (Head Coach, Sheffield Steelers)
"We found a way against Coventry and that's how we need to play - a full 60 minutes, and we got better as the game went on. It's a huge game against this team who we'll also play midweek." - Zack Fitzgerald (Head Coach, Glasgow Clan)
1800 Cardiff Devils vs. Dundee Stars
Cardiff and Dundee shared 14 goals when these teams met early in the season but now find themselves with very different battles ahead.
The Devils made up two points on leaders Sheffield with a win in Manchester yesterday, and are aiming to keep that gap down to at least three ahead of the teams' meeting in Cardiff next weekend.
Dundee went level with the playoff places thanks to a shootout win against Guildford, a remarkable turnaround for a team that was nine points adrift before Christmas. The Stars have three road wins in their last four.
"Every team in this league is deep this season. Dundee are a fast team; they're pretty hot right now and play the counter-attack very well. If you give this team odd-man rushes they'll capitalise." - Andrew Lord (Head Coach. Cardiff Devils)
"I liked our fightback against Guildford which is a big confidence boost for the players. We need to bring this into today which will be a very tough game in Cardiff, however if we keep improving as we have been doing each game then we can put ourselves in a good position." - Omar Pacha (Head Coach, Dundee Stars)
1800 Guildford Flames vs. Belfast Giants
Belfast's first visit of the season to Guildford comes off the back of a home win against Sheffield which brought the Giants back into the title race.
If the Giants can win their games in hand they'd go just a point behind the league leaders. The sides' only previous meeting this season ended 2-1 to the Giants in Belfast.
Guildford picked up a point in Dundee but are on a slide of results with just one win in eight, including the last three games at home. They've also not beaten the Giants at the Spectrum since October 2018.
"I thought we played well in Dundee, we'd worked on a few things and were better. We have to focus on the positives from that game and take them into this one with Belfast today."  - Paul Dixon (Head Coach, Guildford Flames)
"It's always tough going into Guildford. The number one thing I've learned in my time as a coach here is that the highs and lows in a season are plentiful! We have to remember it's a long season, not get too high but look for consistency and build some momentum." - Adam Keefe (Head Coach, Guildford Flames)
1830 Fife Flyers vs. Manchester Storm
Fife and Manchester are involved in what's starting to become a three-way battle for one playoff place, and this game tonight in Kirkcaldy could well be look backed on come the end of the season for whoever misses out.
Fife trail the Storm, who occupy that last playoff spot, by a point. While the Flyers coaching staff have been happier with recent performances, the Flyers have lost seven games in a row and only picked up one point in that stretch. At home, they've not won since 30 November.
Manchester, by contrast, have two wins from their last four on the road and have had impressive wins against Cardiff and Guildford in recent weeks. The Storm, who won on their last visit to Kirkcaldy in a shootout, are waiting on new signing Frankie Melton to receive ITC clearance from USA Hockey to be eligible for tonight's game.
"Everyone is under an incredible amount of pressure now. At this point, we're severely under-performing form where we have been in the last seven years. We're past the point of trying to boost spirits up, and the guys are going to have to buck up and be professionals, coming ready to work every night. It's not easy when you continue to drop games, but we have a big home game now and a win would put us back into the playoff places." - Todd Dutiaume (Head Coach, Fife Flyers)
"Frankie landed this morning but we're still waiting for his clearance, but we're looking at how we can get him to Fife for the game, but if he's not eligible we go with the line-up we have. It's a big game here with the way the table is now shaping up, but we know what it takes to get a result there." - Ryan Finnerty (Head Coach, Manchester Storm)