Player of Week 16: Wouter Peeters
Photo: Scott Wiggins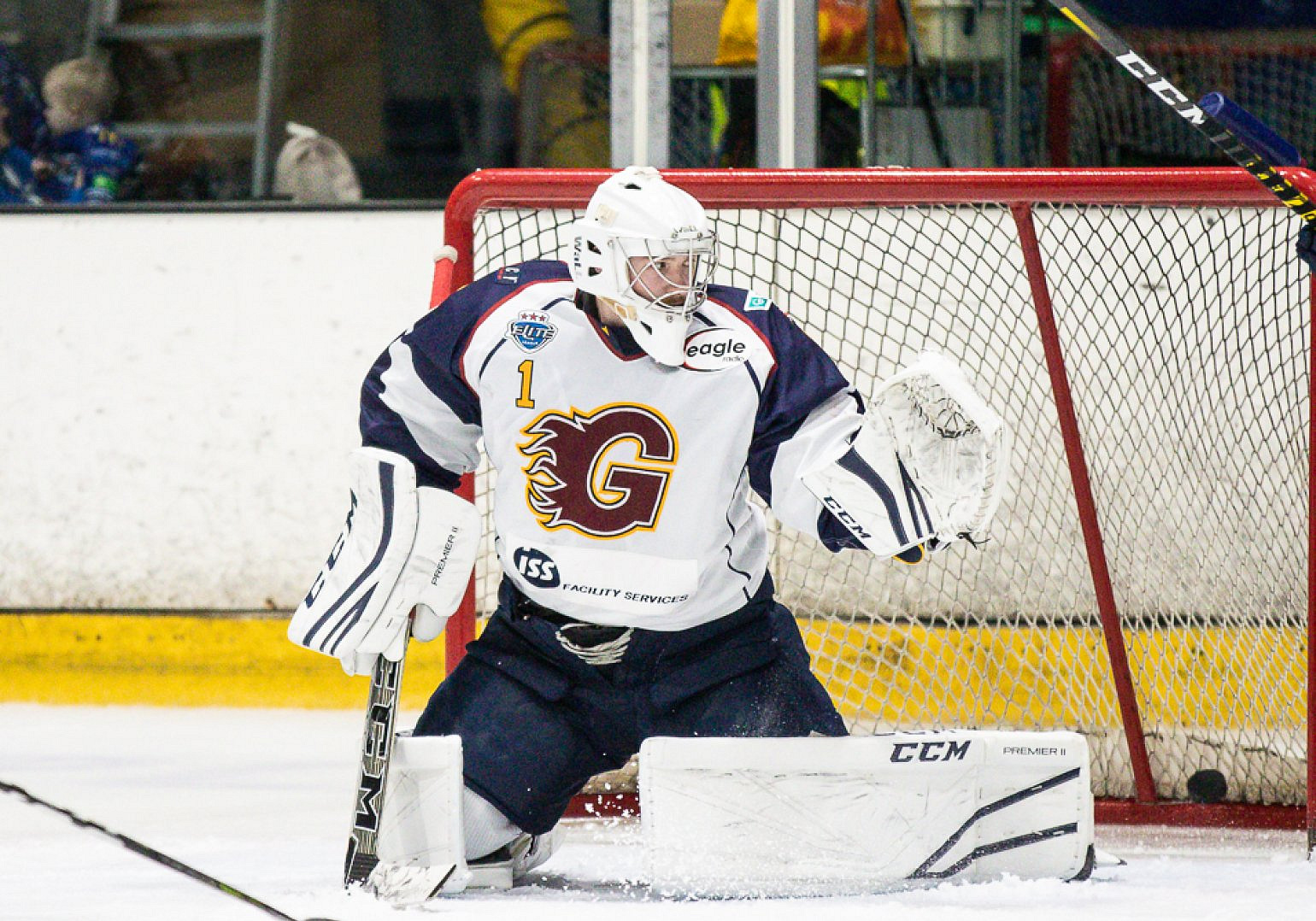 There's little doubt about who the form team in the Elite League is right now. Three four-point weekends in a row have propelled Guildford Flames up to fourth in the league with last weekend's double-header of victories in Scotland the latest in that streak.
Goalie Wouter Peeters save 94.73% of the shots he faced in those two games and for that he was chosen as our Player of the Week.
"After our loss to Nottingham in the cup we knew we needed to do something at the weekend, and found a way," began the Belgian. "We all knew we didn't play out best in that game. Everyone knew that each of us needed to work harder and we came together as a team on the road which paid off with two wins."
Aged just 21 and starting games in professional hockey must almost be a dream come true for the young goalie? "Yes exactly, it really is. I'm very happy that the team gave me this opportunity and I'm doing my best to help the team. The guys all took me in very well too which made things easy," said Peeters, who is following a little in his father's footsteps. "My dad used to play hockey when he was younger and there was an ice rink at the time in my home town. I liked sharing and was looking for a new hobby around the age of 11 or 12 and started playing hockey." 
Peeters' career path took him from Belgium to the Red Bull Academy on the outskirts of Salzburg at the age of 16. "It wasn't the easiest decision and I didn't go the first time they invited me, but they kept asked and I went for a tryout after which I decided to move. After that everything worked out," he explained. "I was at a tournament in Zell am See and a Belgian team going there didn't have a goalie. They asked me to play and a team from Red Bull were in the tournament as well. Their goalie coach scouted me and things went from there!"
He continued: "In Finland I was of course in one of the best hockey countries in Europe and it was really tough. Their leagues and competitions are not easy, you learn that you have to work hard every day and can't let yourself down. The Red Bull Academy was a very high level, and then Finland was a little step up from there too. Overall I learned that everything you do off the ice translate to on it - you have to be 100% every day with your off-ice work as well. If you don't do something as fully as you should you might see a dip in your on-ice performance. You've got to be on it every day."
In 2016 Peeters was drafted in the third round, 83rd overall, by the Chicago Blackhawks. "I was talking to some teams but wasn't expecting to get drafted that early," revealed the Belgian. "I knew there was a chance I'd go in the later rounds so I was surprised when it happened in the third. I was actually with my old team in Belgium, White Caps Turnhout, at the time for their end of season party! The draft doesn't mean anything though. It's nice to be drafted but it's a very long way to get to the NHL. I hope to get there someday and will keep working to see what happens."
The goalie joined Guildford in the early part of this season as the Flames looked to give extra competition to regular starter Travis Fullerton. "At the start of this season I was in Tappara and things didn't work out so I was without a team, Paul Dixon reached out to me and asked if I was interested - a few weeks later I was in Guildford" explained Peeters. "It's a really good place to be, the team treats us all very well land the players have been great at making me feel part of everything. I also think it's a really good league here, each game is close and you really can't take shifts off. There's good speed and some very skilled players here."