Tonight: Chance to chase down the top two
Photo: Darren Kidd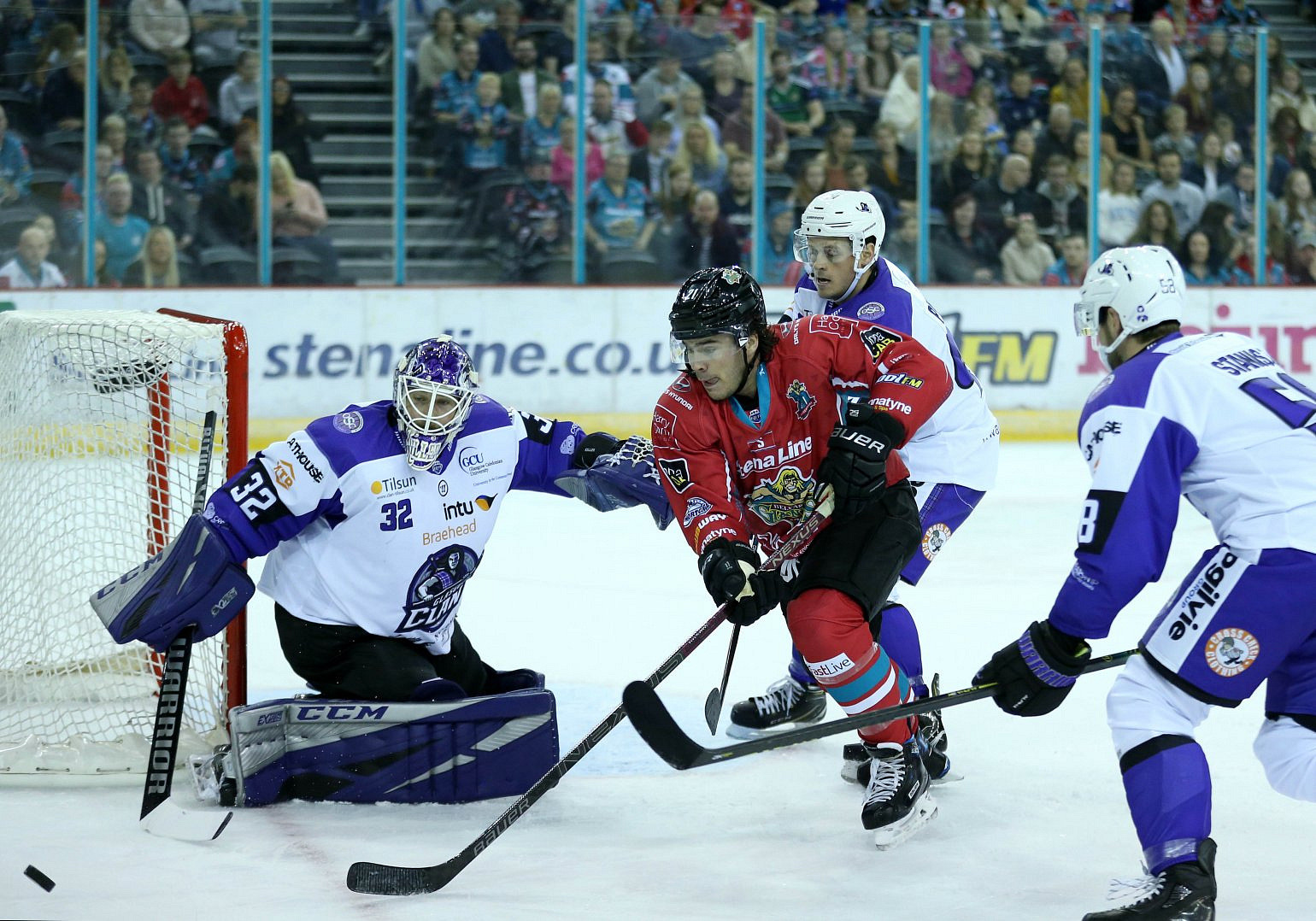 Neither league leaders Sheffield Steelers nor second-placed Cardiff Devils are in action tonight, giving some of the teams below them the chance to bridge the gap.
1600 Belfast Giants vs. Glasgow Clan
Hosts Belfast return to home ice after a Friday night in win Dundee hoping to join Cardiff on level points and cut the gap to Sheffield down to just three. 
That win for the Giants meant three of the last four have gone their way, and if the defending league champions were to win their three games in hand they would overtake the Steelers. Goal scoring has been a problem for the Giants so far this season although recent results have nudged their average up to three a game.

Glasgow suffered another home loss to Guildford yesterday and have seen themselves slip down to sixth overall in the standings. Although the men in purple are gradually getting closer to a healthy roster, one win in six has seen them fall substantially back in the title race.
1600 Nottingham Panthers vs. Manchester Storm
The league's best penalty kill visit the overall worst powerplay on Sunday afternoon with both sides after the points for very different reasons.
Nottingham's charge up the table continued with an overtime win in Cardiff as the Panthers got back into the top five. With 21 points from their last 15 games the Panthers have hauled themselves very much back into the mix for the top places and a home win put them only a pair of wins behind the league leaders.
Manchester, by contrast, have lost their last four games in a row and only picked up one point along the way. They fell back to four points outside the playoff places with a home defeat to Coventry and again find themselves needing to get some points to avoid being cast adrift too early. 
1730 Coventry Blaze vs. Dundee Stars
Coventry host Dundee hoping to pull themselves away from the playoff dogfight at this mid-stage of the season.
Back-to-back road wins have helped the Blaze to get back in form and move up a place away from falling out of the playoffs altogether. A week ago they were victorious in Dundee and if they can follow this up on home ice they may well be able to start looking at the teams above them again.
Dundee have lost six straight in all competitions and are in danger of giving themselves a very hard task if they want to make the playoffs. Currently seven points behind the Stars must start picking up points sooner rather than later, especially against teams like Coventry who are only a few ahead of them.
1730 Fife Flyers vs. Guildford Flames
Guildford end their Scottish road trip in Kirkcaldy hoping to post a third successive four-point weekend.
That combined with other good form has made the Flames the league's best team over the last 15 games and their rise up the table now puts them in fourth. They've had a funny season with Fife so far with both teams only able to win on the road.
Fife were defeated in Sheffield on Saturday night and have slipped down to the final playoff place. The Flyers have been short of bodies of late over a sleep of one win in four, but having played a game more than most of the teams around them securing home points is starting to become more necessary.