Sheffield Steelers' Michael Davies suspended for two games
Steelers' forward receives suspension for end of game incident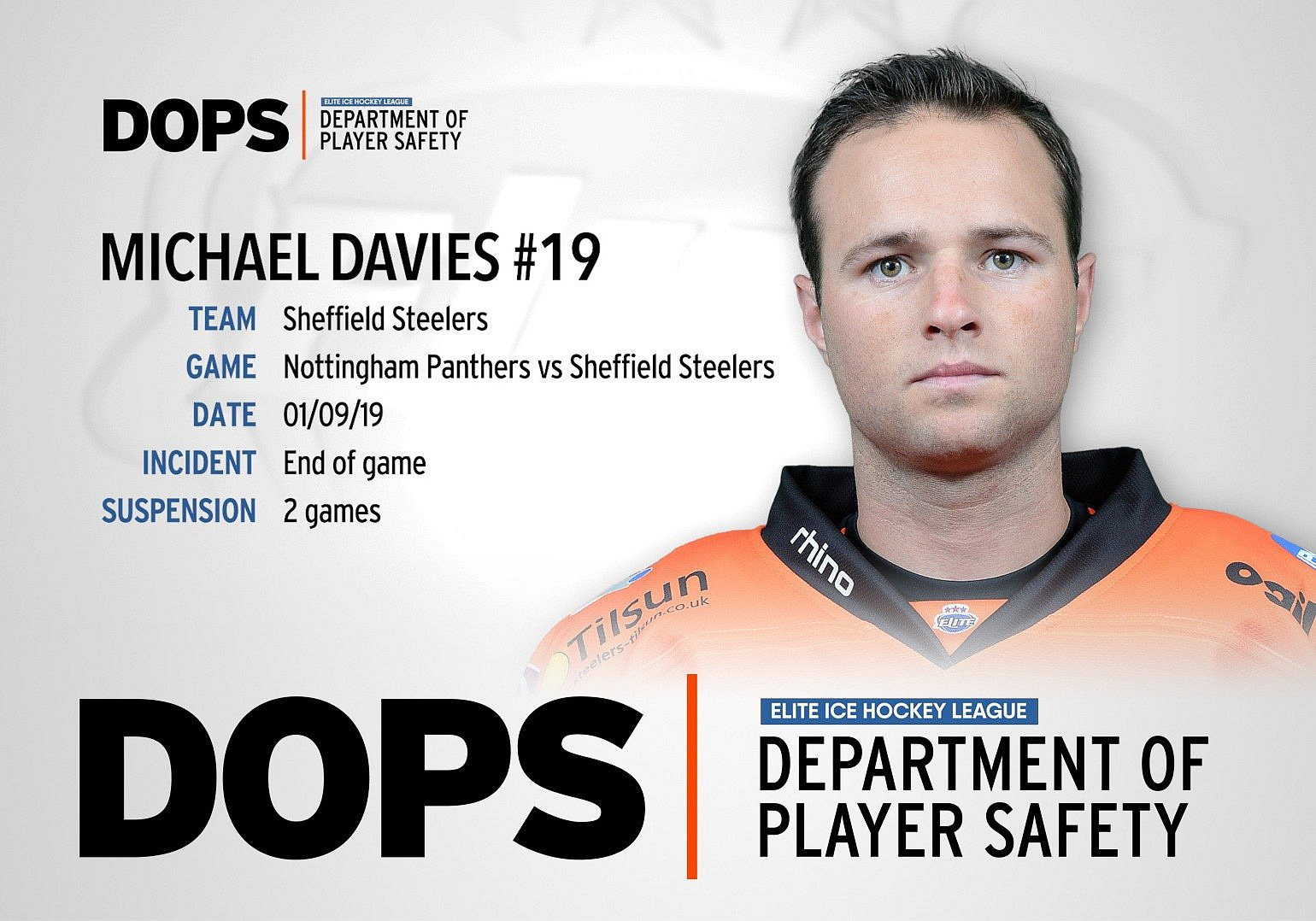 On September 01 2019 in a game played in Nottingham between the Nottingham Panthers and Sheffield Steelers, an incident occurred at the conclusion of the game involving an away team player, Sheffield Steelers' #19 Michael Davies. The incident was reviewed by the EIHL Department of Player Safety.




Through video footage and numerous reports, the information gathered warrants supplementary discipline for #19 Michael Davies. The reported series of events pertaining to Sheffield Steelers #19 Michael Davies at the conclusion of the game was as follows:




• #19 Michael Davies lifted the goal off its peg before skating away for the presentations




• #19 Michael Davies skated slowly around, and tapped one goal peg with stick aiming it along the ice towards block 6




• #19 Michael Davies then collected the other goal peg and as he was leaving ice at the block 10 Zamboni gates - as he walked off, he threw the plastic peg under arm into block 10 row D




Based on the information stated by #19 Michael Davies in his statement and the numerous statements received by witnesses, the conclusion is that Davies did toss a goal peg. The goal peg was not thrown with force or with an intent to injure. Instead, it showed a lack of control with his personal emotions in frustration at the conclusion of the game.




Davies showed a lack of respect for an opposing team, their fans and the EIHL. All players, including Davies, are responsible for their emotions. Hockey is a game played at a high emotion level. However, at no time are the actions of a player to extend off the ice and/or directed at any fans.




The EIHL takes great pride in the support and fans of the EIHL and in this case, those of the Nottingham Panthers. At no time will a player be permitted to direct negative emotion, or any form of physical actions, at fans.