Tonight: Full schedule on first day of December
All 10 Elite League teams in action this evening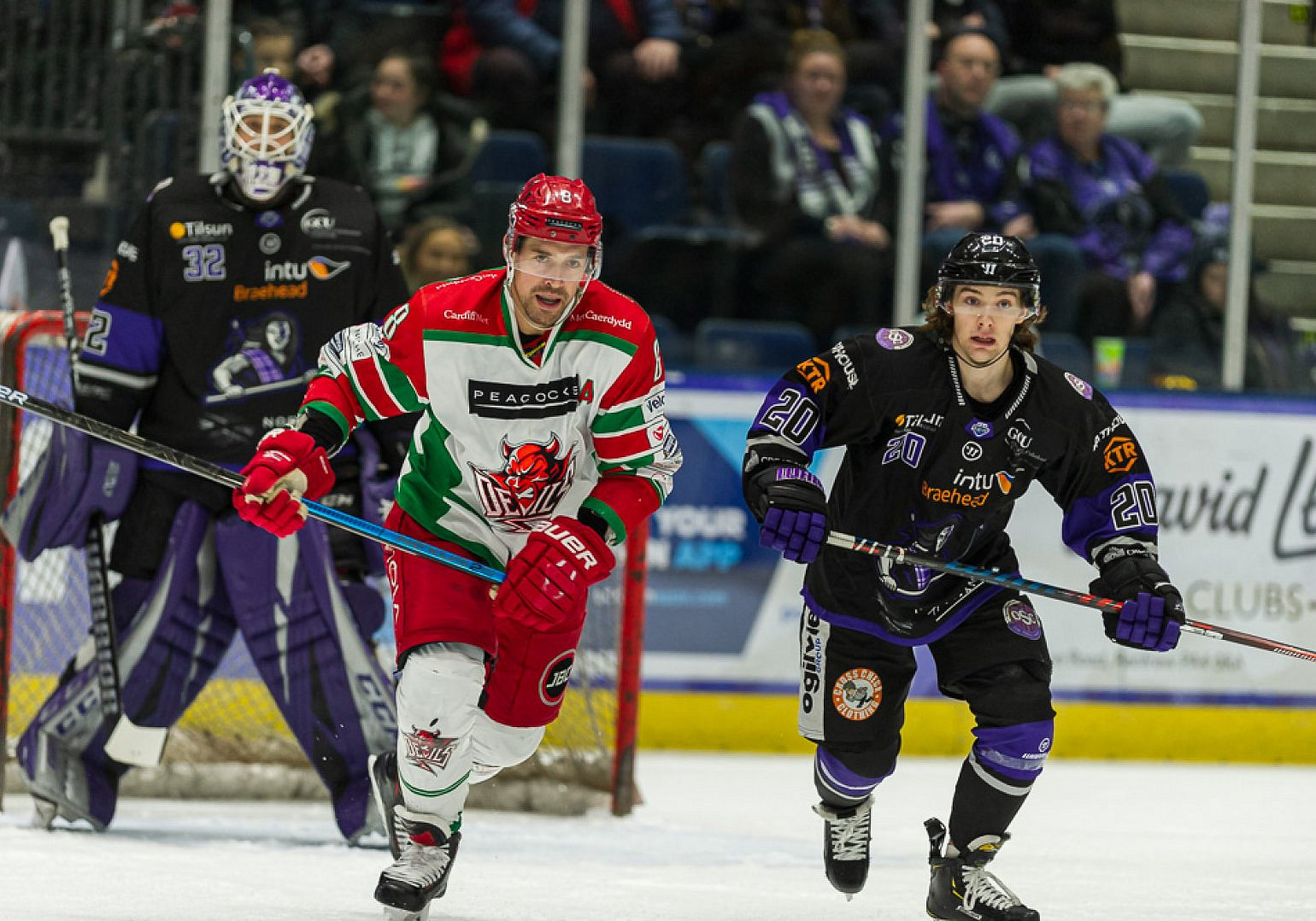 The 2019/20 season moves into December with a full schedule of games across Sunday.
1600 Nottingham Panthers vs. Sheffield Steelers
The two old rivals go head to head on Sunday afternoon with the gap closing between the sides.
Nottingham are going for a four-point weekend after Friday night's win in Glasgow. The Panthers have climbed up into the top five and are now within touching distance of Belfast above them. Tim Wallace's side have an impressive record of nine points from the last 10 available which has seen them climb the standings.
Sheffield's week started excellently with the 5-0 win over Belfast on Wednesday evening, but it could turn into a rather bitter end if they don't pick up points in Nottingham. The Steelers were soundly beaten 7-3 on their own ice by Cardiff yesterday, and whatever they can pick up tonight will determine if their lead at the top stays comfortable or goes down to a point.
"We need to have a good start at home. It's the rivalry game, it'll be close to a sell-out, and we're looking forward to it." – Tim Wallace (Head Coach, Nottingham Panthers)
"I actually liked most of our game despite the loss to Cardiff. We need to make some better decisions and hope that bounces go in our favour. We obviously weren't as good as we needed to be, but have a chance to correct that tonight."– Aaron Fox (Head Coach, Sheffield Steelers)
1700 Dundee Stars vs. Belfast Giants
Dundee and Belfast meet looking to get their first points of the week.
Dundee, after a good recent run, were shutout in Manchester to suffer their first lost in five games. The Stars fell back to three points behind the playoff places following that loss, but are tied in ninth with the Storm.
Belfast have now suffered two straight losses this week in which they've conceded five goals. After an excellent weekend in Cardiff last time out, the Giants have slipped back in the race to catch Sheffield at the top of the table.
"We have to get back to what we do well tonight. If we'd have got one or two bounces in Manchester it might have been a different game, but we'll get better tonight and hopefully get the points." – Omar Pacha (Head Coach, Dundee Stars)
"We need to get to the goalie and get him working. Dundee do a good job of defending in their own building, and it will take some guys doing things that they're not used to but that's just part of everyone pulling the same direction. We're getting frustrated and trying to do things as individuals, but we need to dig our way out of this together." – Adam Keefe (Head Coach, Belfast Giants)
1730 Coventry Blaze vs. Manchester Storm
Coventry host Manchester in what is a real 'four-pointer' as the season moves into December.
Coventry have been in a bit of a slump of late which has seen them win only two of their last ten games in all competitions. Three straight league losses mean Coventry have dropped from a place inside the top five to hanging on to a playoff position.
Three points behind the Blaze, Manchester can really not afford to leave Coventry without any points. The Storm's win against Dundee was their third in four and has helped them back into contention to move into the playoff places.
"Every game is a test in this league, as every coach will say. Manchester are a hard-working team, we saw them last week, and our focus has to be to play how we did in the final 40 minutes against Guildford for a full 60." – Danny Stewart (Head Coach, Coventry Blaze)
"We are heading into this one with three consecutive wins away from home. Our guys know what to expect in Coventry know and this should give us a better chance of extending that winning streak. I know the Blaze will be eager to avenge the loss in the Cup, but we just need to take the crowd out of it and stick to the plan." – Ryan Finnerty (Head Coach, Manchester Storm)
1730 Fife Flyers vs. Guildford Flames
A week after meeting in Surrey where the Flyers left with a two-goal shutout win, Fife and Guildford face each other again with both sides hoping to end with a four-point weekend.
Fife's impressive home win against Belfast moved the Flyers into being one of the league's top three sides on their own ice with a return of 14 points.
Guildford are, by points collected, the league's joint-worst road team – however, they've played at least two games less than everyone else. One of the Flames' only road wins was in Fife in overtime earlier in the season.
"In practice this week we paid a lot of attention to playing off the puck and making correct decisions. The win against Belfast shoed that the players are recognising the fine margins needed to win games. All of the little things add up, and we'll need to be doing them again to have success tonight." – Todd Dutiaume (Head Coach, Fife Flyers)
"We know what to expect as we've seen Fife several times this season already. We can't think too much about the bus trip but have to make sure that by the time the puck drops we're ready to play. We need to use the positives last night and make sure we stick to our game plan." – Paul Dixon (Head Coach, Guildford Flames)
1800 Cardiff Devils vs. Glasgow Clan
Second place outright is the prize for whoever wins tonight's clash between the two teams chasing Sheffield for top spot in the league.
Cardiff had an excellent bounceback from their double defeat to Belfast with a win in Sheffield, but unusually for the Welsh side they have lost three of their last five at the Viola Arena.
Glasgow suffered their second straight loss and third in five on Friday night against Nottingham. Both sides have games in hand on Sheffield above them, and while they can't catch the Steelers tonight they could cut the gap to a point if other results go their way. Equally, whoever loses could fall below Belfast if the Giants win in Dundee – such is the tight nature across the league.
"It was a good bounceback yesterday in Sheffield, but at the same time it's just one win. We have a huge game now at home to Glasgow, a team that have beaten us this season including our own rink. We definitely want to make sure we get the better of them this time." – Andrew Lord (Head Coach, Cardiff Devils)
"We have to get back to our game and find a way to be aggressive as we can be. We need to get the puck to the net and find ways to attack and test the goalie, which we didn't do enough of on Friday." – Zack Fitzgerald (Head Coach, Glasgow Clan)