Tonight: Four important league clashes
Teams looking to stay ahead or turn corners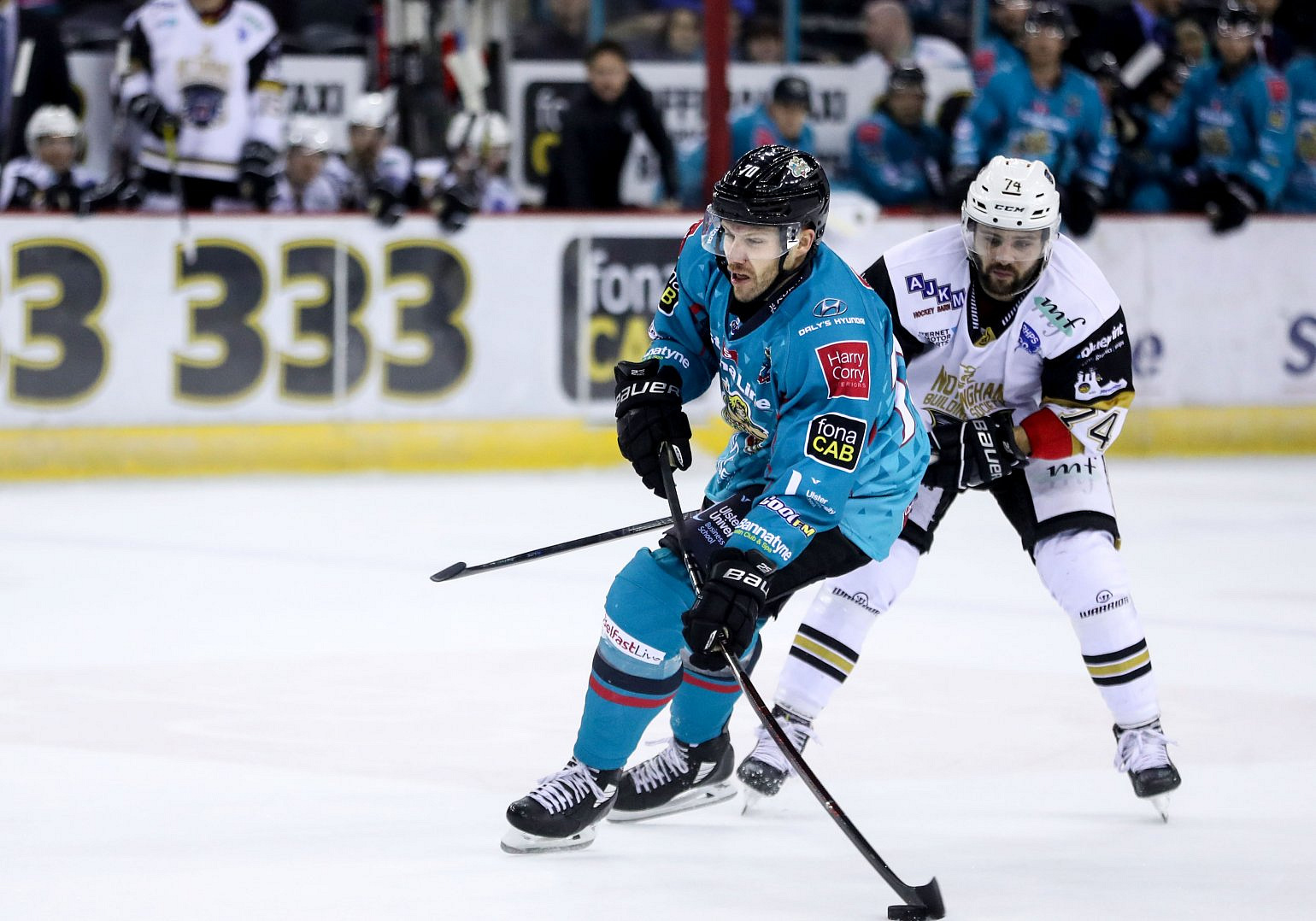 Vital league points are up for grabs again this weekend, starting with four games tonight.
1900 Cardiff Devils vs. Sheffield Steelers
It's fourth against first at the Viola Arena tonight with Cardiff hosting Sheffield for the first time this season. The sides met in Yorkshire in late September, with the Devils taking a narrow win.
While it may only be early in the season, Cardiff will certainly be seeing this as a game they need to win. A defeat in Fife a week ago saw the Devils then bounce back on Sunday to beat Dundee, but they are trailing the top two by four points – although do have games in hand. In a very packed mid-table, the Devils are one of five teams separated by only three points.
Sheffield went down 4-2 in Guildford in their last game, and will want to get off to a better start in Wales. The Steelers are joint-top of the table but have played three more games than Belfast alongside them – if they want to stay at the top for the duration, going to Cardiff and not leaving empty-handed is the sort of result they'll need to pull out. There's no shortage of fire-power in the Steelers' side, with the team boasting four of the league's top five points scorers – however Marc-Olivier Vallerand is suspended for this game.
"We had a very tight game in Sheffield earlier this season, and we are under no illusions about how much of a dangerous team they are. They have goals throughout their line-up and so we will need a complete performance to have success." – Andrew Lord (Head Coach, Cardiff Devils)
"I thought the home game against Cardiff was one of the turning point games of our season, which allowed us to believe in ourselves and buy into our identity a little bit because we felt we outplayed them that night and didn't get the result." – Aaron Fox (Head Coach, Sheffield Steelers)
1900 Dundee Stars vs. Manchester Storm
Having 'must win' games in November seems odd, but for both Dundee and Manchester this really is one of them. Both sides are four points adrift of the playoff places and on a run of three straight league defeats.
Dundee lost their last two games to Glasgow and Cardiff narrowly, but with more games played than the sides around them the pressure really is on the Stars to start picking up points, especially at home. Winning only 37.5% of games in their own rink is something the side definitely need to improve on.
Manchester have three wins from this season so far, but unlike the Stars two of those came in overtime and one was on the road. Despite facing some 34 shots per game (second highest in the league), Matt Ginn is still saving over 91% of shots he's facing so far. The Storm also have the third-best penalty kill in the EIHL. 
"For us, this is two points that we need and it is against a team that I think we have played well against at times. This is a must win game for us. Manchester are a team that like to work hard and play fast, but they obviously play a different game on the road than what they do in their rink. I think we match up well and I think we have a chance to create some offence and get a win." Elgin Pearce (Forward, Dundee Stars)
1900 Glasgow Clan vs. Fife Flyers
Fife have the potential to close the gap on their Scottish rivals to just two points if they can take a regulation win from Glasgow tonight.
Clan remain just one point off top spot in the league after an impressive start, but in league action have only won two of their last five games. Matt Beca returning to the line-up will no doubt be a boost for the home side, who continue to average the least number of shots per game of any team in the EIHL (24.50 per game).
Fife snapped a lengthy losing run with an impressive 5-1 win against Cardiff a week ago, and now have the chance to try and climb back up the table. Special teams may be key, and the Flyers still have a top-five powerplay up at 18.52%. Clan could really use getting theirs going, currently having the league's worst (12.50%).

1900 Nottingham Panthers vs. Belfast Giants
A big test of how far Nottingham have turned a corner comes this weekend with back-to-back home games against the defending league champions. The Panthers have won three of their last five to begin moving slowly up the table, but notably all of those five games have been decided by no more than two goals. After playing a long stretch on the road, the Panthers have now won their last two games at home as they look to turn their home arena into more of a fortress again. The Panthers have slowly built up to having the third most-lethal powerplay in the league at 18.87%.
Belfast are the league's in-form team. The Giants have won six straight games to put themselves firmly back in the title hunt after a disappointing start, and with a points percentage of 82% so far they are the league's best by some distance. They also have the league's best penalty kill and concede the fewest amount of goals per game (2.09).
"There's no question that Belfast had one of the best teams last year, and from what I know they're one of the top dogs again this season. It's a huge weekend for us to have two games in front of our own crowd, and we're going out for two wins. It will be tough, but I think we will really see what sort of a team we are now." – Jake Hansen (Forward, Nottingham Panthers)

"It's a long season, where we are now may not reflect where we are in two months, so we have to keep going. We're feeling good but we're never satisfied. We enjoy the wins, but we come to work the next day knowing the next two points are just as important as the two we've just won." - Patrick Ward (Forward, Belfast Giants)