Player of Week 10: Kevin Raine
Belfast Giants' defenseman gets weekly award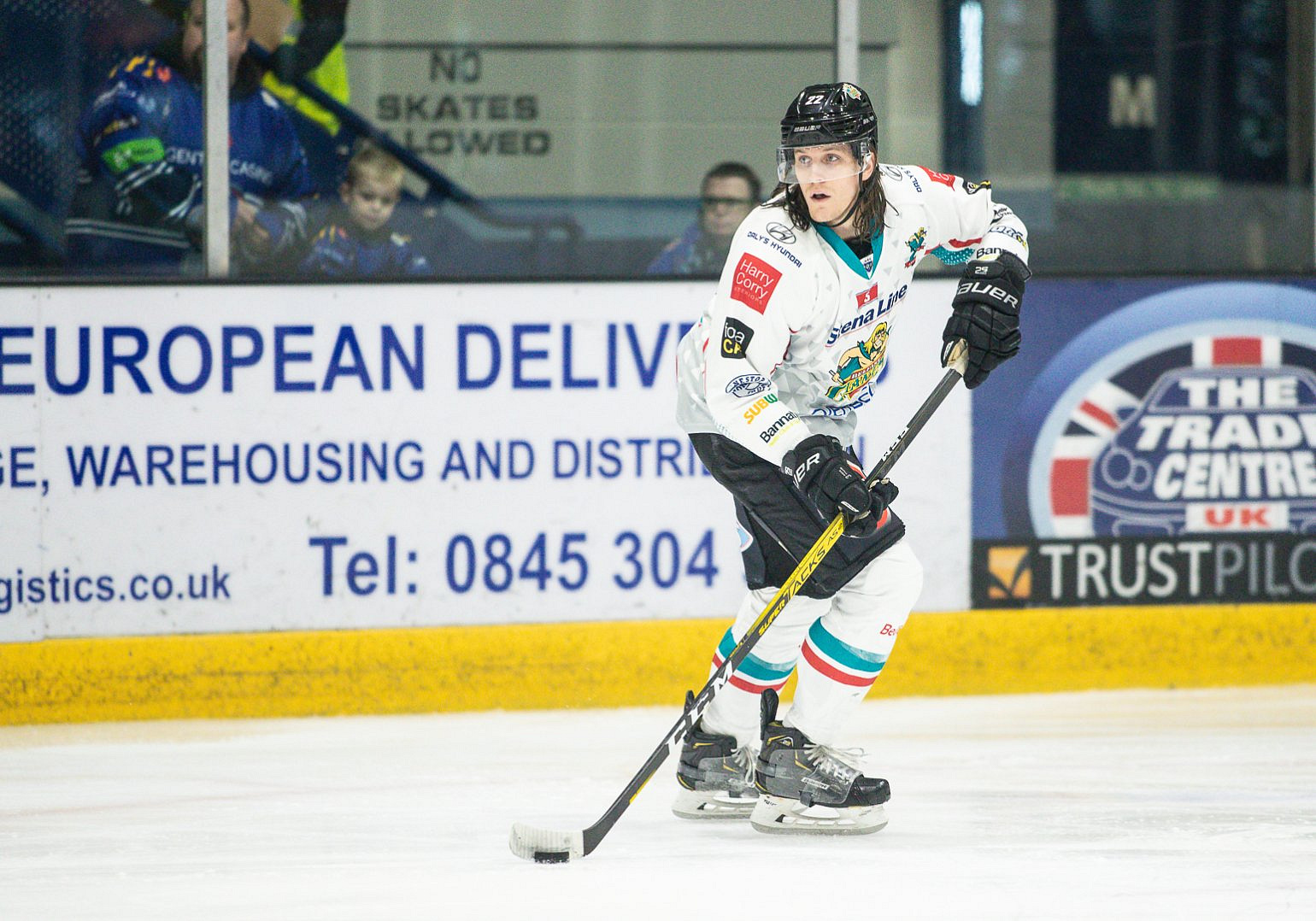 Belfast Giants are the form team of the Elite League in recent weeks, and with three wins in Week 10 they were certainly the ones to beat. Getting three goals over those games sees Kevin Raine chosen as our Player of the Week!
"Things have been going well. Our winning streak is at six games now so we want to keep that rolling and try to keep things going well," began Raine, whose Giants' side struggled for form in the Elite League at the start of the season - especially away from home. "The message from (Head Coach Adam) Keefe was always the same when results weren't going our way: play the same kind of hockey, and stick to the process. I think we've been getting bounces that we weren't before, and if you look at last week I think we had 10 different goal scorers. So we're getting productivity from everywhere, and we knew it was only a matter of time before things started to go our way."
Raine scored three goals in Week 10, quite an achievement for a defenseman who only scored three in the whole of last season. His goal against Fife was scored from the slot, but how did he find himself there? "I saw Curtis (Hamilton) was up there by himself and figured I should go and help him out," said the Canadian defensemen, who has been trending with #RaineGretzky among Giants' fans. "This nickname a new thing and to be honest was trying to talk it down before it took off. But it's kind of fun I suppose!"
The Giants entered this season as defending League and Cup Champions. Despite a high turnover of players, what have returnees like Raine taken from last season? "Being able to win the league in the way we did last season just went to show how everything matters. We've played games in this early part of the season and let away games especially slip that may cost us in the future," he explained. "The tie-breaker that we won the league on was regulation wins, and if you look at the example of what happened in Manchester a few weeks ago we won the game in overtime but let a big lead slip in regulation, so we gave up a regulation win there. If that had happened one more time last season it would have cost us the title. We don't dwell on it, but know we have to be better going forward to get as many regulation wins and points in as many games as we can. There is very little room for error, even at this early stage."
After time in the AHL and ECHL, Raine headed to Belfast for his first taste of hockey across the Atlantic. This season he got more of that with the Giants' debut in the Champions Hockey League, taking in trips to Augsburg, Liberec and Luleå. "The CHL was awesome, it's great to go elsewhere outside of our league and see different competitions and levels of play. It was cool that these games were at the start of the season, but at the same time it would have been great to have these games throughout the year as well. Unfortunately, we couldn't make it past the first round to do that, but it was a great experience nonetheless," affirmed Raine, who helped his team to four points in their first two games. "Those opening games were against two really good teams. I don't think Liberec were quite ready for the game we were going to play, but it does take two to tango and it was a bit of an 'old-school' hockey game from both teams - it was great to play in!"
Travel is often an exciting part of the CHL campaign, although for the Giants it wasn't so much new to them. "We're a team that's only used to travelling, we're never off the road domestically but to be able to have a five-to-six-day stint on the road was great fun. It made us stronger when we came back, that's for sure, especially that we were able to do it so early in the season" concluded the 26-year-old.