Tonight: 8 teams in league action
It's all eyes on the league points up for grabs tonight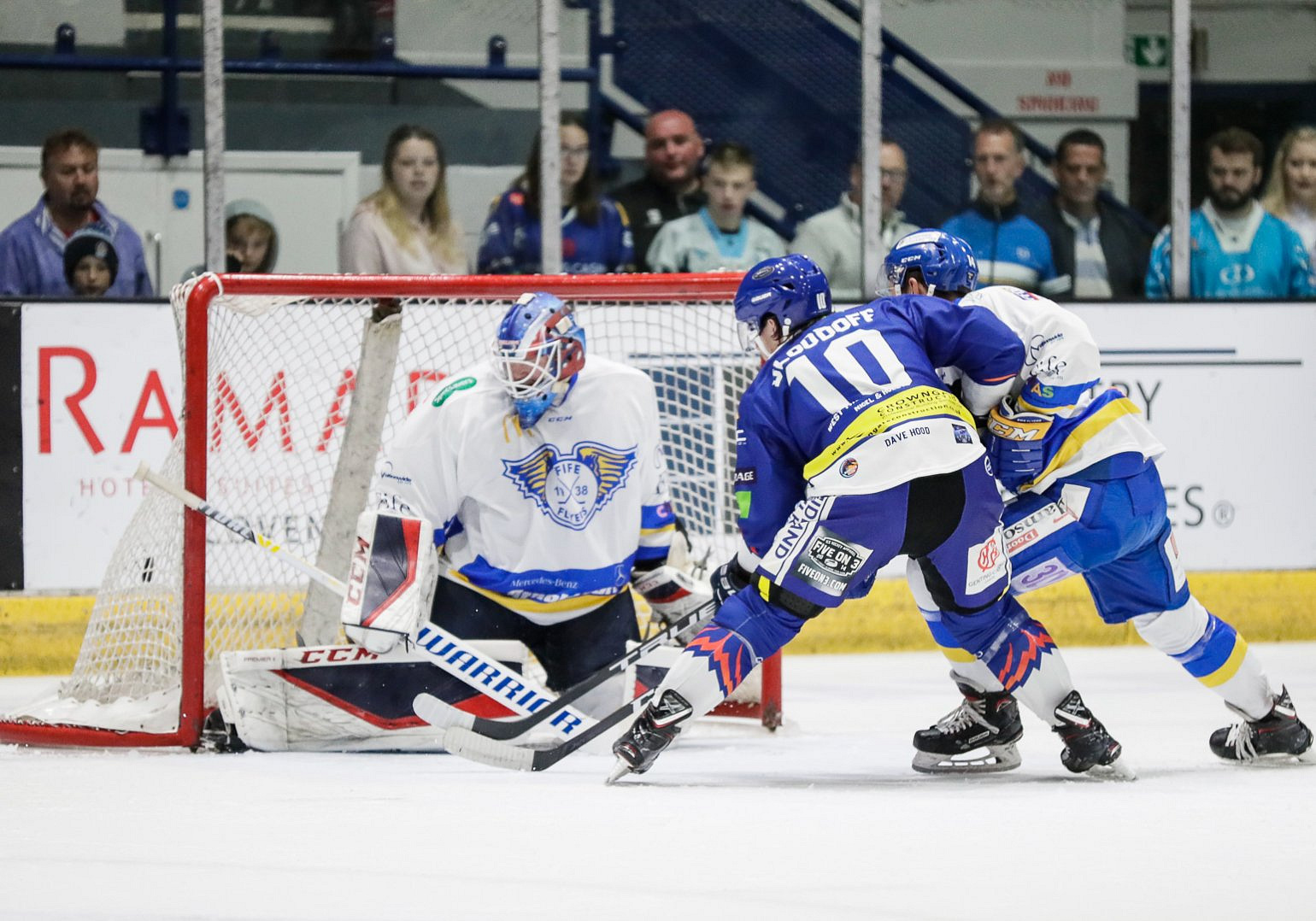 It's Saturday night and that means hockey night across the Elite Ice Hockey League. We have four games for you this evening!
1900 Belfast Giants vs. Manchester Storm
After both teams were in different midweek competitions, it's back to league action tonight for Belfast and Manchester.
The Giants Champions Hockey League campaign came to an end earlier in the week, now and they look to pick up league points after only playing four games so far - from which they have five points. Although they've only played few league games, the Giants have the lowest goals for per game average of all ten teams (1.75) - however giving up only 1.50 per game is also the league's best. 
Manchester got a much-needed win in the cup last night against Sheffield, but currently sit last in the league with four points from seven games. Goal scoring has been a problem for the Storm across all competitions so far this season, but after last night's six goals, Ryan Finnerty will be hoping a gate has been opened. 
"Now that we're done in the CHL, we have to start picking up league points. I have been incredibly proud of our performances in Europe, and we need to bring that into our domestic performances." - Adam Keefe (Head Coach, Belfast Giants)
"It was great to get a win against Sheffield, but it was also good to finally get guys scoring some goals. Scoring helps players feel good about themselves, and this will be huge for us. We'll take this into Belfast, which will be a huge challenge, cut we're really looking forward to it now." Ryan Finnerty - (Head Coach, Manchester Storm) 

1900 Cardiff Devils vs. Nottingham Panthers
Cardiff will need to get over the disappointment of going out of the Champions Hockey League earlier this week for the arrival of Nottingham tonight.
In what's expected to be a sell-out game at the Viola Arena, the Devils have the chance to go level at the top of the table with Glasgow who don't play tonight. Cardiff have the league's best penalty kill, and are also well up there with the leading teams' average goals per game (3.83 for).
Nottingham's poor form has been well document, but with the arrival of Jake Hansen comes the prospect of new energy in Tim Wallace's team. Five points from eight games is not where they expected to be, but the Panthers could end the weekend in the top half if they were able to put together some points. Where they need to improve is scoring however - 2.13 goals a game and 78.35% powerplay in league games so far.
"It was very frustrating to exit the CHL with three wins, but now we have to make sure we're entirely focussed on the league campaign. Without success in the league, we won't get the chance to play in the CHL again, so we must make sure we're really to battle every night until the end of March." - Andrew Lord (Head Coach, Cardiff Devils)
1900 Dundee Stars vs. Coventry Blaze
Dundee will look to kickstart their league campaign as they host Coventry this evening.
Omar Pacha's side have made the Challenge Cup Quarter-Finals, but have only picked up five league points in eight tries so far this season. That said, they're only a point behind Coventry and could leapfrog the Blaze tonight.
Coventry have been picking up solid points and last weekend's shutout win in Manchester sees the team trying to start a winning run on the road. They have one of the league's best penalty kills, but will face the EIHL's most formidable powerplay tonight. 
"No one was happy with how we performed on Sunday are all eager to put things right Saturday. "It's so important to get points early in the season and Coventry is a team around us right now so these two points are huge." - Jordan Cownie (Forward, Dundee Stars)
"This is the first of two games in Scotland over the weekend for us and we're looking forward to it. It'll be good to get the guys away together. We've been playing some good hockey, but so have Dundee. It's the first time we've seen them this year but we've done our scouting and know what to expect. They are a dangerous team and we're going to have to be responsible defensively and play a solid road game." - Danny Stewart (Head Coach, Coventry Blaze)
1915 Fife Flyers vs.Guildford Flames
Fife and Guildford will see a lot of each other in the next 48 hours, and begin their back-to-back series this evening in Kirkcaldy.
Two points separate the Flyers from the Flames below them on level games, making tonight's encounter all the more significant despite the early stage of the season. The Flyers went down 4-1 in Sheffield midweek, so will be keen to make home advantage count for them again in their own building.
Guildford have yet to win an away game this season, and we well beaten on their last visit to Scotland. The Flames did however have a good win against Nottingham last weekend to boost confidence ahead of their long trip.
"We have played Fife once this season and they have a speedy, skilful side.  We try to play with pace as well so we are going to have to figure out a way to be at speed from the off. We have had a few injuries but are looking like a pretty full roster for the weekend. On that basis, we expect to be able to spread ice time around and make sure everyone has a chance to play with full energy from start to finish, which is our best chance for success. They are a good team and we are excited to get the weekend started." - Paul Dixon (Head Coach, Guildford Flames)