EIHL delighted to welcome Pride Week Partners!
Three partners helping us celebrate in 2022!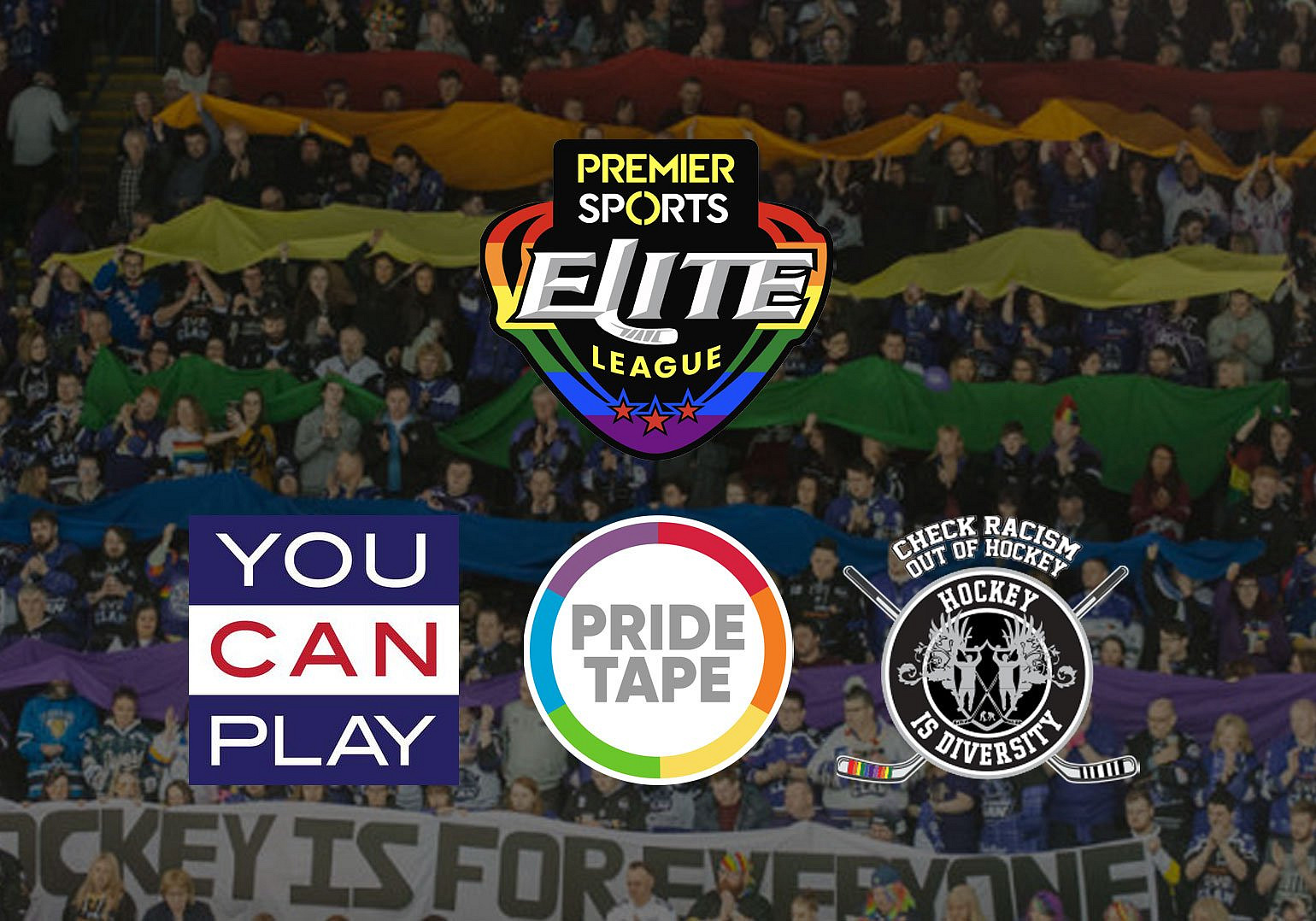 Following on from our very successful Pride Weekend in 2020, the Elite League is thrilled to be entering into Pride Week starting from this weekend.
"Things have obviously been a little bit tricky in recently weeks, and due to game changes with teams in COVID-19 protocols and crowd restrictions, some Pride Nights have been moved elsewhere within the week, or will be added in again when teams can celebrate with their fans, but nonetheless we're delighted to begin promoting the message of inclusivity and diversity in our sport across all 10 teams again," said Media & Communications Manager Luke Fisher.
The EIHL is delighted to welcome three partners for this year's Pride initiative.
The 'You Can Play' Project are supporting our events once again and have provided wonderful advice and ideas. The You Can Play Project works to ensure the safety and inclusion for all who participate in sports, including LGBTQ+ athletes, coaches and fans, and partner with a number of sports organisations across the world including the NHL, NFL, and MLS.
Joining us this season in our celebration are PrideTape.
"PrideTape is very pleased to partner with the EIHL and support their commitment to create more inclusive communities through their Pride Game events. PrideTape is a grassroots community-based movement that was created to promote LGBTQ+ inclusion in sport, and quickly grew to become a world recognised symbol for inclusion in hockey, thanks in large part to the EIHL and their clubs," wrote Jeff McLean Creator and Co-Founder in an open letter to the EIHL.
"The idea for PrideTape was born out of research indicating that sexual minority youth were less likely to play organised team sports because of homophobic and unwelcoming sporting environments. PrideTape, which is "rainbow coloured" hockey tape, was designed as a badge of support from the hockey world to LGBTQ+ youth. Thanks to the EIHL's Pride Game events, we continue to promote inclusivity and our love of hockey, while speaking out against hate. Thank you EIHL for your friendship and your leadership."
PrideTape have kindly provided all ten teams in the league with boxes of pride-coloured stick tape to use!
Finally, the Hockey is Diversity organisation have also partnered with us this season after recently signing long-term partnerships with the NHL, NHLPA and the DEL among others.
"Our game has always been about inclusion. And it is all of our responsibility to use our voice and platform to push for diversity, inclusivity and gender equality in our game that we love. Together we have to keep on working to make our game welcoming for all and bring it to the level where the world is today. We are proud to partner with the Elite League to drive culture change and foster inclusivity in hockey" said CEO Dr. Martin Hyun.
Hockey is Diversity have kindly provided pride-themed stickers which will be worn by EIHL game officials.
Pride Fixtures:
Saturday 8 January
Guildford vs. Nottingham

Sunday 9 January
Nottingham vs. Fife
Friday 14 January
Belfast vs. Cardiff - Live on PremierSports!
Coventry vs. Sheffield
Glasgow vs. Nottingham
Saturday 15 January
Dundee vs. Glasgow
Fife vs. Nottingham
Manchester vs. Belfast
Saturday 22 January
Sheffield vs. Nottingham

Cardiff will announce their Pride Night when fans are allowed back at sports events in Wales.