Tonight: Four league games across Sunday
4 league games, 3 in Scotland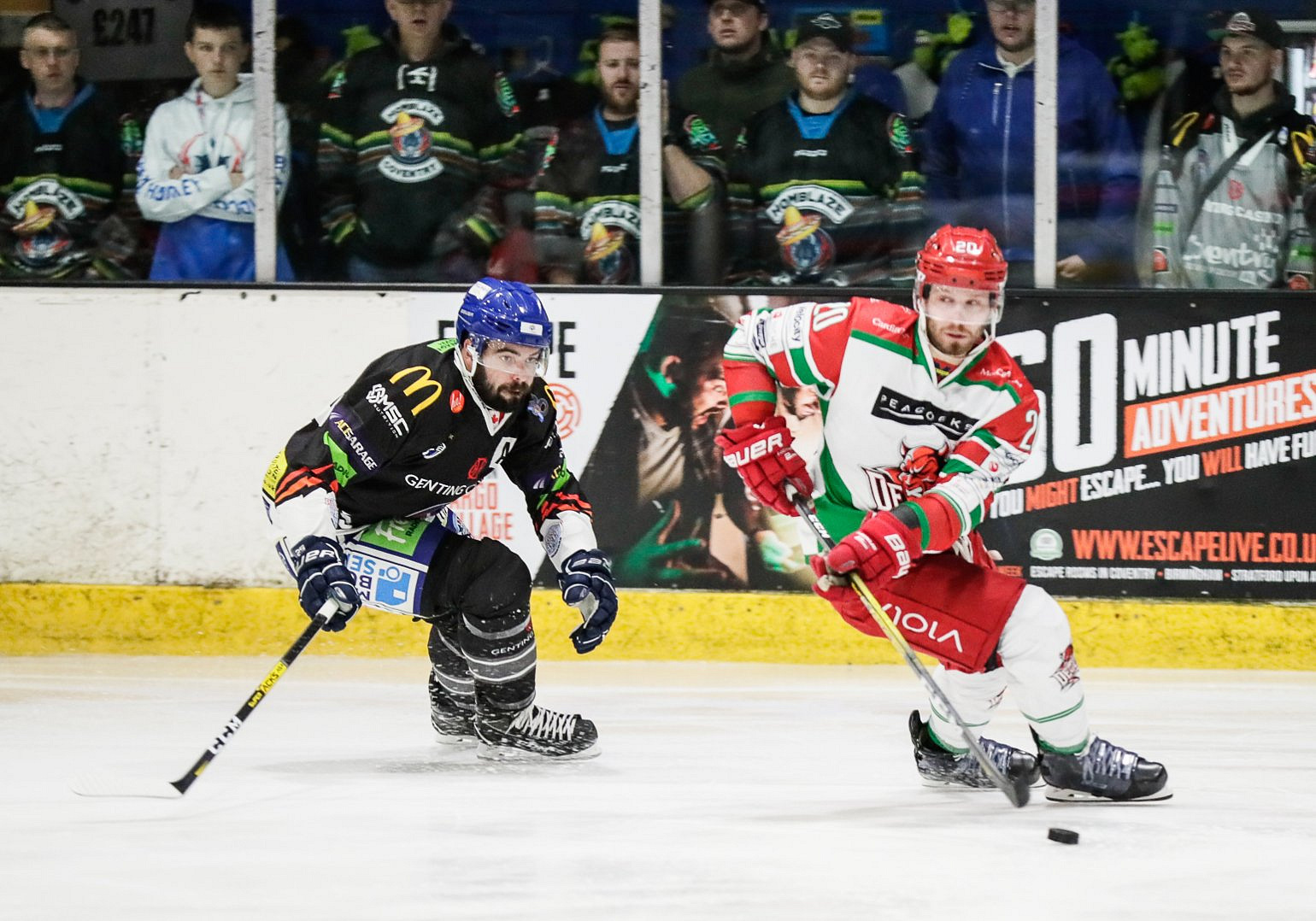 It's a day of just league action with four games tonight.




1630 Glasgow Clan vs. Belfast Giants
Part 2 of the Clan-Giants' back-to-back series has league points up for grabs. Last night's result may have put the Giants through in the Challenge Cup, but didn't change much in the form book: the Clan are still on an unbeaten streak, while the Giants are still looking for their first away win of the season.

Clan are top of the table so far, but now have both Cardiff and Sheffield chasing just two points behind. Belfast have only played three league games to date, but have the chance to move up a few places if they can break their road duck.  

"
We're both highly competative teams. We want to keep this streak and feeling going for us, and confidence is a great thing. We try not to be complacent, but get better and better each game.
" -
Zack Fitzgerald (Head Coach, Glasgow Clan)
"
We have to stick with our process and plan that we have in place, but we do need to bear down better on the net. I felt we played well through the majority of yesterday's game, but just didn't convert enough of our good looks. Hopefully they start going in for us today.
" -
Adam Keefe (Head Coach, Belfast Giants)
1700 Dundee Stars vs. Sheffield Steelers
Sheffield's Scottish double header weekend continues in Dundee, where the Steelers will look to build on their 10-3 win in Fife last night. They could also end the night joint top of the league.
Dundee played midweek in Cardiff, unluckily going down 8-6 in a game where they would feel they should have left with something. While the Stars have be in fine form in the cup, they've only won two of their seven league games to date. These sides met last month, when a comeback from the Stars forced an overtime period which they'd go on to lose.
"
We are motivated to get one back against Sheffield and to prove that we are just as good a team as they are and to get a good result for the fans. We wanted to prove that we can compete with big teams in this league and I think we have already proved that and that we can play very good hockey. It is going to take hard work, patience and showing our best game on our home ice, as we always try to do and try to get the win.
" –
Egils Kalns (Forward, Dundee Stars)
"
We took points in Dundee a few weeks ago but almost through them away in a crazy short period. Discipline will be key as the Stars' PP has already shown us how dangerous it can be Some are surprised with Dundee's start, not us, we have seen how skilled they are and how hard they work. We have to compete and out work Omar (Pacha)'s side on Dundee, we believe we have the quality to take the points, but we have to earn the right to play first.
" –
Ben O'Connor (Defenseman, Sheffield Steelers)  
1730 Coventry Blaze vs. Cardiff Devils
For the third time in almost as many weeks, Coventry host Cardiff on a Sunday night.
This time however, it's league points that are on offer as the blaze look to make it three wins in a row at home to the Devils so far this season.
Coventry come into the game in confident mood after shutting out Manchester at the Storm Shelter less than 24 hours ago. Coupled with last Sunday's win over the Devils, they're two games unbeaten.
Cardiff came out on top of a 14-goal thriller with Dundee midweek, two days after losing 9-2 against reigning European champions Frölunda. The Devils will need to get better defensively however – they have conceded 15 goals already this week in two games, and eight in their two visits to Coventry already this season.
"There isn't anything that we don't know about each other after the past few weeks. We have picked up two home victories in the cup against them, and we want to replicate our performances in those games on Sunday. We expect Cardiff to come out hard at us but we'll be ready, and we can be confident that we can get the right result." – Dayle Keen (Assistant Coach, Coventry Blaze)
"Coventry are very difficult to play against, especially at home. They have a great goaltender and have played hard against us every time - I expect no different today. Our last two games have had very poor first periods, we need to play as we have done in the third against Dundee to have success." – Andrew Lord (Head Coach, Cardiff Devils)
1830 Fife Flyers vs. Nottingham Panthers
460 miles north after yesterday's defeat in Guildford, Nottingham will try to reverse their disappointing run of form in Kirkcaldy as they face a Fife Flyers side with a point to prove.
The Flyers were on the wrong end of a 10-3 humbling by Sheffield on Saturday night, and go into their second home game of the weekend looking to rediscover the form that has seen them as one of the top teams in the league over the early part of this season.
Nottingham have only won one game in their last seven, and with just five points from seven league games are finding themselves in desperate need of a result to kickstart their season. They've already lost in Fife once this season, too.
"
Fife is never an easy place to go and play. There's nowhere else like it in the Elite League so it was good for our guys to have already experienced it when we went up there last month. That game didn't go the way we wanted it to, but we did some good things, especially towards the end of the game and we'll be looking to replicate what made us successful in those last ten minutes for the full sixty on Sunday.
" –
Tim Wallace (Head Coach, Nottingham Panthers)