Player of Week 3: Scott Conway
Photo: PressEye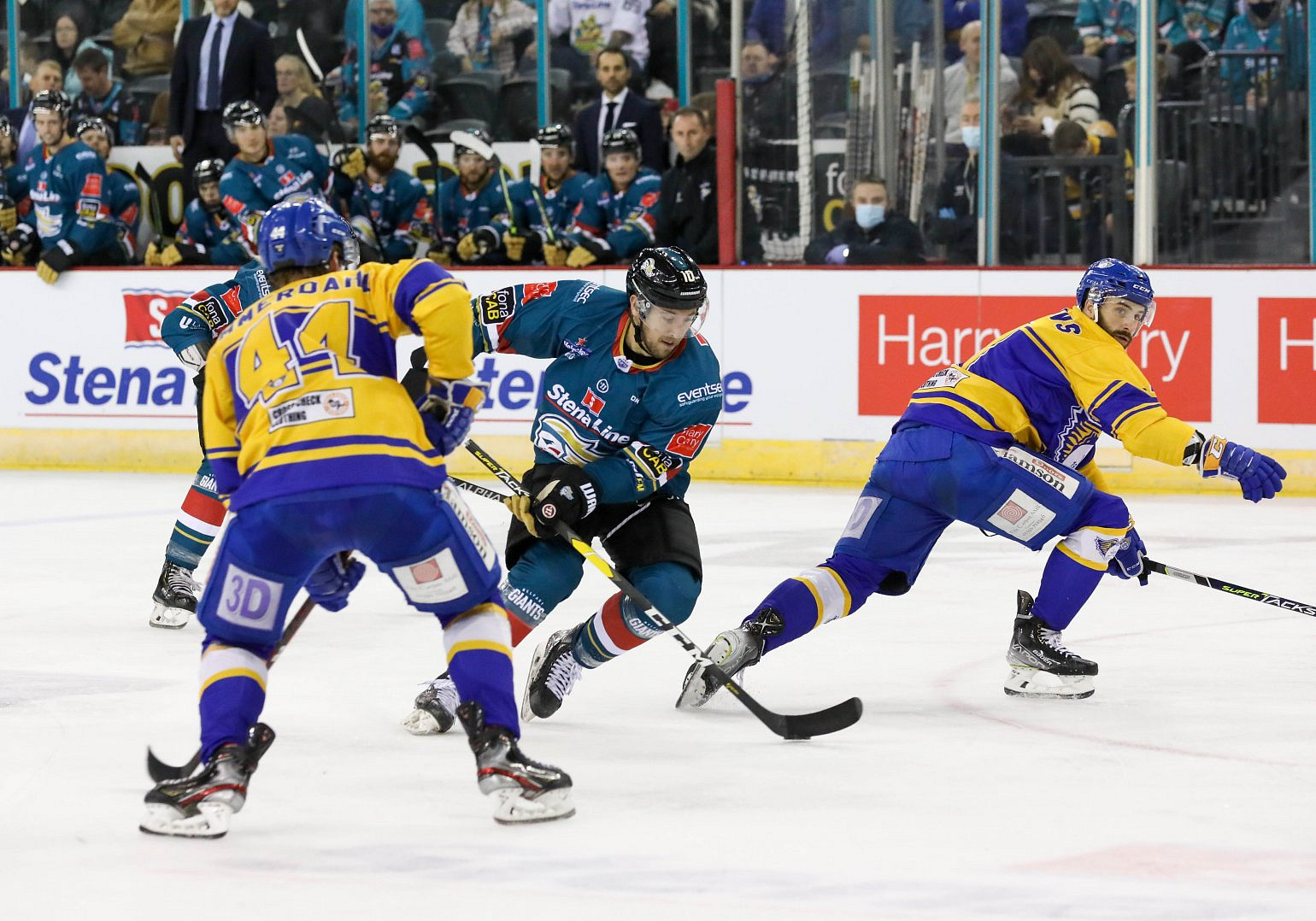 Scott Conway is our Premier Sports Elite League Player of Week 3! The forward scored two goals and had four assists across a pair of victories for the Belfast Giants.
Conway played junior hockey in the UK before heading to North America as a young teenager. "It's definitely different, that's for sure!" he began. "The people are great here, Belfast is a fantastic city and we have a great group of guys. So I'm having fun here and excited to see my mum in England soon when we play in Nottingham, Sheffield and places closer to home.
"She used to come out and visit me once per year and then came to the Olympic Qualifiers I Nottingham which was nice, but hopefully she'll see me more this season."
Conway played juniors in the UK from U11 up to U14 level. "The first few years are definitely a bit blurry, but I remember the last couple of seasons. It was fun but the transition to the States was definitely needed. I thought my hockey calibre was above par for the UK junior leagues, so it was the best move to further my career," explained the forward who has three caps for Team GB at senior level. "I played on an England team back in the day with David Clements and Ross Venus. A few of the other guys I played with are still playing in the leagues below too, such as Bobby Chamberlain and Declan Balmer."
After two seasons in professional hockey across the Atlantic, Conway returned to the UK this off-season. "I had a few teams reach out to me over the summer from across the Elite League, but Belfast showed the biggest interest," he revealed."I'd been over in the Friendship Four so I knew what a great city it was, plus played under Adam Keefe during the Olympic Qualifiers so knew that he's a good coach who knows what he's talking about.
"Then I also knew some of the guys that had signed already - I played with Sam Ruopp last season, David Goodwin two years before, and JJ Piccinich a little bit as well. So it was a good fit."
How does the Elite League compare to Conway's last two seasons? "Compared to the AHL, it's definitely slower, but the bigger ice surface has a big impact and makes it a totally different game. In the ECHL and AHL it's a lot more of a north-south game, whereas in the EIHL there's a lot of east-west," explained the 26-year-old. "When you get into the zone you have two or three guys on the same side as you, so you want to switch it over as soon as you can to find areas of the ice where there's more space.

"The biggest change to my game would probably be the neutral or defensive zone. In the offensive zone I target trying to get to the net as frequently as I can instead of staying wide, as it's easy to get lost out there. In the D-zone, we play a different type of system here so I'm trying to get adjusted to that and stay strong defensively."
With four points in Week 3, and 10 overall from just six games, Conway has hit the ground running - but is hoping for a big year. "I've set myself goals for this season: I want to be above a point per game and have a solid plus-minus. I've always been the best on the team, if not in the league, for plus-minus so my standards are high," he affirmed. "I've had an ok start so far but I think I can do better. With some bigger games coming up I think I'm going to find a rhythm here and step up when needed."
This weekend the Giants enter league action, and face opposition from outside of Scotland, for the first time, with visits to Cardiff and Coventry. "The Challenge Cup is obviously important but I know the league is the biggest prize on offer, and we're not taking any games for granted. By the end of the year there might only be 1-2 points differentiating us and the teams above or below us, so first game or last game we have to be ready to go," he continued. "That's especially the case this weekend against a team that has been together a while playing better teams in the CHL.
"I think it'll be a little bit of an eye-opener for us in the first few shifts of the game, but we're trying to prepare as best we can and hopefully enough for us to get a good start and get a couple of wins this weekend."