Inglis: Omar has put more and more trust in me
Photo: Derek Black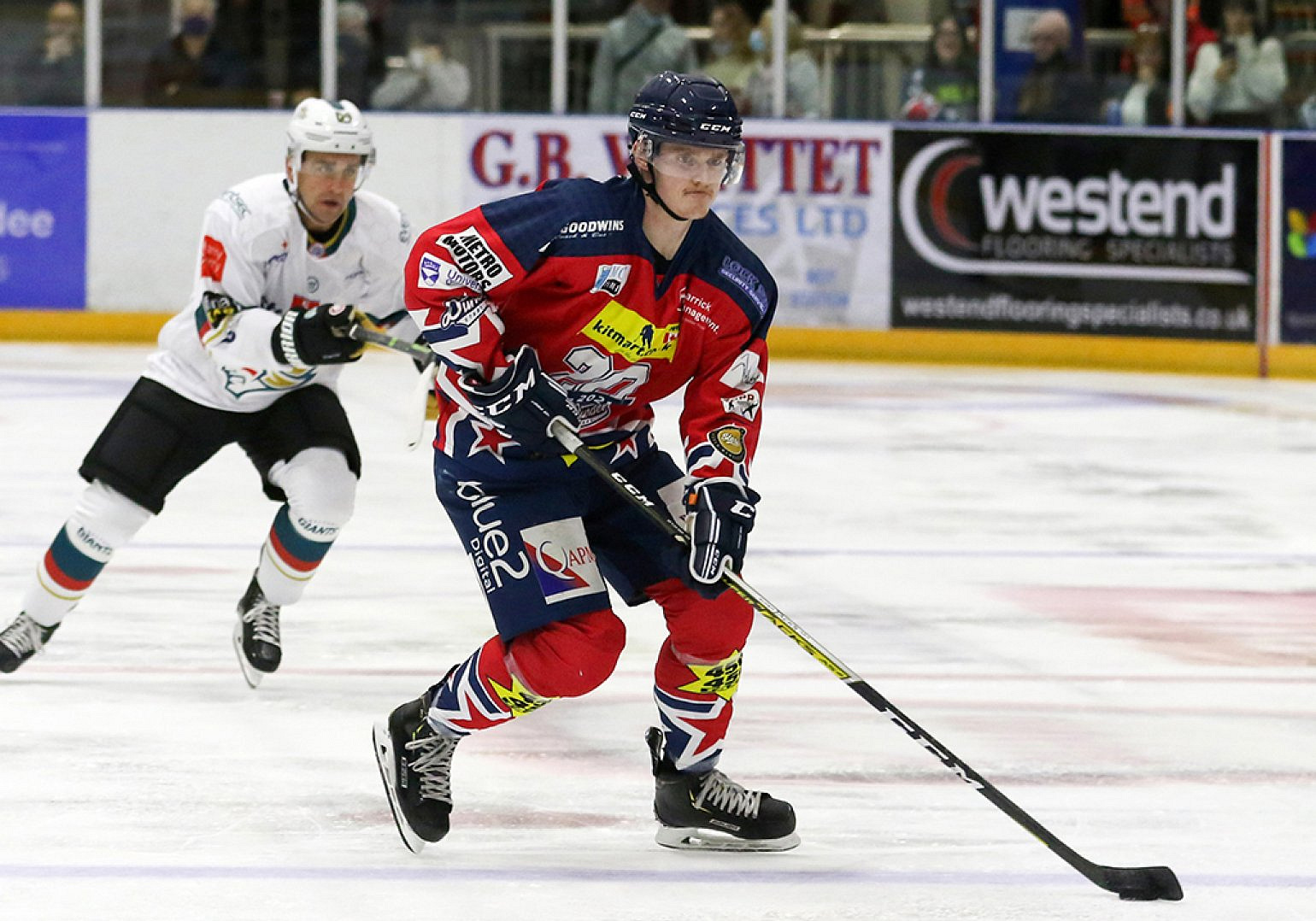 It's been a busy return to the Premier Sports Elite League for Dundee Stars defensemen Kris Inglis.
After a year with no hockey at all, the Dundee junior product has not only gone straight back into a professional season but is logging close to 22 minutes a game over the opening three weeks, compared to an average of around 13 minutes in 2019/20.
"It was obviously tough to come straight back in, partly as getting ice time in Dundee was quite limited. When we thought there might be the chance of a league we did manage to get back on the ice in December, but after that was pushed back we couldn't get any ice at all" began the 23-year-old. "However, in Dundee this season I've been getting a lot of ice time already, getting thrown in at the deep and I think that has been the best way to get back. I've definitely found my feet again!
"I think over the last few years (Head Coach Omar) Pacha has put more trust in me on the back and given me more minutes, and I think I've earned more and more by keeping on performing. This year I'm logging way more minutes than before, so I've got to keep working hard and helping the team to make sure he keeps trusting me."
Asked if he's noticed different things by playing more minutes, Inglis thinks it's good to not be thinking as much. "To be honest, when you're out there playing that many minutes there isn't actually much time to think about it, and I like that! I can just work hard and do my job," he said. "In previous seasons when I wasn't playing as much, you sit on the bench and think about the shift before - whereas now it's just full speed ahead and get back out there. It's obviously important that when fatigue starts creeping in that you remember the simple things and make simple plays."
Inglis' increase in ice time season by season has come under the watchful eye of Head Coach Pacha. "Omar told me that I've earned his trust in Dundee and because of that my ice time has been going up and up. He's given me a role on special teams now with me playing on the penalty kill, and wants to see me keep on improving," explained the defensemen. "At 23 I'm only young so the sky is the limit, and if I keep progressing the way I have done, Omar believes I'll make a good career in this league."
While Inglis is dow a big part of the Stars' defensive core, he's had to wait for his chance - something he knows other players also go through. "I started playing for the Stars five years ago, and having watched since I was a young boy I love the club - so getting called up and just to be on the bench and in the lineup was a great experience. But as you get older and notice yourself improving then you want to play more, and it's perhaps a bit frustrating when you think you aren't getting out there as much," he added. "You have to give your coach a reason to put you out there - make sure you're working hard every day in practice, do your gym sessions, keep your head down and the chance will come.
"I thought for a while that I'd always be the seventh defenseman and not play, but I earned my place by hard work and now I have to repay that to the coach and the team."
Dundee have been backed this season by big crowds turning out at the Dundee Ice Arena, despite the continued COVID-19 restrictions in Scotland. "It's been brilliant, no question. I think the fans in Dundee are second to none, especially to me as I grew up here and used to watch the Stars as a kid. I've seen how much it's grown from watching to playing, and the support we get is amazing," affirmed Inglis. "Especially when you're logging a lot of minutes and going into the last ten minutes of the third period, the crowd really do push you to keep on going and get the result. I'm loving it with the crowds again, and for me it's what hockey is all about."
Finally, a lot has been made of the Stars' recruitment over the summer and the style that the team plays this something. It's something that Inglis thinks they were missing previously.
"I think in previous years we have lacked a bit of toughness, we were maybe a bit soft in our own zone and Omar has addressed that issue," said Inglis, who's in his fifth season with the team. "We're playing to allow our forwards to make plays, play strong and hard in our defensive zone, and make it difficult for any team coming into our rink. We want to get on other teams early, take the and game to them. I think we have some really skilled forwards in our team, a good balance across the roster, and a younger lineup overall."