Six teams in Premier Sports Challenge Cup action on Saturday Night
Photo: James Assinder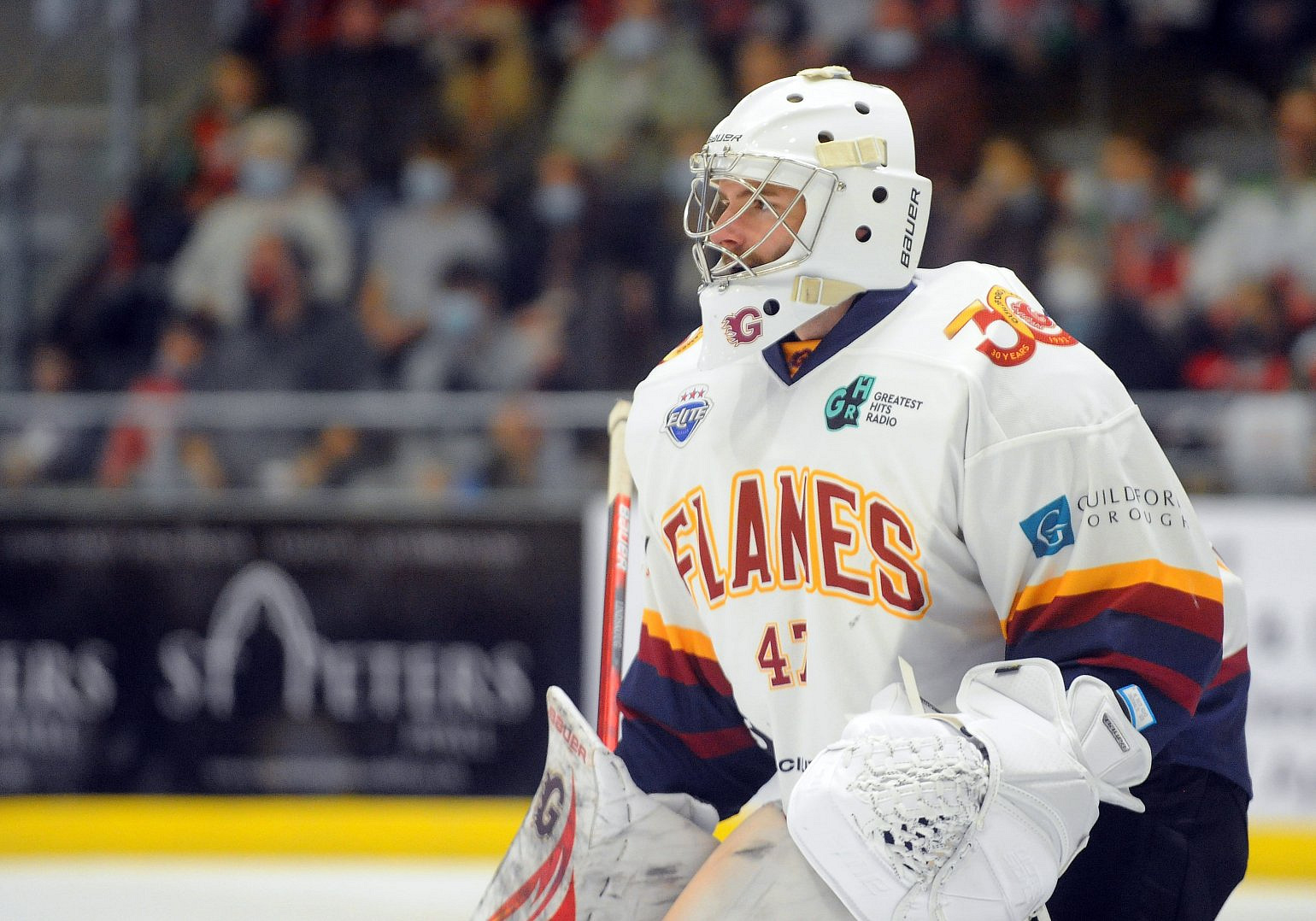 The early season Premier Sports Challenge Cup action continues tonight with three more games across the competition.
1800 Guildford Flames vs. Cardiff Devils (Tickets)
Exactly seven days after the sides met for the Devils' opening game of the domestic season, Guildford and Cardiff clash again but in the Flames' own building.
Guildford lead the way in Group B with five points from three games with tonight's fixture putting them at having played half of their group stage games already - a win would certainly give the others something to think about as teams chance an automatic place in the Quarter Finals.
The Flames have not lost yet this season in regulation through four games. Last week's overtime defeat in Cardiff is the only blemish on their record thus far with three other wins.
"It was an excellent weekend from our point of view, plenty of positives in the game in Cardiff and then a good home win in front of our own fans against Manchester, who we've often struggled against. But it's only early season and we can't get carried away, we know Cardiff are an extremely good side." - Paul Dixon (Head Coach, Guildford Flames)
Cardiff went to overtime in both of their opening fixtures last weekend, beating the Flames and then losing in Sheffield some 20 hours later. Including preseason, Jarrod Skalde's side haven't lost in 60 minutes since defeat in the Champions Hockey League in Lausanne on 5 September.
"It was a fast weekend. Guildford are a fast team who really compete hard for 60 minutes and it was a very good hockey game. There were some systematic things that we needed to clean up, such as odd-man rushes, so that's what we've been working on this week. Their speed is definitely something that we have to match and try to exceed." - Jarrod Skalde (Head Coach, Cardiff Devils)
It's the 27th meeting between these teams tonight in EIHL competition, with the two clubs having an even split of the 12 games played at the Spectrum.
1900 Fife Flyers vs. Dundee Stars (Tickets)
The first Scottish derby of the competitive season sees Fife hosting Dundee with both teams looking for their first cup win.
Each team was beaten by Belfast on opening weekend, with Dundee then narrowly losing out in Nottingham and Fife having been shut out in Coventry.
"We've had another week to improve and work on things. We had some tidying up to do up front but it's been refreshing to see Shane Owen back in goal for us and I do like our defensive core so far. These games, such is the rivalry, are always intense, and I think after having played Dundee in preseason our players understand how important these are for the club and to our fans." - Todd Dutiaume (Head Coach, Fife Flyers)
"Although we lost both games last weekend, I'm still very positive about our group because of how hard they work and how much they compete. We obviously have a few areas we need to improve in our game, but when we start clicking offensively we're going to be a very dangerous team." - Omar Pacha (Head Coach, Dundee Stars)
Tonight is the 87th EIHL meeting between the Stars and Flyers. While the all-time record is pretty evenly split, the Flyers have won 24 of the 43 games in Dundee.
1900 Sheffield Steelers vs. Manchester Storm (Tickets | Webcast)
Sheffield's first home Premier Sports Challenge Cup game of the season sees them entertain a Manchester side that they beat 8-3 on the road seven days ago.
While the Steelers never trailed in that game, it was tight throughout and the Storm had brought it back to 4-3 before late penalty trouble saw it get away from them. Sheffield's 5-4 OT win over Cardiff last Sunday means that the Steelers are one of only a handful of teams with a perfect record from opening weekend.
"There are no easy games in hockey, you need guys ready to come to the rink committed to play a physical game. We know that is what Manchester will try to do, they will come in and try to be physical with us and try to get us out of our game plan." - Aaron Fox (Head Coach, Sheffield Steelers)

Manchester followed their home defeat with a shutout loss in Guildford, giving the team something to work out after an opening weekend where they scored only three goals in two games and conceded 11. Winning in Sheffield is also something that the Storm have not managed since September 2018.
"After last weekend we needed a hard weekend of practice. The last two games weren't good enough, and we've been working at what the identity of what our team is, and how we're going to play." - Ryan Finnerty (Head Coach, Manchester Storm)
Sheffield face Manchester for the 38th time in the Elite League since the Storm re-joined. The Steelers have only dropped two of the 18 meetings between the teams at the Utilita Arena.