Panthers enter season as Flames and Flyers return home
Photo: Panthers Images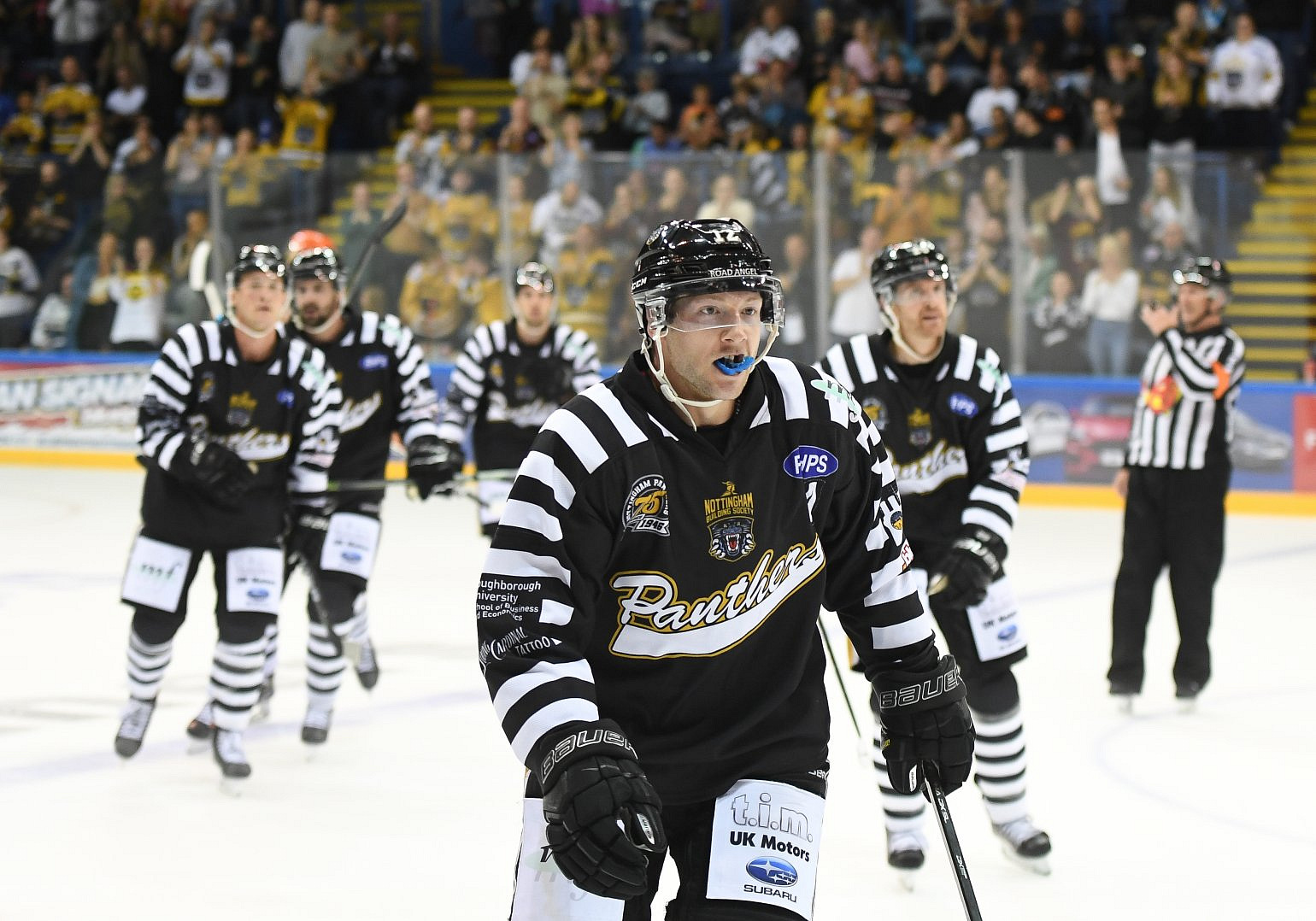 Away from the TV camera, there are three more live games this afternoon across
the Premier Sports Elite League and Challenge Cup!
1600 Nottingham Panthers vs. Dundee Stars (Tickets | Webcast)
Nottingham Panthers fans will get to see their team in competitive action for the first time this season in their home game against Dundee this afternoon. The two teams meet in league action at 4pm at the Motorpoint Arena which was almost sold out for last week's preseason visit of the Steelers.
Tim Wallace's Panthers lost three of their four warm-up games for the new season but earned an excellent victory away to rivals Sheffield in their final preseason fixture.
Dundee began their season yesterday evening with a home fixture against Belfast, pulling back to within one of the Giants twice before going down 6-3.
"The four preseason games were unbelievable with the support from the fans, and a lot of the players couldn't believe the numbers that came out for those games. We've been able to watch a bit of tape on Dundee, and we'll be ready to go for the home opener in front of them!" - Tim Wallace (Head Coach, Dundee Stars)
"It will be a tough game against Nottingham. We'll have Poirier back in the lineup which will help, as heavy games like this and Belfast last night take up a lot of energy." - Omar Pacha (Head Coach, Dundee Stars)
This afternoon's match is the 48th between the Panthers and Stars in EIHL competition. Of the 24 played in Nottingham, the Panthers have won all bar four to date.
1800 Guildford Flames vs. Manchester Storm (Tickets)
Guildford and Manchester meet in league action at the Spectrum in what is the first league game of the season for both teams.
Guildford have played three cup games to date, winning both against Coventry and weekend and then picking up a point in Cardiff. Manchester had their home opener against Sheffield on Saturday night and fought back to 4-3 down after shipping three in the first period, but eventually ran out of steam and were on the wrong end of an 8-3 scoreline. Prior to the season starting, the Storm won a pair of preseason games against Coventry, and took Cardiff to overtime in one of their fixtures.
"There were a lot of positives for us in the game in Cardiff, and I have to give huge credit to my players for how they've bought in so early in the season. I'm very pleased with the start we've made, but we need to keep this going now. Manchester are always a very difficult team to play against." - Paul Dixon (Head Coach, Guildford Flames)
The Flames have Storm have met 19 times previously in EIHL competitions, with tonight's hosts having won seven of the 10 fixtures in Surrey.
1800 Fife Flyers vs. Belfast Giants (Tickets)
The Fife Flyers' home debut in competitive actions sees them welcome the Belfast Giants in Premier Sports Challenge Cup action.
The Flyers were victorious over Dundee in a home preseason fixtures ahead of the new season, before beginning their league campaign yesterday in Coventry – the game ending with Fife being shut out 2-0. Belfast had no preseason games ahead of opening night in Dundee on Saturday, but pulled off an impressive three-goal win nevertheless.
"We've only been together for a week and a half and have a long way to go, but we hung in against Coventry at 1-0. We have to find a way to ignite our offense now to give our fans something to cheer." - Todd Dutiaume (Head Coach, Fife Flyers)
"We'll be fighting some fatigue, but there are no excuses in this league - you have to find a way to manage that. Recovery is important, as is finding ways to win, and that's how you become successful in the Elite League." - Adam Keefe (Head Coach, Belfast Giants)
Fife have faced Belfast 57 times so far in Elite League action across all competitions, however the Giants have the upper hand – of the 30 games played in Kirkcaldy, the hosts have won only 10.