Tonight: Crucial Challenge Cup games
Six teams head into action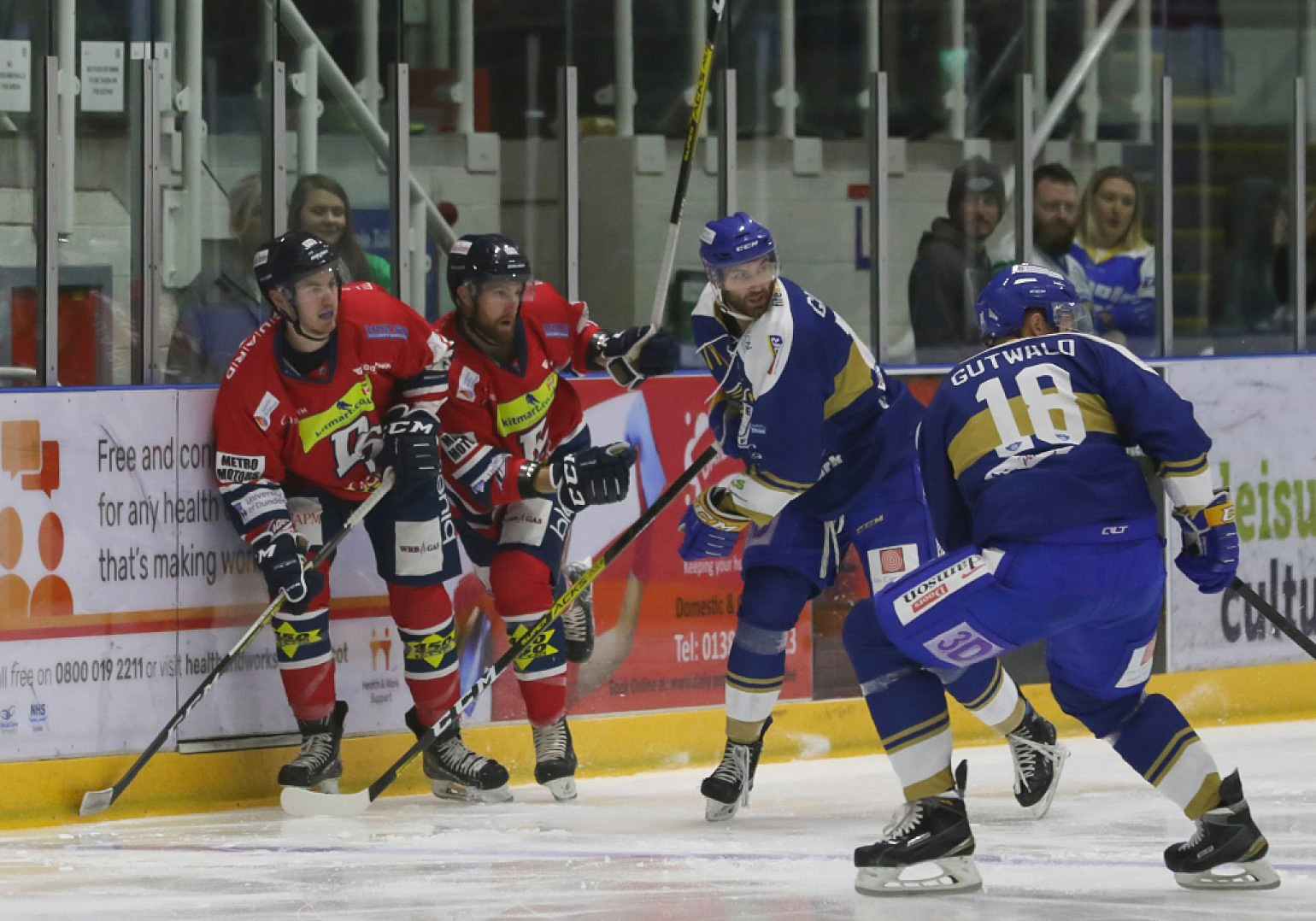 Three Challenge Cup games take place across Sunday, with the Scottish derby a crucial one for Fife's hopes of staying in the competition.
1600 Sheffield Steelers vs. Nottingham Panthers (Webcast)
 

Part Two of the Steelers/Panthers weekend series takes on greater importance after the Steelers' road win yesterday evening.




Sheffield top the group by two points, and could stretch further ahead with a win. Nottingham for their part could pull further away from Manchester below them with any points at the FlyDSA Arena, and equally join the Steelers on six were they to win in regulation.




Tim Wallace's side have lost their last four games in a row, and will be desperate to end that streak.

 
1730 Coventry Blaze vs. Cardiff Devils (Webcast)
While Coventry do still have games left in the cup to make up points on Guildford and Cardiff above them, they're fast running out of them to do it in. After tonight the Blaze, who trail by three points in the group, only have three more games left in Group B after tonight.
The Devils have not had good recent visits to the Skydome – last season's final game, and a 5-1 loss already this campaign. They top the group, and while they maybe have one eye on their trip to Frölunda next week, they know what can happen if they don't show up against the Blaze.
"We're definitely looking for a repeat of the first cup game at the Skydome against Cardiff. That was probably one of our most complete performances of the season. They are a good side, but we know that if we play to our best we can compete with anyone. We've had a couple of wins at home in the past two weeks, and we're hoping our fans come out to cheer us on again, as it makes a big difference when the rink is full and noisy." – Andrew Johnston (Forward, Coventry Blaze)
"Our last game in Coventry two weeks ago was one of the worst games we've played in a very long time. We can't dwell on that and the game in Cardiff last week definitely helped us put that game behind us but the Skydome is not an easy place to play so we're going into the game knowing that we'll need to play to our strengths and be more disciplined in terms of penalties than we were the last game in Coventry. It's our last game before going to Sweden for the CHL, and we'd like to go into that on a high." – Joey Martin (Captain, Cardiff Devils)
1730 Fife Flyers vs. Dundee Stars (Webcast)
Fife's debut of an earlier Sunday start sees the visit of local rivals Dundee in a very important Challenge Cup match. The Stars have already won Group A, but the Flyers need points to ensure they stay alive in the competition – and put pressure on Glasgow and Belfast's fixture next week.
The Flyers shut out the Stars when the sides met in Dundee last month, but last night's loss in Glasgow has left them in a bit of a hole. Dundee will want to keep their fine run of form going. The team have lost only one of their last five, but on the other hand have struggled on the road after their opening day win in Glasgow.
"Dundee have topped the group, and good for them, it is always good to see Scottish teams doing well. We've put pressure on ourselves now, and we need points to stay alive. The guys are aware of this, and we have a job to do at home now." – Todd Dutiaume (Head Coach, Fife Flyers)
"Obviously, there is a lot of dislike between the two teams and a long history between them, and it has carried over to this year.We just have to concentrate on what we do best, we played well, just not well enough, against them in our last meeting We just have to move the puck well, support each other and take advantage of our opportunities when we get them and limit their chances." – Jagger Dirk (Defenseman, Dundee Stars)