Tonight: Key Challenge Cup battles
Eight teams are in Challenge Cup action this evening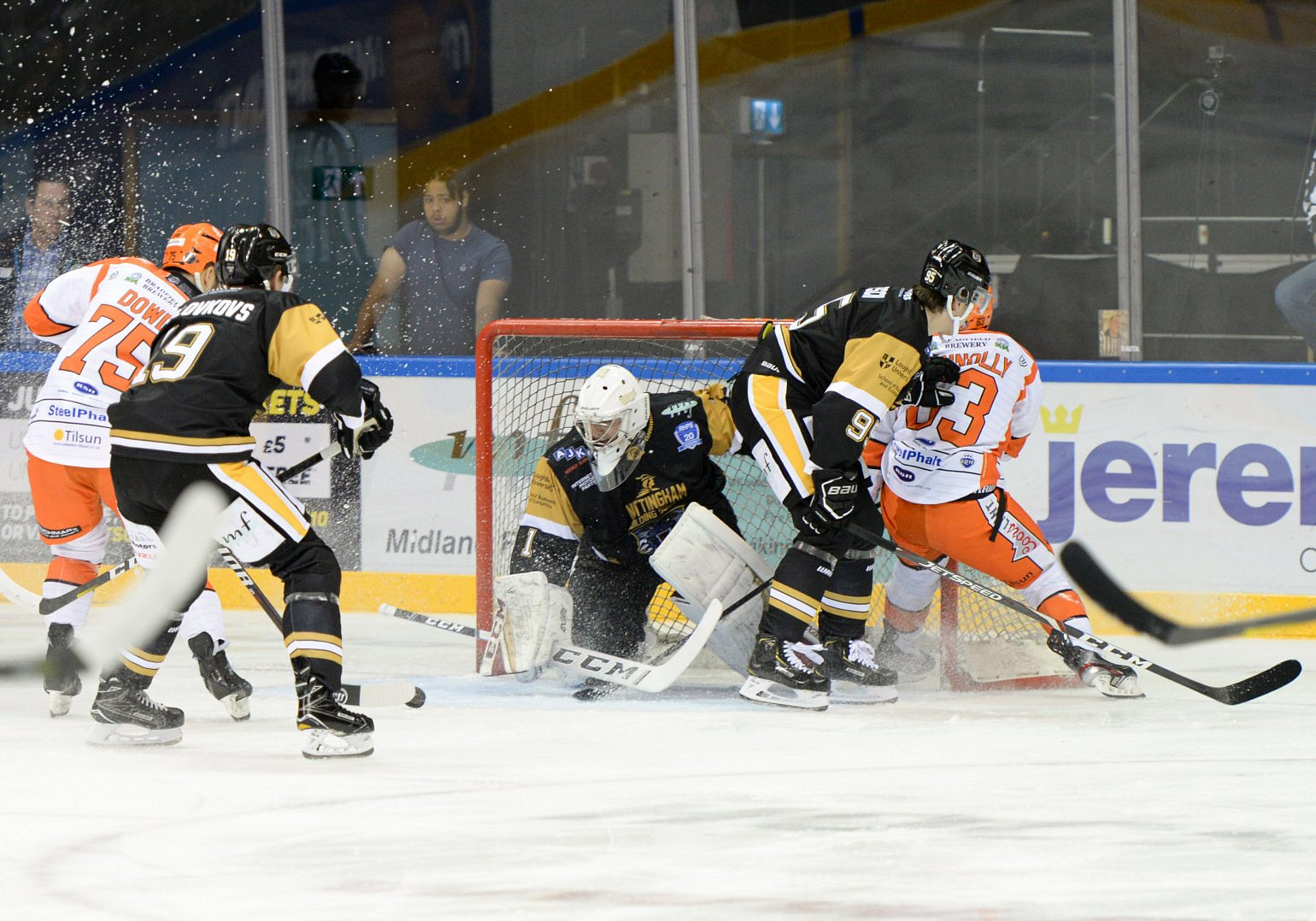 For eight teams tonight, it's all eyes on the Challenge Cup with important matches in all groups as teams looks to move on to the next round.
1800 Guildford Flames vs. Coventry Blaze
Less than 24 hours since their 2-1 defeat in Belfast, Guildford come back home to find Coventry waiting for them in a key Group B battle. Just a point separates the Flames and Blaze after three games each.
Guildford's cup campaign so far has seen them not finish a home game without at least a point – a win over Coventry, and then an OT loss to Cardiff. Coventry for their part have just a win against Cardiff to their name, and will need to find their first road points of the season if they're to avoid falling behind.
"We have seen Coventry a few times now this season and we are pretty evenly matched teams. They play with good speed and if you make mistakes, they can jump on them for goals. It is a pretty important game in terms of the Cup round, and on home ice we need a win. We are going to have to execute, and play a solid game in all three zones, but if we can do that we think we can have success." – Paul Dixon (Head Coach, Guildford Flames)
"In terms of trying to gain automatic qualification from the cup group, this weekend is big for us. We have been playing some good hockey, but we need to focus on putting together 60 minutes. We have switched off and spot teams goals and momentum a little too often, but if we can play how I know we can without those lapses, we stand a good chance of having a successful weekend." – Danny Stewart (Head Coach, Coventry Blaze)
1900 Dundee Stars vs. Belfast Giants (Webcast)
Cup group leaders Dundee host defending champions Belfast in the team's second meeting of the season. The last they they met, the Stars left Northern Ireland with an away win.
It was a good start to the weekend for Belfast on Friday night, beating Guildford by the odd goal in three in the league. the Giants are however still without an away win this season, and will look to break that duck in Dundee.
The Stars won 6-2 against the Flames at home last weekend, and have started to build a decent home record with only one loss so far this season. Dundee can stay clear at the top with a win tonight, but a loss could see them involved in a three-way tie for top spot in the group.
"Belfast are a top end team in the league and they are strong in all aspects of their game. They have good leadership and coaching, so it will be a challenge for us again but we believe we can win every game when we play our system and everyone shows up. Everyone needs to show up and be ready to play 60 minutes of good team structure, there's not much room for error against the Giants. We feel great going into the weekend, coach Pacha has done a great job preparing us and we are really excited to keep this journey going as far as possible." - Justin Maylan (Forward, Dundee Stars)
"It's our second trip to Scotland so our players should be prepared for what the travel day has in store. Dundee came in to our building and took two points off of us, so we want to return the favour. On the road it doesn't have to be pretty, we have to find a way to win and sometimes that's ugly." - Adam Keefe (Head Coach, Belfast Giants)
1900 Glasgow Clan vs. Fife Flyers
A Scottish derby usually needs no added spice, but this one starts with the Clan and Flyers both in excellent recent form. Although they sit one and two in the league, cup focus sees both teams chasing Dundee at the top of Group A.
Glasgow return to home ice for the first time since the opening weekend off the back of four straight road wins in Cardiff, Sheffield and Nottingham. Those results were doubtless confidence-boosting, but now the Clan face a different challenge of trying to deliver their first home win of the season.
Fife have quietly gone about their business of getting in to a strong early-season position. Six points from four games has the Flyers just two behind their Scottish rivals in the league, while the home win over Belfast means they're currently on four from four in the cup group.
1900 Nottingham Panthers vs. Sheffield Steelers
Panthers vs. Steelers needs to introduction, and as they did on the opening weekend of the season these two long-standing rivals will see each other back-to-back over the next two days.
The games could go a long way to determining which two teams are the automatic qualifiers from Group C to the Challenge Cup Quarter-Finals. Both sides currently have four points and have the chance to not only pull away from each other, but also widen the gap to Manchester on two. The Storm won't play any cup games this weekend.