Tonight: 8 teams in league action
Four League Games across Sunday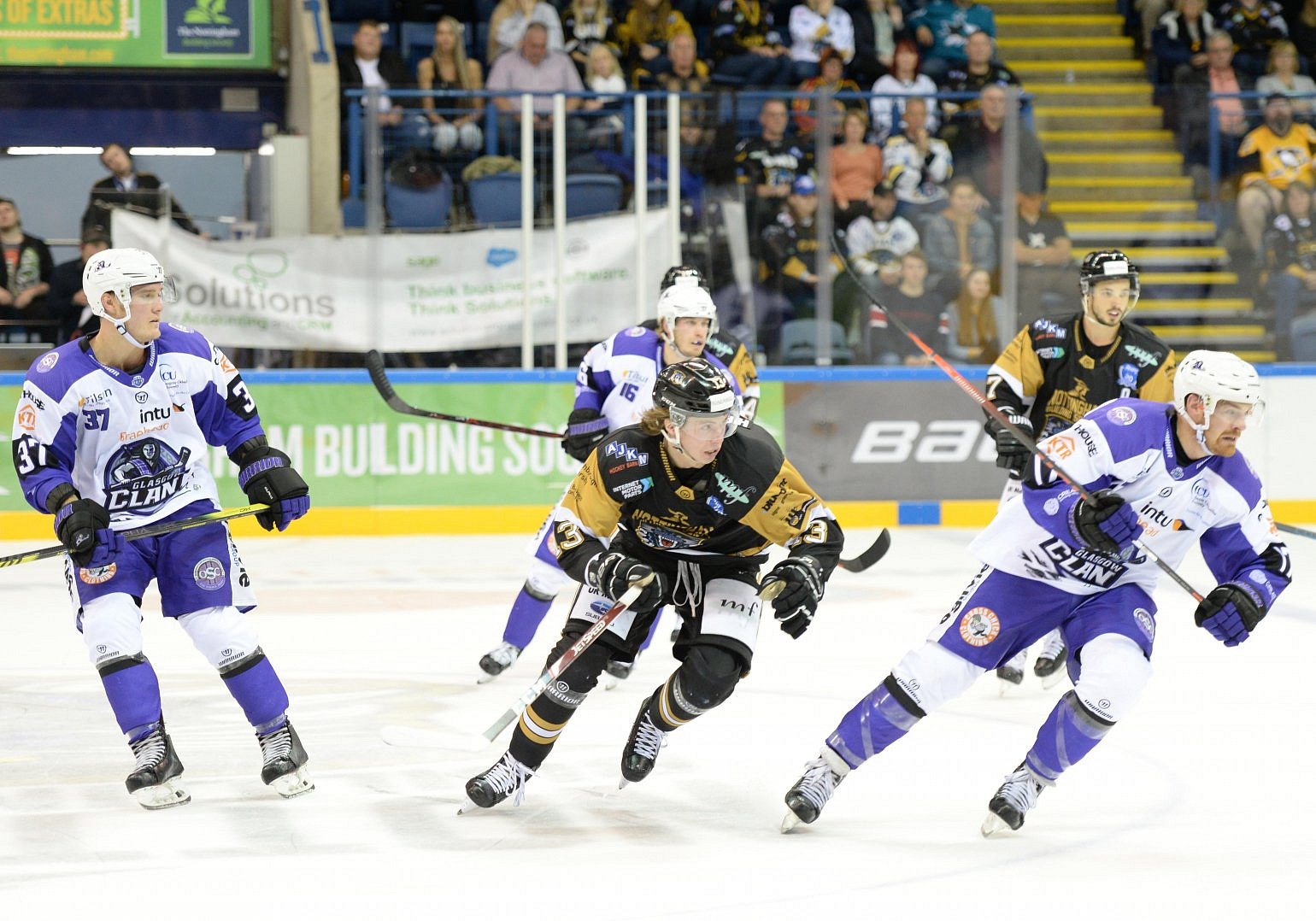 It's a quick turnaround for eight teams who are straight in to league action today.
1600 Nottingham Panthers vs. Glasgow Clan

 

Round II of Panthers and Clan this weekend in Nottingham sees the Panthers entertain the current league leaders – Glasgow going top of the EIHL thanks to last night's win.

 

Nottingham will no doubt be out for revenge after the Clan spoiled their homecoming game; however Glasgow are now going in search of their fourth straight road win.

 

"I hope the guys have got a good sleep and come ready to work. For the most part they did yesterday, but we have to be better at home. After being away this long, yesterday wasn't good enough." – Tim Wallace (Head Coach, Nottingham Panthers)

 

"We'll have a look at the video from yesterday and make the boys aware of a few things. But mostly it's about us, we have to keep playing our game and imposing ourselves on other teams." – Zack Fitzgerald (Head Coach, Glasgow Clan)

 
1600 Sheffield Steelers vs. Cardiff Devils
 (Webcast)
Both Sheffield and Cardiff return to league action tonight after Challenge Cup games yesterday.
The Steelers went down in Manchester in a game that they were chasing on the scoreboard for most of it, while the Devils came from behind to beat Coventry. The Steelers won the last two games against the Devils in Sheffield at the back end of last season – although the 5-4 playoff win could, and should, have been greater after they raced into a nearly lead. Aaron Fox's new-look Steelers team however will be looking for a response from their Storm defeat.
"This is where we will get a much better idea where we are as a club. The Devils have been the number one club for what, three years now, this is the test for all clubs and we need to be better than we have in the past. We think we are, but the proof of the pudding is in the eating. It will also be a home debut for Lucas Sandström, in what will be a tough opening weekend for him." – Jonathan Phillips (Captain, Sheffield Steelers)
"Sheffield are a very good team. They have tons of skill but a lot of hard-workers as well. They're very deep throughout their line-up, and I expect one hell of a game. Going in to Sheffield is always a tough but a fun night." – Andrew Lord (Head Coach, Cardiff Devils)
1730 Coventry Blaze vs. Manchester Storm (Webcast)
Coventry and Manchester meet in league action after different fortunes 24 hours ago in the Challenge Cup. The Storm are looking to make it a four-point weekend after defeating Sheffield yesterday, while Coventry return home from Cardiff after a loss. The Blaze will also be wary of their own recent form – just one win in their last six games.
"We played Manchester a couple of times in pre-season and although they were short a few guys, they were a team that work hard and play physical, so I expect it to be a battle at the Skydome on Sunday. The games against them are huge for us, and hopefully if we can play the same way we did against Cardiff we'll come out on the right side of things." – David Broll (Forward, Coventry Blaze)
"Any time you come off a winning feeling you want to keep it going, and that will be our focus today. It will be different to the pre-season games for sure, we're a lot more confident with our group now, and settled in." – Ryan Finnerty (Head Coach, Manchester Storm"
1800 Guildford Flames vs. Dundee Stars
480 miles further south, Guildford and Dundee do battle for the second time this weekend. The Stars came out on top yesterday in Scotland to earn their second league win of the season; while Guildford are in with two other teams with just one win to their name so far.

"We have to come to the rink ready to play. Knowing the group that I've got, they will be ready. In two years, I haven't seen a performance like last night from this team, but we have to also give credit to Dundee who were the better team." – Paul Dixon (Head Coach, Guildford Flames)
"It's a new day today, and we have to come prepared. We expect Guildford to come out strong in their own rink, and, while we were the better team yesterday, we'll have to be ready to compete. If we can clean up a few things from yesterday we should have a good chance." – Omar Pacha (Head Coach, Dundee Stars)