Stenton: It's inspiring to learn from these guys
Photo: Panthers Images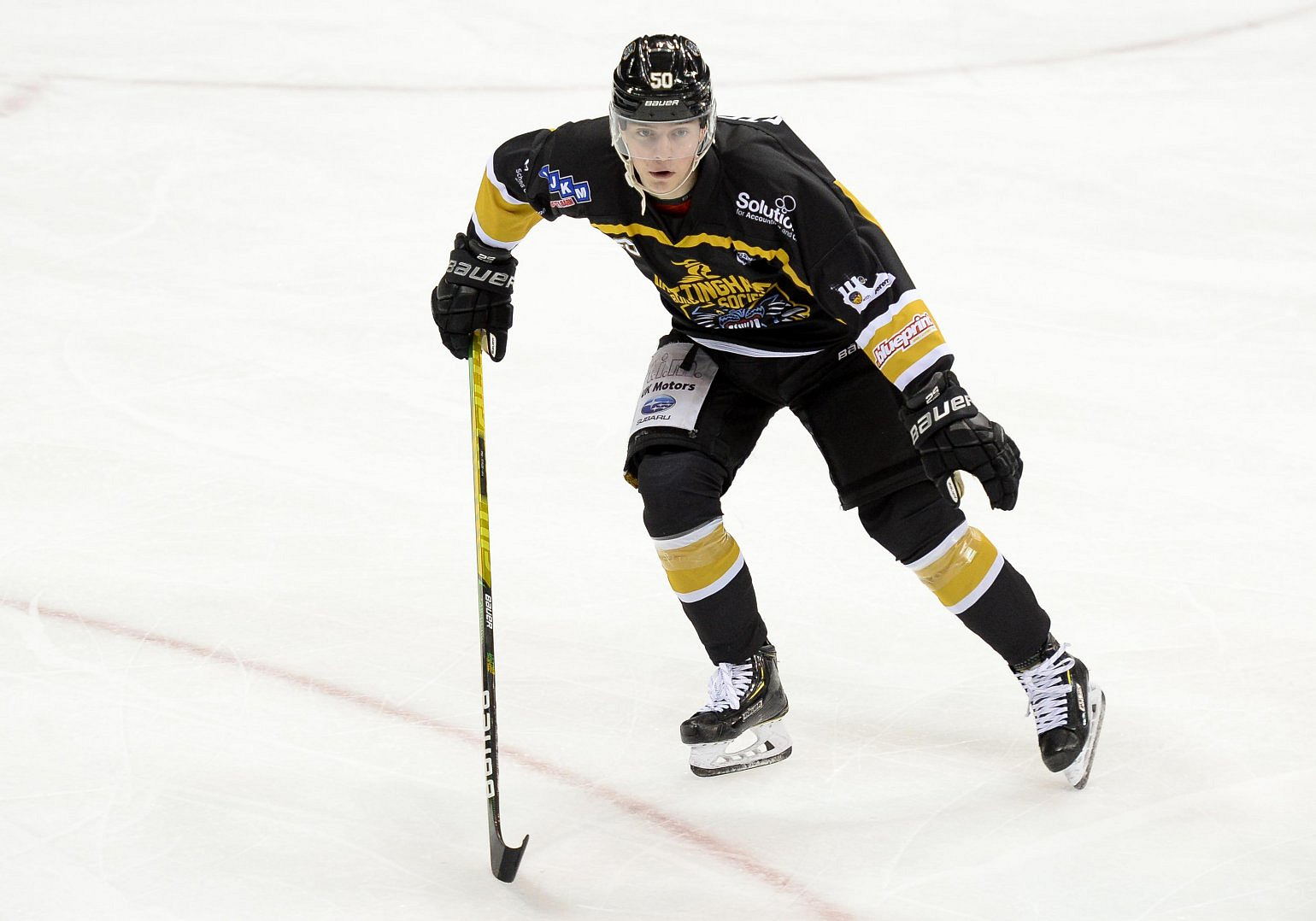 In the excitement of Elite League hockey being back on the opening weekend of the 2021 Elite Series, it might have been easy to overlook some of the future stars of the British game.
For the Nottingham Panthers, defenseman Liam Stenton was already singled out by Gui Doucet during the draft as a player who'd be in his side's lineup. The former Solway Shark and Glasgow Clan player, however, ended the weekend logging an average of over thirteen and a half minutes on the ice.
"It's gone really smoothly, everything is going well and all the teams are rolling," began the 19-year-old. "I've learned how fast it is again, it's been a while since I've played hockey! I was expecting a lot of speed, and really looking forward to coming down, but because I was playing in Solway again the speed went down. Re-adjusting to how fast the Elite League is has been the main thing."
Stenton logged over 11 minutes against the Steelers and a huge 16:06 of ice time against Coventry. Was he expecting to get this much game action? "At first no. When I was drafted, I was picked in the Taxi Squad and didn't even think I'd be coming down to start with," he admitted. "I got here, and we've been rolling with six defensemen and it's really good to get the minutes. I feel like I'm improving every game and getting to prove I can play at this level."
Stenton played a handful of games in Glasgow during 2019/20 for his first taste of professional hockey, but the novelty still hasn't worn off. "It's amazing! You don't know what to expect when you walk into that room, and you look at some of the guys and the levels they've played at, you're just so glad you get to play with them," he revealed. "Tim Wallace is really good, and very open - if you have a question he's really willing to help, and it's inspiring to be able to watch and learn from guys like Mark Matheson on the ice as well."
What about his defensive partner, Josh Tetlow? "He's been really good. He's young as well and has been through what I'm going through coming into the team. He talks a lot on the ice and is a big body – he's kind of like my bodyguard, to be honest!" joked Stenton.
Finally, what's it like being in England for the young Scotsman? "I've not stayed away from home since I was young, so it's a lot different to be away from my family. Most of the boys understand me, so it's not too bad!" he said with a smile. "I never really knew Craig Garrigan a lot since coming here, but he's from Scotland so we have that connection. I knew Mark Garside as he's from Glasgow, but other than that it was a totally new group of guys. But just playing hockey all the time is what you live for, it's the dream."